---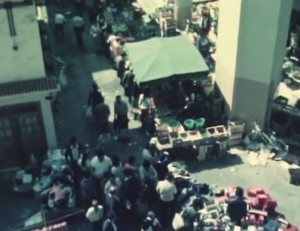 Date produced: 1982
Filmmaker(s):
Description:
Todos los miércoles en Villafranca de Ordizia se celebra una singular feria que, en muchos aspectos, marca la tendencia de los precios y estimación de los productos del campo, ganado, etc.

Every Wednesday in Villafranca de Ordizia, there's a singular fair that, in many ways, marks the trend for prices and estimation of country goods and cattle.
---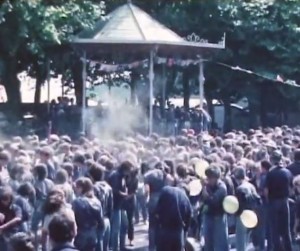 Date produced: 1984
Filmmaker(s):
Description:
Documental sobre la Fiesta del Ganso en Lekeitio. Dentro de las fiestas y tradiciones de Euskalherria, el Antzar Eguna de Lekeitio destaca por su gran poder de convocatoria. Las cuadrillas de mozos acompañados de charagas que amenizan el acto, conducen a la popa de sus botes al líder de cada grupo hasta el ganso, que amarrado por sus patas cabeza abajo, cuelga de una soga que cruza el puerto. Mediante tirones de esta soga, los mozos agarrados al cuello de los gansos, son izados una y otra vez hasta arrancar la cabeza del animal o caer al agua agotados. Esta singular e insólita fiesta ha despertado gran polémica entre sus detractores y seguidores. Actualmente los gansos que se emplean están muertos o son de plástico.
Texto de Miguel Ángel Quintana

Documentary about the Goose Celebration in Lekeitio. Among the celebrations and traditionsof Euskalherria, the Antzar Eguna of Lekeitio is one of the most attractive events. The troops go accompanied by musicians, and they lead the group leader towards their boats' stern until reaching a goose that is tied upside down by its legs, hanging from a rope that crosses the port. By pulling the rope, the participants hang on to the gooses neck, and are raised over and over again until they tear the goose's head or they fall to the water exhausted. This singular and unusual celebration has produced controversy between followers and detractors. Currently the gooses employed are either dead or made of plastic.
Text by Miguel Ángel Quintana.
---
Date produced: 1960
Filmmaker(s):
Description:
"Tells the story of 'Little Hunter' hunting a bear using images carved into stone walls near the Colorado River by a Native American tribe." Church History Library.
---
Date produced: 1948
Filmmaker(s):
Description:
"Item is a film of Dr. Willinsky's trip to a snake farm in Miami, Florida. The last few minutes of the film switches to footage of a snake charmer likely taken by Dr. Willinsky in Morocco. Film is in the form of a travelogue with commentary provided by Dr. Willinsky." Ontario Jewish Archives.
---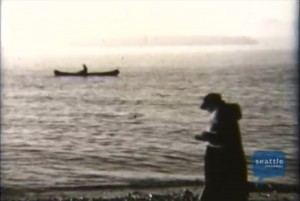 Date produced: 1933
Filmmaker(s):
Description:
"This rare footage of Seattle and environs in the 1930s was shot by amateur filmmaker Iwao Matsushita. See downtown streets and sidewalks, Lincoln Park, Seward Park, Volunteer Park, a UW football game, rambunctious kitties and other surprises from more than 60 years ago." Seattle Channel.
---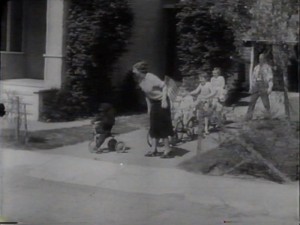 Date produced: 1932
Filmmaker(s):
Description:
"This film records, in the informal style of a home movie, some of a young chimpanzee's (Pan troglodytes) activities while raised in the Ravens' home. She plays with a hose, joins in games with the Raven children, manipulates tools, encounters snakes and mice, writes with a pencil, eats with a spoon, rides a tricycle, and feeds a human infant." University of Wisconsin-Madison Libraries.
---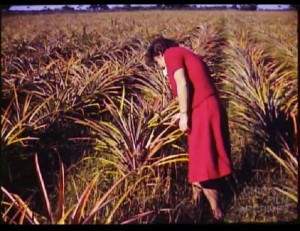 Date produced: 1946
Filmmaker(s):
Description:
"2 part edited travelogue of the industries and everyday life in featured cities of Cuba. Part 1 begins in Havana before travelling to smaller cities, with a focus on buildings, crops and the everyday lives of the people. Part 2 primarily focuses on industry and includes scenes of a tile factory, basket weaving, as well as the farming of potatoes, sugar cane, bananas, and peanuts. The film also features historical monuments, boating, children at school, cock fights, vendors selling wares, and fishing. People demonstrate manual methods of labor like harvesting crops and cutting grass with machines lead by cattle." Chicago Film Archives.
---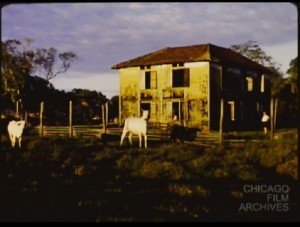 Date produced: 1957
Filmmaker(s):
Description:
"2 part edited travelogue film of the people and customs encountered in towns along the Amazon River in South America. Part one includes landscapes, a variety of housing from towns to shacks along the river, people selling goods, trapping and selling exotic animals, herding cattle, boating, and a religious ceremony." Chicago Film Archives.
---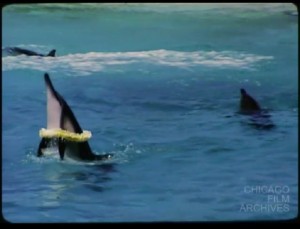 Date produced: 1966
Filmmaker(s):
Description:
"2 part edited travel footage taken in numerous Hawaiian locations. Focuses on events and people as well as the natural scenery. Includes traditional dancing, a festival and a visit to an aquarium as well as religious locations." Chicago Film Archives.
---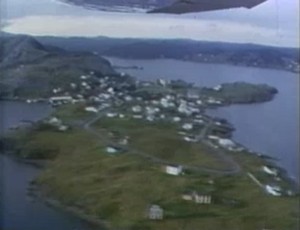 Date produced: 1980
Filmmaker(s):
Description:
"In August 1980, Robbins Barstow and his wife Meg, of Wethersfield, Connecticut, USA, went on a week-long trip to Newfoundland, Canada, to go whalewatching in the North Atlantic waters of Trinity Bay. Join them for exciting, on-the-surface, close encounters with giant humpback whales, and dramatic sightings also of finback and minke whales." Archive.org
---
Total Pages: 12