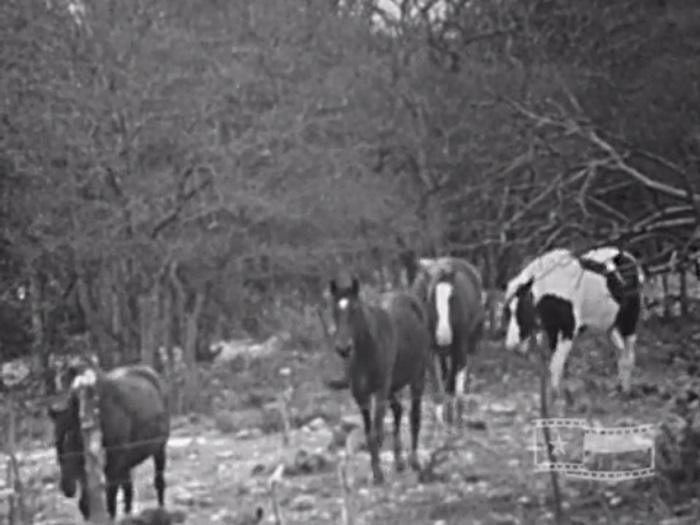 Identifier:
2016_02447 (Source: University of North Texas Media Library)
Date produced:
Filmmaker(s):
Country of Production:
United States
Languages:
English
Duration:
00:16:09
Format:
16mm
Colour:
Colour
Sound Notes:
Silent
Awards/Recognition:
Texas Archive of the Moving Image list of titled amateur films
Description:
"This amateur film chronicles several young ranchers in their day-to-day activities. The film is divided into six chapters, each highlighting a different theme. Setting the scene with shots of a river bend and surrounding cliffs, the movie shows two young men skipping stones by a creek. After playing around with rocks and a rope swing, they drive back to 141 Ranch. At the ranch, they take care of their cattle and spend quality time grooming and riding their horses. The last chapter introduces a strange boy, who startles one of the ranchers as he washes a frying pan outside. The film ends with the young men riding their horses towards the camera" Texas Archive of the Moving Image.
Resources:
"The Peter Pauls Stewart Collection - 141 Ranch." Texas Archive of the Moving Image.

141 Ranch "is part of the collection entitled: Spotlight on North Texas and was provided by UNT Media Library to The Portal to Texas History, a digital repository hosted by the UNT Libraries" The Portal to Texas History.
Locations:
Subjects:
Genre:
Form:
Repository:
Texas Archive of the Moving Image; University of North Texas Media Library
Video Link:
---