---
---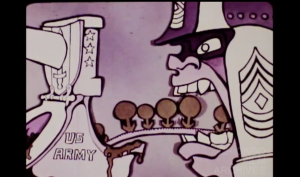 Date produced: 1970
Filmmaker(s):
Description:
"University of Illinois Chicago (UICC) animated student film about being drafted to the Vietnam War." Chicago Film Archives
---
Date produced: 1967
Filmmaker(s):
Description:
"201-203 tells the simple story of man and woman, the alienated anti-heroes from two civilizations at the opposite ends of the spectrum, Asian and America. They try to make contact, through reality as well as fantasy, against a backdrop of technology and pop theology. Well acted and well photographed" PSA Journal, Aug. 1967, 36.
---
Date produced: 1938
Filmmaker(s):
Description:
"This is a film Mr. Bowdery shot and edited into a form of home newsreel called THE SECOND WORLD WAR -- THE HAND OF TYRANNY. It is captioned with headlines from the 'People's Advocate' newspaper. The footage contains scenes of the exterior of the Vancouver Post Office at Hastings and Granville. Employees being checked at the entrance. Interior of building, protestors in sit-down strike. [Close-up of] trio of protestors, other good [close-ups]. Protestors singing 'The Red Flag', [with] banjo and accordion accompaniment. Unemployed march" (Browne).
The film is also known as Vancouver Post Office Sit-Down Strike.
---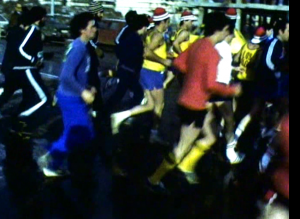 Date produced:
Filmmaker(s):
Description:
El filme muestra una carrera en la que se observa la presencia de nieve en la calle y la carretera por donde corren los participantes. La película está editada con una entrevista y aparecen fotografías del cross popular y de los participantes. Hay una voz en off durante algunas partes de la película que narra y comenta la carrera de forma informal y con un toque de comedia. El locutor habla del pelotón como si fuese el parte de ellos y si los estuviese animando. Se muestran varias entrevistas con participantes y termina con algunos planos de la ciudad ya finalizada la carrera como la retirada de las vallas de seguridad y del polideportivo.

The film shows a race in which there is snow on the street and on the road where the participants run. The film includes an interview and overlapped images of the popular cross and the participants. An off voice narrates the race in an informal manner with a touch of comedy. The narrator talks about a platoon as if he were part of it and cheers them on. Several interviews with participants are shown and the film ends with shots of the city once the race is over, like withdrawing security fences and images of the sports center.
---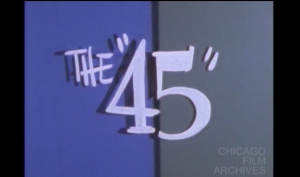 Date produced: 1961
Filmmaker(s):
Description:
"Plays out at an amateur level Jean-Luc Godard's dictum that all a film needs for a plot is a woman and a gun. This is how Margaret Conneely says The '45 came about: with a prop and an actor. From these elements she crafts a mischievous and entertaining film about a woman willing to employ any means to send away the man who comes looking for her husband with a gun." Chicago Film Archives
---
Date produced:
Filmmaker(s):
Description:
"...a record of his trip to Australia." (Sharcott)
---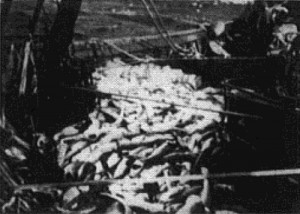 Date produced: 1961
Filmmaker(s):
Description:
"Almost every day of the year some 10 trawlers set out from the twin ports of Grimby and Hull, England, for the Arctic fishing grounds to return three weeks later with their cargo of deep sea fish. This film is a record of one such voyage with sound effects recorded on location. This will generate a nostalgic effervescence for those lovers of deep sea fishing and all will wish to join in the adventure without having to share in the work and inconvenience. The film moves with interest and excitement, a treat for all" PSA Journal, Oct. 1961, 47.
---
Date produced: 1945
Filmmaker(s):
Description:
"Production Credit: Director, Henry Sedziak; camera, Watson Balharrie
Cast credit: Hosts, Pete and Gertie Robertson; members of The Ottawa Ciné Club
Description: In far off Woodridge north of Ottawa, uninvited weekend guests invade a cottage and create havoc." (LAC description)
---
Date produced: 1971
Filmmaker(s):
Description:
"Narró en la cinta la reflexión existencial de un personaje que piensa sobre la relación entre los ideales genuinos y la realidad que lo rodea. En ella el tema político ocupaba un marco sutil pero presente. El título sugiere el regreso a un lugar donde el pensamiento comience de nuevo, sin supuestos previos. En la cinta de Belaunzarán aparecen mezclados varios elementos que perturban la reflexión del personaje: la propaganda política, Telesistema Mexicano, las imágenes sobre Vietnam, Biafra, Tlatelolco" (Vázquez Mantecón, 2012).

"The film was about the existential reflection of a character that thinks about the relationship between genuine ideals and the reality surrounding him. In it the political theme was a subtle framework, but it was present. The title suggests coming back to a place where thought begins again, without previous assumptions. In Belaunzarán's film there are several elements that disturb the reflection of the character: political propaganda, the Mexican Telesystem, images of Vietnam, Biafra, Tlatelolco" (Vázquez Mantecón, 2012).
---
Date produced: 1928
Filmmaker(s):
Description:
"Jac Thall, of 957 77th Street, Brooklyn, N.Y., a publicity man for theatrical circuit, captured the fourth prize in the dramatic division for his little serio-comedy of the tribulations of a Povery Row movie company. This was called 'A Quickie' and was marked by some unusual amateur acting by Helen Johnson. The photography of Mario D'Giovanni, 45 Garmine Street, New York, was admirable too. 'A Quickie' was shot with a Bell and Howell on 35 milimeter film and was made chiefly on Staten Island." Photoplay, Nov. 1929, 86.
---
Total Pages: 228