---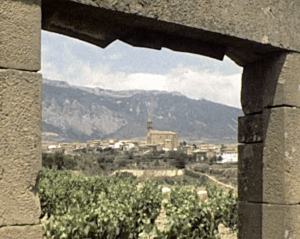 Date produced:
Filmmaker(s):
Description:
Una película que invita a hacer un viaje por la Rioja Alavesa, en especial por el pueblo de El Villar. Un recorrido que muestra los edificios, los paisajes naturales y su gente.

A film that invites to make a trip through the Rioja Alavesa region, specially through the El Villar town. A journey that depicts buildings, natural landscapes and the people of the region.
---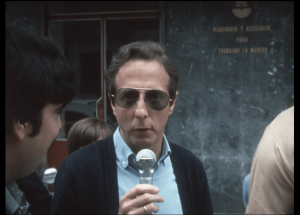 Date produced:
Filmmaker(s):
Description:
Una película que nos muestra los preparativos previos a un rally de cine con entrevistas a los cineastas que participaban en el mismo. A la par ocurre un concurso de Soka-Tira.

A film that shows the preparation for a film rally with interviews to the filmmakers that are participating. At the same time there is a tug of war contest.
---
Date produced:
Filmmaker(s):
Description:
Un documental corto sobre la ciudad de Vitoria que comienza con el narrador en voz en off comentando aspectos sobre la ciudad. El documental muestra siete entrevistas a mujeres y hombres de diversas edades mientras hay cortes a planos de la ciudad. Continúa una entrevista a un joven y una niña sobre sus impresiones de la catedral de Vitoria. La entrevista final muestra a un joven y un niño hablando sobre el parque de la ciudad.

A short documentary about the city of Vitoria. The film begins with a narrator commenting on some aspects of the city. Then seven interviews with men and women of diverse ages are shown while shots of the city intersect the interviews. Then there are interviews to a young man and a girl about their impressions of Vitoria's cathedral, and finally there is an interview with a young man and a boy talking about the city's park.
---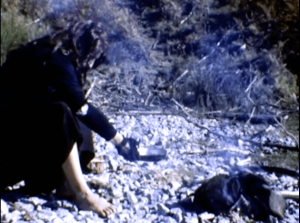 Date produced:
Filmmaker(s):
Description:
Una mujer camina por el paisaje entre ruidos. Hace fuego para calentarse un poco de comida pero un sonido la invade. Se encuentra con un soldado muerto dentro del bosque.

A woman walks through a landscape while noises are heard. She makes a fire to warm some food but a sound overcomes her. She finds a dead soldier inside the woods.
---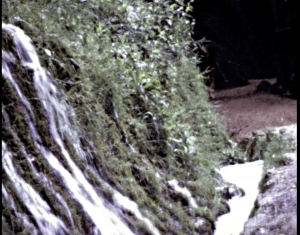 Date produced:
Filmmaker(s):
Description:
Un recorrido por el Monasterio de Piedra y por las cascadas cercanas retratado mediante un juego de música y agua que cae por las cascadas.

A tour by the Stone Monastery and the nearby waterfalls through a game between music and water falling from the waterfalls.
---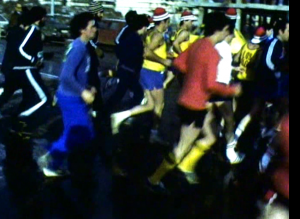 Date produced:
Filmmaker(s):
Description:
El filme muestra una carrera en la que se observa la presencia de nieve en la calle y la carretera por donde corren los participantes. La película está editada con una entrevista y aparecen fotografías del cross popular y de los participantes. Hay una voz en off durante algunas partes de la película que narra y comenta la carrera de forma informal y con un toque de comedia. El locutor habla del pelotón como si fuese el parte de ellos y si los estuviese animando. Se muestran varias entrevistas con participantes y termina con algunos planos de la ciudad ya finalizada la carrera como la retirada de las vallas de seguridad y del polideportivo.

The film shows a race in which there is snow on the street and on the road where the participants run. The film includes an interview and overlapped images of the popular cross and the participants. An off voice narrates the race in an informal manner with a touch of comedy. The narrator talks about a platoon as if he were part of it and cheers them on. Several interviews with participants are shown and the film ends with shots of the city once the race is over, like withdrawing security fences and images of the sports center.
---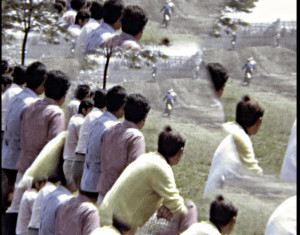 Date produced:
Filmmaker(s):
Description:
El filme comienza con una descripción de como iniciar en el Cross. Vemos un campeonato de Cross desarrollarse en los alrededores de Álava y la premiación a los ganadores. Un joven se ilusiona por ser corredor de Cross.

The film begins with a description on how to begin cross country running. Then a cross-country championship is seen developing in the surroundings of Alava, and then we see the awards ceremony for the winners. A young man is seen getting excited about becoming a cross country runner.
---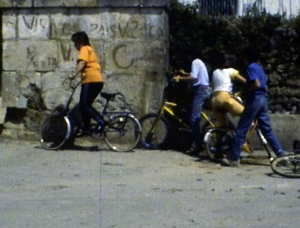 Date produced: 1983
Filmmaker(s):
Description:
Documental corto sobre el pueblo de Villa de Corres. El filme comienza con varios paisajes de los alrededores y planos de montañas y el río. A continuación se muestra el pueblo, aparecen casas, el río, calles y algunas partes características como el Castillo, el hospital, la iglesia de San Esteban, el bebedero, la fuente , la plaza, etc. También aparecen algunas personas mayores y niños por las calles. Se comenta que es un pueblo con una población de 30 habitantes pero que es uno de los pueblos más longevos de la provincia de Álava.

Short documentary about a town called Villa de Corres. The film begins with several landscapes of the surroundings and shots of the mountains and the river. Then the film shows the town, houses, the river, streets, and some landmarks like the Castle, the hospital, the San Esteban church, the drink fountain, the fountain, the square, etc. Some older persons and children are also seen. It is said that the town only has a population of 30 persons, but that it is one of the longest-living towns in the Alava province.
---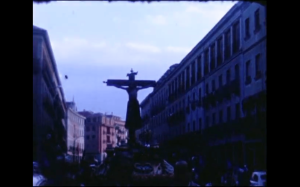 Date produced: 1969
Filmmaker(s):
Description:
Documental sobre la Semana Santa en una ciudad de Castilla, donde la paz contrasta con la violencia de otras partes del mundo.

Documentary about the Holy Week in a city of Castilla, where peace contrasts with the violence lived in other parts of the world.
---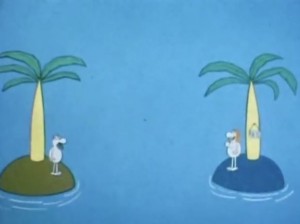 Date produced: 1976
Filmmaker(s):
Description:
Pequeña historia de náufragos donde una mujer es llevada por sus más ardorosos sentimientos, comprobando los límites del egoísmo del hombre.

Short story about castaways in which a woman is carried away by her most burning feelings, proving the limits of man's selfishness.
---
Total Pages: 217