---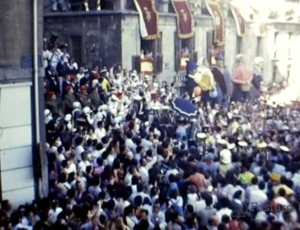 Date produced: 1981
Filmmaker(s):
Description:
El filme comienza con personas preparándose para la fiesta del pueblo. Gente cocina, decora, come y bebe vino. A esto siguen imágenes de una competencia de motocicletas, gente en las calles comprando largas tiras de ajo, competencias en el pueblo, arquitectura y esculturas, calles muy llenas y finalmente tomas de juegos de feria durante la noche.

The film begins with people getting ready for a party of the town. People are cooking, decorating, eating and drinking wine. There are images of a motorcycle competition, people in the streets buying large strips of garlic, competitions in the town, architecture and sculpture, very crowded streets and finally a few shots of games in a fair at night.
---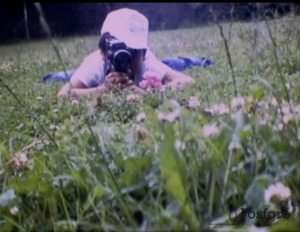 Date produced:
Filmmaker(s):
Description:
Un pequeño niño muestra un letrero que dice "Rally-Cine". Al interior de un automóvil el niño empuja a una niña y destruye el letrero. Después empieza a jugar con una pelota, y regresa para empezar a jugar con la cámara. Hace algunas tomas de elementos naturales y continúa jugando con la cámara junto con la niña, quien eventualmente toma la cámara mientras el patea la pelota lejos de ellos.

A small kid shows a sign that says "Rally-Cine" [Film Rally]. Inside a car he pushes a little girl aside and tears apart the sign. He then starts playing with a ball he finds in the car, and then returns to play with a camera. He takes some shots of things in nature, and then continues to play with the camera along with the little girl, who eventually takes the camera while he kicks the ball away.
---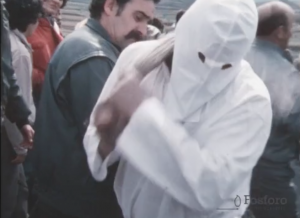 Date produced:
Filmmaker(s):
Description:
El filme muestra una procesión católica en la que hombres cargan esculturas de la Virgen y Cristo cargando una cruz. Cientos de personas caminan con ellos, incluyendo unos cuantos hombres vestidos de blanco, con máscaras y la espalda descubierta, que caminan de espaldas mientras se auto-flagelan. Se muestran diversas imágenes de estos hombres golpeándose a sí mismos, gente caminando junto a las estatuas y un hombre con una máscara blanca y una túnica café que muestra una cruz en la espalda; este hombre en particular camina sin zapatos y con cadenas alrededor de sus pies. Casi al final del filme, los hombres vestidos de blanco van ante un sacerdote que pica sus espaldas con un pequeño instrumento hasta que sangran, para después continuar auto-flagelándose. La película termina con imágenes de la procesión aún avanzando.

The film shows a Catholic procession in which men carry sculptures of the Virgin and of Christ carrying a cross. Hundreds of people walk along with them, including a few men all dressed in white, with white masks and their backs uncovered, that walk backwards while they are self-flagellating. The film contains several images of this men beating themselves, people walking along with the statues and one man with a white mask and a brown gown with a cross on the back; this particular man walks without shoes and has chains around his feet. Almost at the end of the film, the men dressed in white go before a priest that punctures their backs with a small instrument until they bleed, afterwards, the continue to self-flagellate. The movie finishes with images of the procession still advancing.
---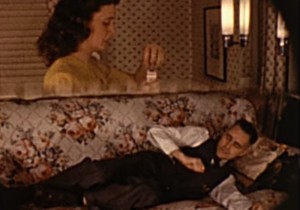 Date produced: 1944
Description:
A man has a petty argument with his wife over her cooking. The argument concludes with the wife declaring "you'll be sorry!" The man goes straight to sleep, but has nightmare visions of his wife dying. When he awakens, the man rushes to check on his wife, who he finds in an alarming condition.
---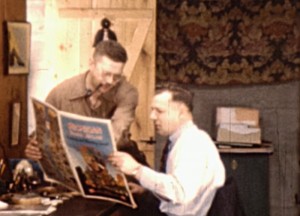 Date produced: 1946
Description:
A man schedules a fishing trip several weeks in advance of the date. Before the day comes, he must overcome several mishaps and hindrances that threaten the trip.
---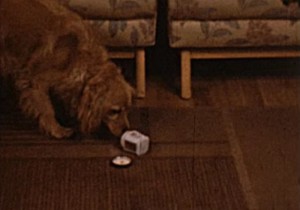 Date produced: 1945
Description:
A married couple is hosting another couple for dinner. Before the dinner, the husband gives his wife a container of "vanishing cream," which they both use believing it to be a skincare product. When the dinner guests arrive, people and pets that contact the cream vanish from sight.
---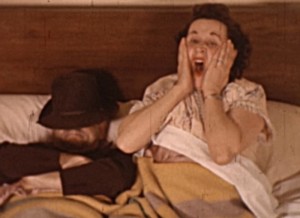 Date produced: 1947
Description:
Comedy about a married couple who appear to have overslept once again.
---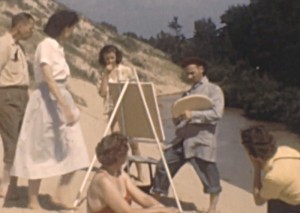 Date produced: 1955
Description:
An artist sets up his easel on a shore with the intention of painting a nature scene. Soon, people gather at the shore and thwart the artist's plan to paint.
---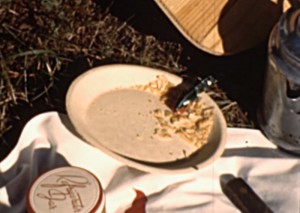 Date produced: 1949
Description:
A group of families takes separate vacations – the husbands go fishing, while the wives and children choose to hold a picnic. Both vacationing groups encounter obstacles that disrupt their plans.
---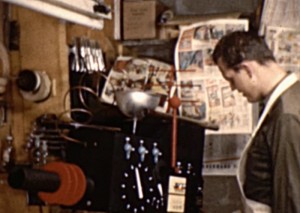 Date produced: 1951
Filmmaker(s):
Description:
After celebrating his fourth wedding anniversary, a man becomes obsessed with building a homemade weapon of mass destruction. The man's efforts reach a breakthrough after the couple celebrates their fifth anniversary.
---
Total Pages: 209