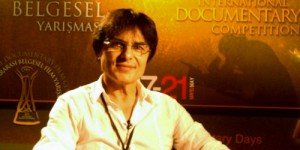 İshak Işıtan
Dates active:
1978 (as an amateur filmmaker)
Gender:
Male
Awards/Recognition:
6. Montreal Türk Filmleri Festivali [The 6th Montreal Turkish Films Festival], Gösterim [Special Sceening] (2014).
5. Hangi İnsan Hakları? Film Festivali [The 5th Which Human Rights? Film Festival] (2013).
1. Uluslararası İşçi Filmleri Festivali [The 10th International Labour Film Festival (2006).
Sinematek Dijital Sinema Kütüphanesi [Sinematek Digital Cinema Library]
Films:
---
Profession:
Correspondent, Reporter, Documentarist
Related Professional Works:
The Women of Brukman/Les Femmes de la Brukman (2009)
Biographical Notes:
"İshak Işıtan was born in Turkey. He studied law at İstanbul University before launching into a film producing and directing career. In Turkey, he founded the group "Cinéma du peuple" and produced and directed several films on social issues. He was also an ABC correspondent in the Middle East, from 1978 to 1980. He has been living in Canada since 1980 as a Canadian citizen, directing more than a hundred TV reports, and producing and directing documentary films." Thewomenofbrukman.ca: http://www.thewomenofbrukman.ca (13 November 2019).
Bibliographic Resources:
http://www.thewomenofbrukman.ca (13 November 2019).