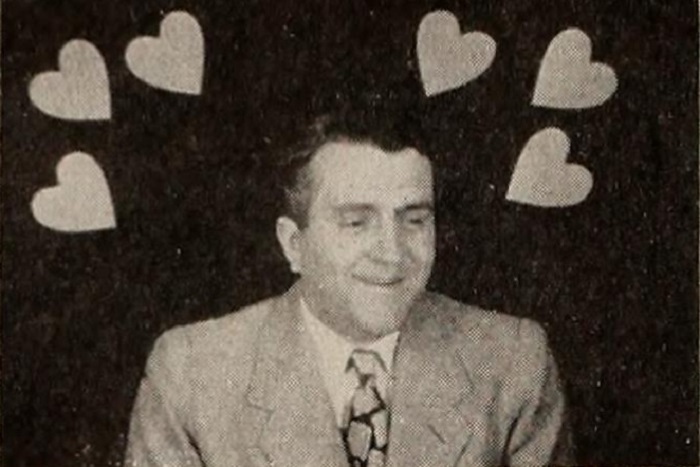 Date produced: 1946
Filmmaker(s):
Production credits:
Languages:
English
Length:
500 ft
Format:
16mm
Colour:
Kodachrome
Sound Notes:
Silent
Awards/Recognition:
ACL Ten Best 1946 - General Class
Description:
"Staria Zimmerman, that charming Milwaukee minx who made her big time bow in The Boss Comes to Dinner, a 1944 Ten Best winner, has done it again in The Dizzy Top. As the impish daughter of a winsome but widowed mother, she pulls the strings in this "merryonette" show which maneuver her pretty parent into the arms of a new and handsome husband. The quite willing victim of these arch designs is, in the film, the proprietor of a swank hat shop, and it is in this bright locale that the majority of the action takes place. Patricia and Ryne Zimmerman — the producers and supporting players — have a sharp and genuine sense of farce comedy. Their lighthearted plot dances forward as gaily as the suave settings they have contrived for it. Their incidents are antic in their absurdity, their timing crisp and delicately controlled. These qualities are, to be sure, aided immeasurably by Mistress Staria, who carries off each new comic conceit with impudent but charming assurance. Mr. Zimmerman's technical execution in their latest film leaves little to be desired in competence and imagination. There is, to a heightened degree, the same warmth and brilliance in his lighting which marked The Boss. His camera viewpoints are effective and varied, cutting one into the next with precision and pace. Show pieces of cinematic imagination enrich the production, like sugar plums in a Christmas pudding. The Dizzy Top, the Zimmerman's first 16mm. effort, is a handsome step forward along their chosen course of lighthearted comedy." Movie Makers, Dec. 1946, 486.
Resources:
Discussed by Patricia Zimmerman in "Home Into Hat Shop" (Movie Makers, Sept. 1947, 388, 400-402). The article describes the film's production and how the Zimmerman family seamlessly transformed the family dining room into a hat shop for the film. Film stills are shown.

Also discussed in "Closeups" (Movie Makers, June 1946, 214).
Subjects:
Genre:
Form:
Screenings:
Screened by the Metropolitan Motion Picture Club in 1946: New York City, N.Y.
Screened by the Brooklyn Amateur Cine Club in 1947: Brooklyn, N.Y.
---
Do you know where this film is? Get in touch with us at amdb@ucalgary.ca.