---
Date produced:
Filmmaker(s):
Description:
"A couple dine in a restaurant. She is so busy with powdering her nose and correcting her lipstick that the "garçon" despairs of ever getting their order. In the end, her suitor orders water and razor to get his revenge." Library and Archives Canada.
---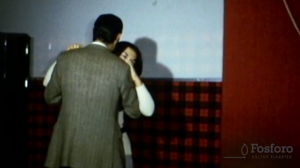 Date produced:
Filmmaker(s):
Description:
El filme muestra a una mujer esperando en su casa, tocando música, leyendo y acordando por el teléfono verse con alguien. Ella ve a una amiga y le dice que su novio, un hombre llamado Javier, está fuera de la ciudad por negocios. Primero van a una feria y después a un bar llamado El Pez Rojo, donde escuchan a una banda en vivo y toman algunos tragos, eventualmente ven que Javier está ahí bailando con otra mujer. Se van y Javier se queda bailando, después aparecen diversas imágenes de letreros de clubes nocturnos. Después se ve Javier manejando por la mañana con la otra mujer y deteniéndose a fumar un cigarro mientras es visto por su novia y su amiga. Mientras la pareja discute, la amiga de la primera mujer golpea a Javier en la cabeza con un arma. Después el filme corta a una escena de la primera mujer despertando y abriendo la puerta a sus amigas, mismas que reclaman haberla esperado demasiado, a lo que responde que se quedó atrapada por una historia que estaba leyendo, implicando que todo había sido producto de su imaginación.

The film shows a woman waiting in her house, playing music, reading and agreeing to see someone over the phone. She meets with a friend and tells her that her boyfriend, a man named Javier, is out of town on business. They first go to the fair and then to a bar called El Pez Rojo [The Red Fish] where they listen to a live band and have drinks, eventually they see that Javier is there dancing with another woman. They leave and Javier keeps dancing, then a series of images of several night clubs signs appear. Javier is then seen driving in the morning with the woman and stopping to smoke a cigar, where he is seen by his girlfriend and her friend. While the couple fights, the friend of the first woman hits Javier in the head with a gun. Then we see the woman waking up and opening the door to her friends who claim that she has kept them waiting for too long, and she says she got caught up in the story of the book she was reading, implying it was all a product of her imagination.
---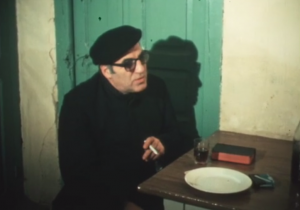 Date produced: 1975
Filmmaker(s):
Description:
Un cura preocupado de que una pareja viva en el mismo hogar sin estar casados, pide un milagro. Reza para que alguien en la pareja se enferme a fin de que valoren la vida y entiendan la necesidad de seguir los preceptos de su religión.

A priest concerned with a couple living together without being married, asks for a miracle. He prays for someone in the couple to become ill so that they will value life and the need to follow the precepts of religion.
---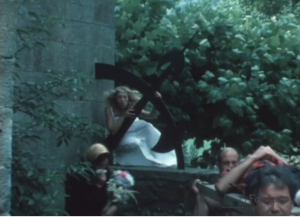 Date produced:
Filmmaker(s):
Description:
El filme comienza con un hombre vagando por el campo. Encuentra a una mujer vestida de blanco y comienzan a besarse, hasta que eventualmente caen sobre el pasto. El hombre lleva a la mujer vestida de blanco a conocer a una mujer mayor que la rechaza y la hace huir. El hombre va en su búsqueda y nota que ella tiene patas de pato, él cae al suelo y muera mientras ella coloca un pequeño costal café cerca de su pecho. La película muestra después a un grupo de hombres cargando su cuerpo hacia su ceremonia fúnebre mientras la mujer mayor llora detrás de la procesión y la mujer de blanco observa escondida en una esquina. Cuando el cuerpo es dejado solo, la mujer de blanco se aproxima para tomar el costal café y desaparece.

The film begins with a man wandering in the country. He finds a woman dressed in white and they begin to kiss, eventually falling on the grass. The man takes the woman dressed in white to meet an older woman who rejects her and makes her leave. He goes looking for the woman in white and sees that she has duck legs, he falls and dies while she places a small brown sack by his chest. The film then shows men carrying his body to his burial while the older woman cries behind the funeral procession and the woman in white watches hiding in a corner. When the body is left alone, the woman in white approaches him and takes the brown sack back and leaves.
---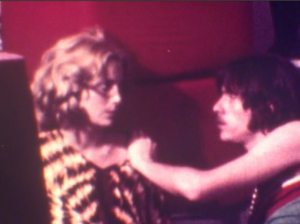 Date produced: 1974
Filmmaker(s):
Description:
"Luz externa fue una de las producciones más ambiciosas del súper 8 mexicano. El guión se basaba en el monólogo de Ernesto, un machín jipiteca, que relata a un amigo las peripecias con su novia Raquel. Posteriormente el guión sirvió como la base del cuento con el mismo título que apareció como parte del libro El rey se acerca a su templo. Tanto la película como el cuento se abocaban a describir el abanico amplio de la juventud clasemediera urbana contracultural que había aparecido a fines de los años sesenta y principios de los setenta: los macizos que acceden al consumo de drogas, las muchachas de buena familia que se acercan a ese mundo, los nuevos conversos a la revolución social o los intelectuales que participan del ambiente con simpatía" (Vázquez Mantecón, 2012).

"Luz externa [External light] was one of the most ambitious productions of the Mexican super 8. The script was based in the monologue of Ernesto, a 'machin' hippie, that tells a friend about his adventures with his girlfriend Raquel. The script served later as the base for a short story with the same title that appeared as part of the book El rey se acerca a su templo [The king approaches his temple]. Both the movie and the short story described the wide range of the middle class urban countercultural youth that emerged at the end of the sixties and the beginning of the seventies: the strong men that had access to drugs, the girls from good families that entered that world, the new converts to social revolution or the intellectuals that sympathize with that ambiance" (Vázquez Mantecón, 2012).
---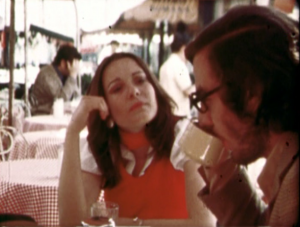 Date produced: 1974
Filmmaker(s):
Description:
"Una cinta cargada de referencias a Jean-Luc Godard (Los Carabineros, 1963) pero sobre todo concentrada en la crítica mordaz al radicalismo de izquierda. Una vez más Marco Antonio Madrid hace el papel de protagonista, un joven de pelo largo, pantalón de mezclilla y saco, que se dedica a ligar en los cafés de la Zona Rosa adoctrinando a las mujeres. Lee a Marx después de hacer el amor, y se junta con sus amigos para brindar por "la muerte de la intelectualidad burguesa". Montero utiliza intertítulos como recurso irónico, una suerte de narrador externo que interpela la historia: "¿Qué es la intelectualidad burguesa?". La lucha revolucionaria del joven y sus amigos está teñida de sentido del humor. En una secuencia que recuerda mucho a Los Carabineros, suben al techo de una fábrica para iniciar la lucha armada (...) Por último un cartel proporciona una última burla: "Y si el sol es burgués detendremos al sol" " (Vázquez Mantecón, 2012).

"A film loaded with references to Jean-Luc Godard (The Carabineers, 1963), but above all focused on biting criticism to the radical left. Once again Marco Antonio Madrid plays the role of the lead character, a young man with long hair, jeans and coat, that dedicates his time to hook up in the coffee shops of the Zona Rosa indoctrinating women. He reads Marx after making love and he gets together with his friends to toast for the "death of the bourgeois intellectuality". Montero uses intertitles as a resource for irony, a sort of outside narrator that interpellates the story: "What is bourgeois intellectuality?". The revolutionary fight of the young man and his friends is filled with a sense of humor. In a sequence that reminds us of The Carabineers, they go to the rooftop of a factory to begin the armed fight. (...) Finally a sign shows one last derision "And if the sun is bourgeois, we will stop the sun" " (Vázquez Mantecón, 2012).
---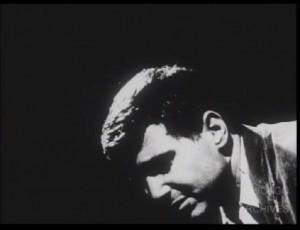 Date produced: 1966
Filmmaker(s):
Description:
"Traces the romantic relationship between a young man and woman (played by Klugman and Judy Harris) who meet in a downtown coffee shop; their nonstop dialogue fluctuates between playful psycho-babble and sincere attempts to relay their innermost feelings." Chicago Film Archives.
---
Date produced: 1968
Filmmaker(s):
Description:
"Film is a mostly animated cartoon featuring an animated woman and men. The film backdrop often features life images of an old house in winter. The film begins by showing a few pages from the Dec. 7, 1867 'The Milkspur Beacon' newspaper. The woman is in the middle of getting married when she decides to run away. After going back and forth between at least two men, she gets married again" Archives of Ontario.
---
Date produced: 1961
Filmmaker(s):
Description:
"Film features a man and a woman interacting and ends with a 'Life sentence' sign" Archives of Ontario.
---
Date produced: 1960
Filmmaker(s):
Description:
"Film is a comedy about how a married couple originally met" Archives of Ontario.
---
Total Pages: 3