---
---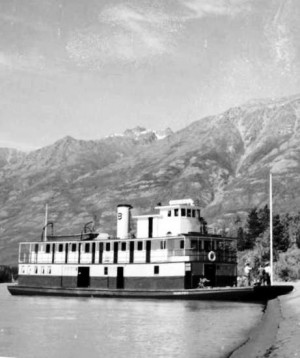 Date produced: 1935
Filmmaker(s):
Description:
"Mainly shows trip(s) up the Stikine by riverboat and placer mining activity [nearby]. Includes: waterfront view of Wrangell, Alaska; views of and from riverboat Hazel B No. 2 going upriver; the Three Sisters (islands in the river); riverboat at Telegraph Creek and barge at Dease Lake, and local activity; forest fire & fire-fighting; shots of Fokker F-11AHB flying boat designated CF-AUV (at dock and taking off) and a Fairchild floatplane; aerial shots in the vicinity; wreckage of aircraft CF-AUV (which crashed at McDame Lake, 13 July 1935); general scenery and wildlife. The placer mining footage, which is interspersed, includes shots of a small mining camp, sluice works, panning, hydraulic monitor operation, jerry-built mining equipment in use, etc. [The footage] was shot [ca. 1933-35] by Joseph J. Jackson, whose company "Three J's Placer Mines, Inc." prospected near the confluence of Thibert Creek with Dease Lake in [the years 1931-35]." (BC Archives)


---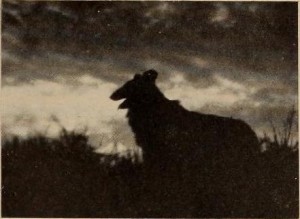 Date produced: 1949
Filmmaker(s):
Description:
"Raymond Berger has based his film on the familiar story of a dog that finds his way back home from a long distance, paralleled with a little girl's grief at the dog's absence. Imprisoned accidentally in the luggage compartment of a parked car, Lassie, a magnificent Collie, is driven miles from home before his equally accidental release. As the dog turns homeward, Mr. Berger maintains the suspense of his adventures over difficult terrain with admirable skill. A little closer cutting in the final re- union scenes at home would have heightened the dramatic quality. The few long shots in this 8mm. film are outstandingly executed, and there are touching closeups of the little girl as she mourns her pet." Movie Makers, Dec. 1949, 468.
---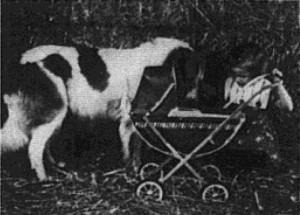 Date produced: 1959
Filmmaker(s):
Description:
"A most pleasant day with a little girl, her four kittens, and collie dog. The kittens do so many things that set them apart from other animals. They seem to enjoy their various playful activies before the flood lights and camera. While all this is going on, the collie feels just a little bit left out of things. Finally, all return to the barn for some fresh milk and a good night" PSA Journal, Nov. 1960, 39.
---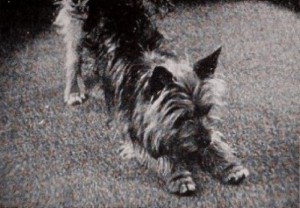 Date produced: 1948
Filmmaker(s):
Description:
"A young girl and an Australian terrier named Frisco are the ingredients of Calling Frisco, a sound on film story in which the speech is mostly from the dog's point of view. The film flows smoothly through typical scenes of a day's activities of eating and going to market and playing, ending in a dramatic climax in which Frisco protects his young mistress by warning off an intruder. Imaginative viewpoints and pleasant interior lighting are employed throughout. The dog's simple tricks are well pictured without being obtrusive, while the scene in which a bouncing ball lands in a goldfish tank, with its accompanying sound track, has the creative fantasy of Disney. Cyril Stevens has made a jolly film. " Movie Makers, Dec. 1948, 493.
---
Date produced: 1933
Filmmaker(s):
Description:
"Dog shows are no laughing matter, from the serious faces of the young people in this delightful film, though the dogs themselves are far more enthusiastic about the whole affair. The junior dog owners are clearly not quite in full control of their pets, and the watching crowd in this Cheshire field seems as interested in the camera as in the canine competition." (BFI Player)
---
Date produced: 1930
Filmmaker(s):
Description:
"Various shots of a dog doing tricks - begging for a ball; jumping over a metal pole and rolling over on its back. Concludes with shots of a woman taking a dog for a walk down a country lane." (NWFA Online Database)
---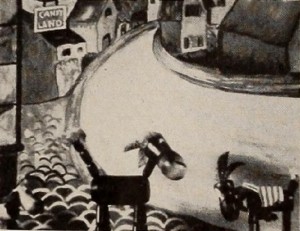 Date produced: 1947
Filmmaker(s):
Description:
"Using animated puppets and hand painted water color backgrounds, Charles H. Benjamin, in Fantasy in Toyland, takes a curious dog through the horrors usually reserved for white knights, to save a fabulous female canine in distress. The story is old but the treatment is new. The puppets were manipulated from below stage level and filmed frame by frame with a remotely controlled camera. The star of the piece meets cows, dragons and various beasts made of pine cones and other strange raw materials. The film ends on the accepted romantic note." Movie Makers, Dec. 1947, 536-537.
---
Date produced: 1977
Filmmaker(s):
Description:
"A dog tells her story, and sings for you." UCLA Film & Television Archive.
---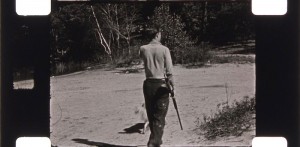 Date produced: 1937
Filmmaker(s):
Description:
"Hunting, cast of "Boy," played by Winthrop Rolfe, and "Dog," played by Teddy. Boy, walks with Dog through the forested mountainside, gazes at views over the alley, drinks water from a rushing stream, and kneels to shoot at birds." Notes by (NHF) Chris Reed and Chris Castiglia, June 2013
---
Date produced: 1956
Filmmaker(s):
Description:
"Animated puppets, dogs in this case. Synchronized with a song of the same title and cleverly done." PSA Journal, Nov. 1956, 45.
---
Total Pages: 4