---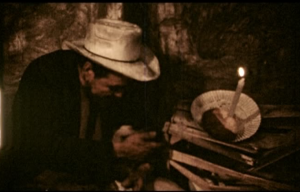 Date produced: 1971
Filmmaker(s):
Description:
"Era una película muy sencilla, filmada al estilo de cine directo, que seguía los pasos y la vida de un personaje urbano singular: un hombre que acompañado de su perro recorre las calles de la ciudad, las barriadas miserables. La cinta lograba momentos de una gran intimidad al mostrar la vida de este paria solitario y marginal, como aquel en que comparte con su perro un pastel para celebrar su cumpleaños en la soledad de su cuarto" (Vázquez Mantecón, 2012)


"It was a very simple film, made in the style of direct cinema, that followed the steps and the life of a singular urban character: a man that in the company of his dog walks through the city streets, the miserable neighborhoods. The film achieved moments of great intimacy by showing the life of this lonely and marginal pariah, like the moment when he shares a cake with his dog to celebrate his birthday in the loneliness of his room" (Vázquez Mantecón, 2012)
---
Date produced: 1939
Filmmaker(s):
Description:
"A family film with intertitles made for the Amateur Cinema League. The film follows the adventures of Herbert Miller, Jr., with his parents, his dog Chips, and his toys, including a pedal car and a teddy bear. Other segments show a ski trip to Mount Hood and a Miller's Paint store." Archives West.
---
Date produced: 1977
Filmmaker(s):
Description:
"A dog tells her story, and sings for you." UCLA Film & Television Archive.
---
Date produced: 1935
Filmmaker(s):
Description:
"The Yamamoto picture was a record of a hike over the hills and the countryside with a dog." American Cinematographer, Feb. 1937, 73.
---
Date produced: 1935
Filmmaker(s):
Description:
"The Home Movie award went to [Joseph] F. Hollywood for his 8mm picture 'Two Kids and a Pup.' The subject was truly home movie in nature. A brief continuity that showed the pup being brought home; both boy and girl wanted it and finally a compromise where it is agreed one day the boy is to hove the pup and the next day the girl; the children thus to alternate for peace's sake. Then is shown how the boy plays with a dog. He goes to a wooded lot, pretends to be hunting, etc. The girl, however, treats the dog the same as she would a doll. Makes clothes for it, dresses it up and places it in the doll buggy. Then comes the day when the girl decides to cheat a bit and rushes home to be the first to have the dog. When the boy arrives she has the dog completely covered in the doll buggy. However, at the crucial moment it rears its head and the fight is on. The mother then decides to settle the controversy by having the children stand at one end of the yard while she takes the dog to the other end. They are to call the dog and the one to whom the dog goes is to play with it that day. They are set, the dog is let loose and just at that moment another dog passes by and the pup rushes between the children after the other dog and thus the story ends. Hollywood's cutting and photography were good. And the handling of the whole picture was highly commendable." American Cinematographer, Jan. 1937, 25.
---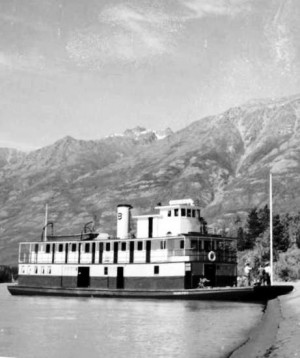 Date produced: 1935
Filmmaker(s):
Description:
"Mainly shows trip(s) up the Stikine by riverboat and placer mining activity [nearby]. Includes: waterfront view of Wrangell, Alaska; views of and from riverboat Hazel B No. 2 going upriver; the Three Sisters (islands in the river); riverboat at Telegraph Creek and barge at Dease Lake, and local activity; forest fire & fire-fighting; shots of Fokker F-11AHB flying boat designated CF-AUV (at dock and taking off) and a Fairchild floatplane; aerial shots in the vicinity; wreckage of aircraft CF-AUV (which crashed at McDame Lake, 13 July 1935); general scenery and wildlife. The placer mining footage, which is interspersed, includes shots of a small mining camp, sluice works, panning, hydraulic monitor operation, jerry-built mining equipment in use, etc. [The footage] was shot [ca. 1933-35] by Joseph J. Jackson, whose company "Three J's Placer Mines, Inc." prospected near the confluence of Thibert Creek with Dease Lake in [the years 1931-35]." (BC Archives)


---
Date produced: 1971
Filmmaker(s):
Description:
"Film is about sheep dog trials featuring sheep, dogs and people watching" Archives of Ontario.
---
Date produced: 1939
Filmmaker(s):
Description:
"Film is a fictional story of a boy saving a dog from being hit by a train" Archives of Ontario.
---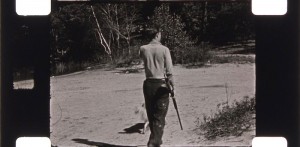 Date produced: 1937
Filmmaker(s):
Description:
"Hunting, cast of "Boy," played by Winthrop Rolfe, and "Dog," played by Teddy. Boy, walks with Dog through the forested mountainside, gazes at views over the alley, drinks water from a rushing stream, and kneels to shoot at birds." Notes by (NHF) Chris Reed and Chris Castiglia, June 2013
---
Date produced: 1969
Filmmaker(s):
Description:
"Wild Dogs of Africa is a film by a perennial winner, Fred Harshbarger of Colton, Calif. Most of us have seen films made in Africa but this nine minutes is not about the "run-of-the-mill" African animals that one expects. Who would think of making a film about wild dogs? Well Fred did - and because of it we all know just a little more of that part of the world. Naturally it's in color and shot with the usual Harshbarger "know-how". Winning the Nature Award was a natural for this picture" PSA Journal, Nov. 1969, 56.
---
Total Pages: 3