---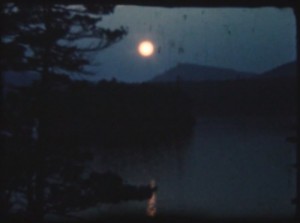 Date produced: 1942
Filmmaker(s):
Description:
"Land of My Dreams, Joseph J. Harley, ACL, will tell you, is a simple record of fun and friends. As such, it is an attractive piece of Kodachrome, colorful in its camera work, leisurely in its pace (400 feet, 8mm.) and frankly sentimental in its outlook. Lake Saranac and the Harley summer cottage comprise the land of Joe Harley 's dreams, although his myriad friends of ten years' standing play a large part in that Elysium. You see them throughout the film, going about their fishing and boating, picnics and swimming with an infectious zest and good humor. The record is climaxed with a detailed presentation of a grand communal party, at which each of the guests is required to put on some sort of skit or bit of entertainment." Movie Makers, June 1944, 246.

Note of warning: the "communal party" referenced in the description above includes a performance in blackface.
---
Date produced: 1955
Filmmaker(s):
Description:
"A record of the Toronto Film Society's visit to George Eastman House in Rochester, New York. Includes re-filmed excerpts from some of the classic films screened for the society members during their visit" British Columbia Archives.
---
Date produced:
Filmmaker(s):
Description:
"Begins with a close-up intro of the Davis's in a small boat. One of the girls falls overboard and is saved. A woman drops her jewels overboard. Family disembarks. Finds a clue on a piece of paper. The Family sets out in boat with shovels, saws, axes, etc. Quarrel with another family. Find a deed." oldfilm.org
---
Date produced: 1962
Filmmaker(s):
Description:
"A visit in New York City but mostly in the spirit of its night life although we do see some of its people and sun-bathed architecture, all to the beat and narration of a Decca recording. The source of the picture material appears to be from magazines and other printed picture sources including some live (but static) posing. The use of camera movement and lens zooming conveys a feeling of motion and activity for an enjoyable visit in New York" PSA Journal, Oct. 1962, 35
---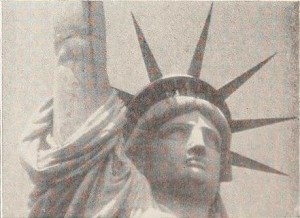 Date produced: 1952
Filmmaker(s):
Description:
"Terry Manos is one New Yorker who has outdone himself (and all other native or visiting filmers) in recording on film the glittering surface of the world's greatest metropolis and America's premier tourist attraction. For The $24 Purchase is authoritatively stamped with the unfailing precision of the Manos technique, the perfection of his lighting and exposures, the beauty and balance of his compositions. Accompanying it is a musical score (admirably recorded) that is generally fresh and germane to the subject, a narrative that (although burdened unduly by the factual trivia of the tourist barker) is delivered with professional skill. In other words, here is a superb visual document. But a document only. For The $24 Purchase records only that surface city which the eye may see. Missing from its makeup are the searching, individual comments on that city of one human mind. Missing also — and perhaps more importantly — are the evocative emotions of one human heart, a heart reacting freely and unafraid of emotion to Manhattan's towers and tenements, to her opulent splendor and her economic ghettos. The film — tragically, if you will — has omitted any message. And, perhaps only by the margin of this omission, it has missed greatness as well." Movie Makers, Dec. 1952, 340.
---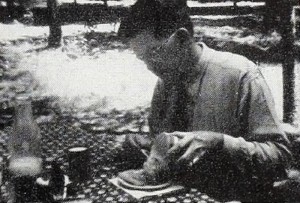 Date produced: 1951
Filmmaker(s):
Description:
"Northwoods Adventures is a plumply constructed and neatly tied half-hour package of travel through the Adirondack area. Evident in it are the well known technical skills, the smooth sequencing and the attractive titles which mark all the movies of Frank E. Gunnell. But the picture seems a package, nevertheless — and a package for a purpose. One gets the impression that the producer, as he edited, had his eye on the guest-lecturer's clock at a luncheon club meeting — rather than on the crisp continuities of movie making per se." Movie Makers, Dec. 1951, 412.
---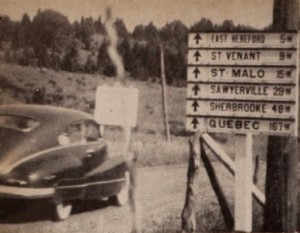 Date produced: 1949
Filmmaker(s):
Description:
"'Vacation Highlights,' as the title implies, is a record of a vacation trip, but instead of the usual array of catch-as-can shots which make up so many vacation record films, Terry Manos has given this excellently photographed narrative substance by employing inserts of a letter to his wife and daughter, describing his trip, and a number of tie-in shots of the two to knit the whole into a pleasant continuity. The picture is remarkable, not so much from its narrative standpoint as for its consistency in exposure. There is not a measurable difference in exposure in any scene throughout the picture. The picture depicts the start of the trip by automobile, which takes the travelers across the U.S. border into Canada and thence through the province of Quebec. On the return trip they visit such interesting sights as a wood pulp mill and the famed Ausabel Chasm, in upper New York. The camera treatment of the pulpwood sequence and of the Chasm scenes definitely mark this filmer as a photographer of promise. Manos used a 16mm. Bolex camera and Kodachrome daylight type film." American Cinematographer, Apr. 1950, 134.
---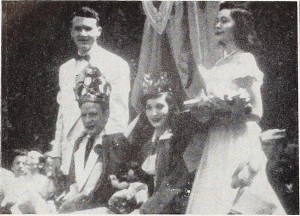 Date produced: 1950
Filmmaker(s):
Description:
"With the help of almost unbelievable luck from the weather man, Helen C. Welsh has achieved a high level of what is essentially newsreel filming. Her subject matter is in itself appealing — displays of tulips in a public park, children wearing amazing holiday headgear, dancers performing Old World figures, all climaxed by the pageantry of the coronation of a new king and queen of the festival. But Miss Welsh handles it expertly. Her viewpoints are varied and her camera work accomplished, while a wisely sparse and well recorded narrative ties the whole presentation into an attractive package. Albany's Tulip Festival is colorful, entertaining and fulsome as a record of a city's spring holiday." Movie Makers, Dec. 1950, 464.
---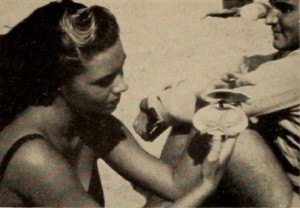 Date produced: 1949
Filmmaker(s):
Description:
"By a facile blending of warm hearted humor and a keen perception of human interest values, George Mesaros has created a film study of a famous beach in New York's metropolitan area that is replete with interest, information and entertainment. His technical skill and knowledge of what makes a motion picture move prevent this from being the dull collection of random shots all too frequently characteristic of this genre subject. Employing himself as a frenzied and frustrated shutterbug and a filming friend as plain Joe Doakes at the beach with his wife, a lunch and box camera, Mr. Mesaros proceeds to examine with interest and obvious affection the thousand and one attractions of the Long Island resort. An excellent musical score and a brief commentary help to integrate the compact 700 feet of the film's lively length." Movie Makers, Dec. 1949, 454.
---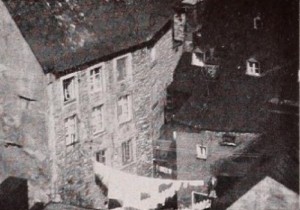 Date produced: 1948
Filmmaker(s):
Description:
"A schoolboy in need of material for a geography theme launches Five Days From Home, as Dad gets out the movie projector and shows Son the cine harvest of his summer holiday. Among the points covered in a whirlwind auto trip from New York to Canada are Quebec City, Montmorency Falls, a Canadian pulpwood mill and Ausable Chasm, in New York State. Mannie Lovitch's handling of these subjects is always competent, occasionally excellent. His inquiring camera found many scenes of quaint charm in the old St. Lawrence city, and his full scale visual treatment of the pulp mill is sustained in interest by a superb bit of scoring with modern music by Virgil Thompson. Of especial note is Mr. Lovitch's mobile cross-cutting of the three to four themes which make up his coverage of the usually difficult Ausable Chasm." Movie Makers, Dec. 1948, 493.
---
Total Pages: 3