---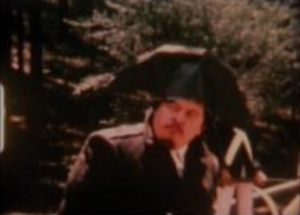 Date produced: 1971
Filmmaker(s):
Description:
"Se trataba del regreso de un soldado de origen mexicano a la Ciudad de México después de haber combatido en Vietnam con las tropas estadounidenses. El hombre llega a la estación del ferrocarril de Buenavista y recorre la ciudad para acabar finalmente en el departamento de su hermano. Busca trabajo y no lo encuentra. Por la voz off que sigue el hilo de sus pensamientos, nos enteramos que a su mente guerrera le cuesta trabajo adaptarse a la vida pacífica. La película intercala una serie de secuencias oníricas que de alguna manera ilustran su delirio belicista: sueña que es un soldado griego que asesina al niño que lo molesta en el taxi colectivo (un pesero) que lo conduce a casa de su hermano; imagina en el personaje que lo entrevista cuando aplica para obtener un trabajo a Napoleón Bonaparte (interpretado por Juan José Gurrola) dirigiendo una batalla; o sueña que es un caballero medieval que asesina a su familia en un pacífico día de campo. Finalmente el personaje no encuentra cabida en la sociedad pacífica y acude –todavía en traje de caballero medieval – al aeropuerto para comprar un boleto de avión "a la guerra más próxima"" (Vázquez Mantecón, 2012).

"It is about the comeback of a Mexican soldier to Mexico City after fighting in Vietnam along with American troops. The man arrives to the train station in Buenavista y goes around the city to end up at his brother's apartment. He looks for a job and cannot find one. The off voice, that follows his train of thought, tells us that his war mind has trouble adapting to a peaceful life. The film inserts a series of dreamlike sequences that in a way illustrate his war delirium: he dreams he is a greek soldier that murders the kid that bothers him in a collective cab that drives him to his brother's house; he imagines the character that interviews him when he is looking for a job is Napoleon Bonaparte (played by Juan José Gurrola) directing a battle: or he dreams he is a medieval knight that murders his family in a peaceful day in the country. Finally the character doesn't find a place in a peaceful society and goes –still in medieval armor– to the airport to buy a by a plane ticket to the "nearest war" " (Vázquez Mantecón, 2012).
---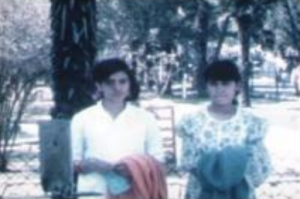 Date produced: 1971
Filmmaker(s):
Description:
"Esta cinta se basaba en una idea de David Celestinos de enviar a diversos equipos de filmación a desarrollar historias sobre lo que ocurre un domingo en la Ciudad de México de manera simultánea. El resultado fue interesante, en la medida en la que muestra la cotidianidad dominguera de diversos personajes que provienen de distintas clases sociales: un borracho llega con su compadre a la casa de la vecindad y es recibido de mala manera por la mujer, un grupo de juniors pasa el día en Cuernavaca, un hombre solitario recorre las calles y parques del centro de la Ciudad de México, un velador se aburre en el edificio que custodia, dos sirvientas pasan el día en Chapultepec, una familia clasemediera que va a misa y a pasar un día de campo... La cinta sigue el planteamiento hecho por el neorrealismo italiano de no convocar actores profesionales para presentar historias sencillas, ligeramente dramatizadas" (Vázquez Mantecón, 2012.

"This film was based in an idea by David Celestinos of sending diverse filming crews to develop stories about what happens simultaneously on a Sunday in Mexico City. The result was interesting since it showed the Sunday everydayness of diverse characters from different social classes: a drunk man arrives at his friend's house in a poor neighborhood and is received in a bad way by a woman, a group of juniors that spend their day in Cuernavaca, a lonely man that goes through the streets and parks of Mexico City, a night watchman that is bored in the building he is in charge of, two maids that spend the day in Chapultepec, a middle class family that goes to mass and to have a picnic... The film follows the idea posed by Italian Neorealism of not using professional actors to present simple stories, slightly staged" (Vázquez Mantecón, 2012).
---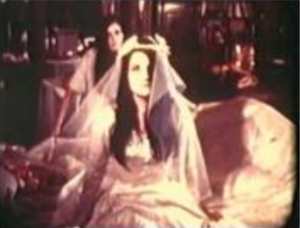 Date produced: 1971
Filmmaker(s):
Description:
"Celestinos filmó la cinta en una vieja casa de Chimalistac, al sur de la Ciudad de México. Según la historia en ella habitan dos hermanas que viven un encierro real y metafórico a causa de su sexualidad reprimida. Las primeras imágenes de la película muestran a una de ellas vestida de novia, mientras que otra lleva la cola del vestido. La escena da pie a un erotismo doloroso: una de ellas se acaricia para que la cámara muestre en close up sus lágrimas. Un flash back nos muestra la causa: el momento de su infancia en que una monja de visita en la casa le dio manotazos por haberle mostrado una imagen de una mujer desnuda que encontró por casualidad. El personaje busca liberación. (...) La otra hermana también busca salir de la casa (emblema del ámbito doméstico familiar), y encontrar su libertad sexual" (Vázquez Mantecón, 2012)

"Celestinos filmed the tape in an old house in Chimalistac, south of Mexico City. According to the story, the house is inhabited by two sisters that live in a real and metaphorical confinement because of their repressed sexuality. The first images of the film show one of them dressed as a bride, while the other carries the tail of the dress. The scene is followed by a painful erotism: one of the caresses herself to make the camera show her tears in close up. A flash back shows the cause: the moment of her childhood when a nun hits her hands because she showed her a picture of a naked woman that she found by chance. The character seeks liberation. (...) The other sister is also looking forward to leave the house (emblem of the familial domestic scope), and to find her sexual freedom" (Vázquez Mantecón, 2012)
---
Date produced:
Filmmaker(s):
Description:
"Un-staged documentary footage shot and edited by Sallie Wagner. Sallie's description of the film: 'Trading post at Wide Ruins, "Trader Burnt Hat" - Bill Lippincott, Sallie, Antoinette Badgley - mother, baby, Sallie, group of three left to right - Gaddy, John Joe, and ? , Tom Big Gun - raising his arm quickly Hosteen Belahi. Little Woman - captive of [Kit] Carson [survived the Long Walk and Navajo incarceration at Ft. Sumner], John Joe's wife (gold skirt) and daughter, Mary Toddy and John Toddy, young children, Joe Toddy, Nashoshi Begay, Paul Jones in trading post trading with Bill Cousins, wife and child of Tom Big Gun, Lukachuka - also captive of Carson (Blackrock's brother - both medicine men). Navajo Refugee Site "Kinazin" (which means Standing House) near Wide Ruins, Pat Norton inside "Kinazin" ruins, Cliff Ruin in Canyon del Muerto, ceremonial jar washed out by rain, Bill Lippincott - Elvin Jonas and Jack Norton excavating the pot, climbing cliff at Canyon de Chelly - Larry Bell and Doyle Mulligan, Sallie and Bill looking at pictographs below Wide Ruins, pictographs near spring north of trading post, Navajo Fence at Wide Ruins, numerous sunsets'." New Mexico State Archives.
---
Date produced:
Filmmaker(s):
Description:
"Un-staged documentary footage shot and edited by Sallie Wagner. Sallie's description of the film: 'Wide Ruins and area, farming Navajos, Black Rock - Medicine Man, Cut Hair plowing, Joe Toddy following Cut Hair, planting, Patsy Martin standing on Cultivator, Jim House's wife husking corn, Paul Jones helping husk corn, sheep dipping at Ganado, Dwight Wagner viewing sheep dipping, wool shearing at Wide Ruins, loading sheep at Chambers, tall man in tan outfit Bill Cousins, Bent Knee sitting on fence, Crip Chee's grandson in closing scene'." New Mexico States Archives.
---
Date produced:
Filmmaker(s):
Description:
"Un-staged documentary footage shot and edited by Sallie Wagner. Sallie's description of the film: 'Shorty Boys, Little Shorty building a hogan, Crip Chee and his hogan, grandson in doorway. Blackrock in front of hogan, Tchindi, Rose Martin doing laundry, cooking shelter at squaw dance, Hosteen Glish getting water, Bent Knee getting wood, Hosteen Glish making a canoe out of a log, Hosteen Glish's granddaughter weaving, digging yucca root for soap, Navajo washing her hair, Hosteen Glish making a cradle board'." New Mexico State Archives.
---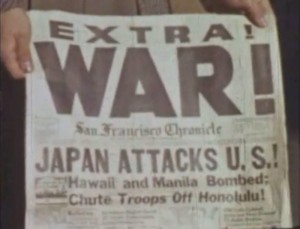 Date produced: 1945
Filmmaker(s):
Description:
"Amateur film footage shot by Dave M. Tatsuno while he was interned at the Topaz War Relocation Center, the Japanese-American internment camp located in Delta, Utah. The footage dates from 1942-1945, the years that Tatsuno was interned in the camp." Archives West.
---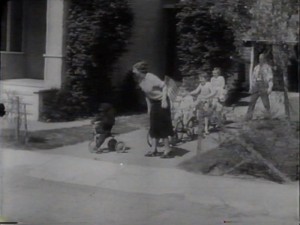 Date produced: 1932
Filmmaker(s):
Description:
"This film records, in the informal style of a home movie, some of a young chimpanzee's (Pan troglodytes) activities while raised in the Ravens' home. She plays with a hose, joins in games with the Raven children, manipulates tools, encounters snakes and mice, writes with a pencil, eats with a spoon, rides a tricycle, and feeds a human infant." University of Wisconsin-Madison Libraries.
---
Date produced: 1939
Filmmaker(s):
Description:
"A family film with intertitles made for the Amateur Cinema League. The film follows the adventures of Herbert Miller, Jr., with his parents, his dog Chips, and his toys, including a pedal car and a teddy bear. Other segments show a ski trip to Mount Hood and a Miller's Paint store." Archives West.
---
Date produced: 1962
Filmmaker(s):
Description:
"Twin boys wreak havoc on a park when their dad falls asleep on their picnic." Sacramento Public Library.
---
Total Pages: 12