---
Date produced: 1934
Filmmaker(s):
Description:
"Bill Turnbull of Denver entered several 8mm subjects of the Chicago Fair. To our mind they were among the very best pictures of that event that had been submitted to us in the past two years. His pictures were well cut, nicely edited and deserving of honorable mention." American Cinematographer, Feb. 1936, 73.
---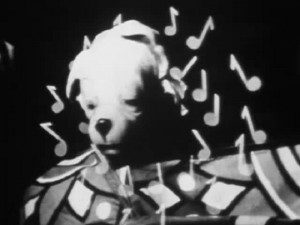 Date produced: 1936
Filmmaker(s):
Description:
"The Annual Fancy Dress Ball at Glasgow School of Art: 'Something New Under the Sun'. Includes two ballets, 'Hungarian' and 'Machine Age' and animated sequences." National Library of Scotland Moving Image Archive.
---
Date produced: 1960
Filmmaker(s):
Description:
"Edited film by Floyd Henry Wells, a retired salesman and a member of the Wally Byam Caravan Club of Airstream trailers, chronicling travels through Tahiti, Fiji and Samoa including scenic views, dance and martial arts displays, cruise ship Mariposa, shipboard activities, underwater photography, collecting sponge or coral, lagoon, market, harbor scenes, outriggers and urban scenes," Human Studies Film Archives, Smithsonian Museum.
---
Date produced: 1933
Filmmaker(s):
Description:
"Red Sand, a carefully edited study of bull fighting, is another reel, which will run just over 200 feet selected from the 1000 feet that was shot." Movie Makers, Feb. 1933, 50.
---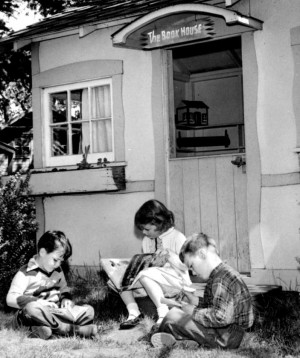 Date produced: 1945
Filmmaker(s):
Description:
"During the 1940s, Mrs. Gertrude McGill ran the Children's Garden Library in the garden of her home at 1170 Tattersall Drive in Victoria. Open to children aged 4 to 12, this program aimed to improve reading habits and instill citizenship. It is seen as the beginning of cooperative preschools on Vancouver Island.

"Amateur film. Part 1 shows a day's activities at the Children's Garden Library, including games, calisthenics, playground equipment, dancing, and reading and storytelling at the "Book House". Part 2 shows the children participating in May 24 celebrations at Beacon Hill Park, which includes a May Queen pageant, maypole dancing, and activities honouring the "Queen of Health", the "Queen of Music", the "Queen of Drama", the "Queen of Race Friendship" and the "Queen of Art". A mothers' study group, and the toymakers' group, are also shown." (BC Archives)
---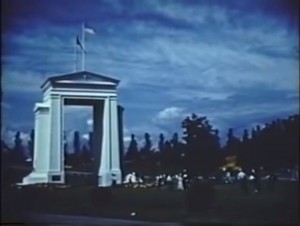 Date produced: 1953
Filmmaker(s):
Description:
"Local sights and events in the White Rock area, such as parades, celebrations at the International Peace Arch, fashion show, recreational activities, etc." British Columbia Archives.
---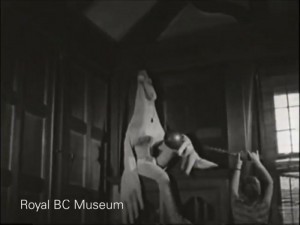 Date produced: 1947
Filmmaker(s):
Description:
"Produced as a gift to Dorothy Burritt's husband, filmmaker Oscar Burritt (who was working in Toronto at the time), this is an offbeat study of life at their Vancouver apartment -- suite 2, 1960 Robson Street. The camera explores the apartment and the household memorabilia, and Dorothy is seen sitting for a portrait by painter Peter Bortkus. Later some friends drop by for a screening of Sacha Guitry's film Pearls of the Crown, followed by a party. Among the guests are Moira Armour, film editor Maureen Balfe, UBC student Stanley Fox, photographer Peter Varley, and an unnamed figure wearing a bird costume. Most of the people shown would have been involved with the National Film Society of Canada (Vancouver Branch). Suite Two won honourable mention (amateur category) at the first Canadian Film Awards in 1949." (BC Archives)

The film was restored in 1986 by the British Columbia Archives.
---
Date produced: 1937
Filmmaker(s):
Description:
"[The Nutcracker Suite] was made in the Radio City Music Hall, during a rehearsal and one performance, with no assistance from the house, save only permission. It was a 'catch as catch can' affair for they had not the slightest control over lights or performances" ("Program Notes").
---
Date produced: 1971
Filmmaker(s):
Description:
"Apple Sculpture by Frank L. Kreznar of Milwaukee, Wis. No Literal description of this film is possible more than the title itself. This surprising hobby is beautifully presented in this 8-minute 16mm film that was awarded a Ten Best Medal" PSA Journal, Nov. 1971, 41
---
Date produced: 1969
Filmmaker(s):
Description:
"Carousel is a colorful film that takes us on today's merry-go-round through an excellent editing job and the use of music. This 3 1/2 minute work of art is by Louis Grenier of Chicago" PSA Journal, Nov. 1969, 57.
---
Total Pages: 11