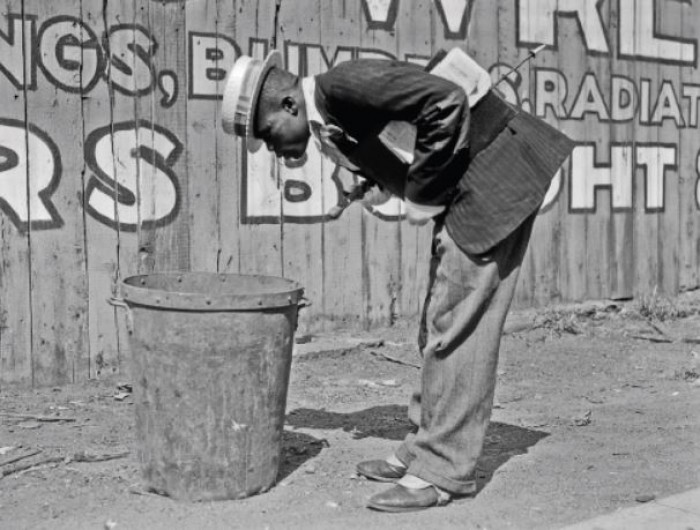 Date produced: 1933
Filmmaker(s):
Production credits:
Languages:
English
Duration:
00:10:00
Length:
2 reel (600 ft)
Format:
16mm
Colour:
B&W
Sound Notes:
Silent
Awards/Recognition:
ACL Ten Best 1933
American Cinematographer Amateur Movie Makers Contest, 1933 - Honorable Mention
Description:
"Mr. Motorboat's Last Stand, written and produced by John A. Flory, who was assisted in photography by Theodore Huff, ACL, carries the subtitle, A Comedy of the Depression. It has, however, nothing in common with the typical motion picture comedy but is, instead, one of the very few films made each year that represent an intelligent attempt at experimentation with the motion picture medium. It is a story of Mr. Motorboat, an unemployed negro, who lives as elegantly as circumstances will permit in an automobile dump and who sells carefully washed and polished apples on a street corner. The picture turns into fantasy as Mr. Motorboat appears to ride to work in the morning in one of the cars of the dump that stands motionless without its wheels. Then the fantasy becomes more complete when he makes a bit of money and uses it as bait with which to fish in Wall Street. This he does literally and actually and with marvelous results until the crash of 1929. Simultaneously with the explosion of the prosperity bubble, Mr. Motorboat's competitor smashes his apple stand and the picture ends in a magnificent chase sequence, Mr. Motorboat after the competitor. This picture is photographed superbly well, and the editing is as smooth as that of the professional studio product. It is filled with remarkable directorial touches and cinematic symbolism and, although it suffers to some extent from the haphazard admixture of fantasy and realism, it is decidedly the best experimental film of the year." Movie Makers, Dec. 1933, 522.
Resources:
See a description of the film's scenario and filming in Lovers of Cinema : The First American Film Avant-Garde, 1919–1945 edited by Jan-Christopher Horak, and in Charles Tepperman's Amateur Cinema: The Rise of North American Moviemaking, 1923-1960 where he discusses the film in regards to the Great Depression and amateur experimentation.

The film was available in the ACL's Club Film Library.
Locations:
Hudson River, N.Y. (Filming)
Subjects:
Genre:
Form:
Tags:
Repository:
George Eastman House, Rochester (USA)
Screenings:
Screened by the Hungarian Amateur Film Club in 1934: Budapest, Hungary
Screened by the Klub der Kino-Amateure-Oesterreichs in the summer of 1934, and in 1935: Vienna, Austria
Screened by Dr. Frederic M. Thrasher in his New York University motion picture course in 1934: New York City, N.Y.
Screened by the Metropolitan Motion Picture Club in 1939: New York City, N.Y.
Screened by the Brooklyn Amateur Cine Club in 1939: Brooklyn, N.Y.
Screened by the Cine Group of the Schenectady Photographic Society in 1942: Schenectady, N.Y.
Screened at the National Gallery of Art in the program "A Mirrored Romance" in September 2002: Washington, D.C.
---