---
---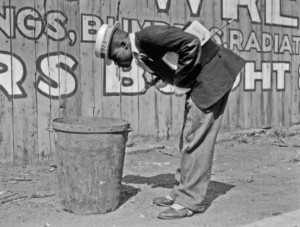 Date produced: 1933
Filmmaker(s):
Description:
"Mr. Motorboat's Last Stand, written and produced by John A. Flory, who was assisted in photography by Theodore Huff, ACL, carries the subtitle, A Comedy of the Depression. It has, however, nothing in common with the typical motion picture comedy but is, instead, one of the very few films made each year that represent an intelligent attempt at experimentation with the motion picture medium. It is a story of Mr. Motorboat, an unemployed negro, who lives as elegantly as circumstances will permit in an automobile dump and who sells carefully washed and polished apples on a street corner. The picture turns into fantasy as Mr. Motorboat appears to ride to work in the morning in one of the cars of the dump that stands motionless without its wheels. Then the fantasy becomes more complete when he makes a bit of money and uses it as bait with which to fish in Wall Street. This he does literally and actually and with marvelous results until the crash of 1929. Simultaneously with the explosion of the prosperity bubble, Mr. Motorboat's competitor smashes his apple stand and the picture ends in a magnificent chase sequence, Mr. Motorboat after the competitor. This picture is photographed superbly well, and the editing is as smooth as that of the professional studio product. It is filled with remarkable directorial touches and cinematic symbolism and, although it suffers to some extent from the haphazard admixture of fantasy and realism, it is decidedly the best experimental film of the year." Movie Makers, Dec. 1933, 522.
---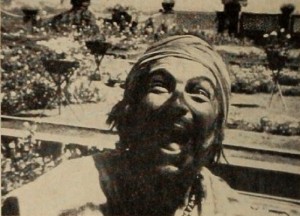 Date produced: 1949
Filmmaker(s):
Description:
"J. N. Unwalla has chosen a simple morality tale for the theme of this colorful film from India. A beggar pleads for alms from passersby with poor success. There appears suddenly a figure who promises him wealth if he will eschew avarice and greed. As a shower of golden coins overflows his lap, however, he begs for "one dinar more." The point of the tale is proved when this evidence of his greed causes the wealth and the figure to disappear. Although employing interesting camera viewpoints to give diversity, the single setting in a Bombay courtyard suggests a stage play rather than a motion picture." Movie Makers, Dec. 1949, 470.
---
Date produced: 1968
Filmmaker(s):
---
Date produced: 1967
Description:
"There Was a Tramp has, at first fade-in, a similarity to other tramp pictures, but the life breathed into the main character is what brings this film out of the ordinary and sets it apart from the rest. The story line becomes almost secondary to the acting of the tramp and his portrayal" PSA Journal, Aug. 1967, 36.
---