---
---
Date produced: 1960
Filmmaker(s):
Description:
Edited film "chronicling travel through the Caribbean including scenic landscapes, cities and villages, dance, local markets and fishing. Wells travelled on the M/s Stella Maris II. Locations filmed include Puerto Rico, Saba St. Kits, Gaudelupe, St. Lucia, Barbados, Paramaribo, Tobago, Trinidad, Grenada, St. Vincent, Dominica, Martinique, Fortress of San Felikpe Del Morrow (San Juan), For Christianvaern, Fort Fleur depee XVIII siecle, and Sam Lord's Castle," Human Studies Film Archives, Smithsonian Museum.
---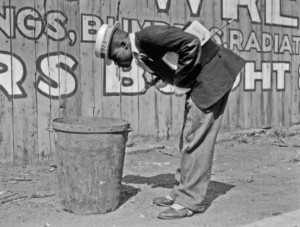 Date produced: 1933
Filmmaker(s):
Description:
"Mr. Motorboat's Last Stand, written and produced by John A. Flory, who was assisted in photography by Theodore Huff, ACL, carries the subtitle, A Comedy of the Depression. It has, however, nothing in common with the typical motion picture comedy but is, instead, one of the very few films made each year that represent an intelligent attempt at experimentation with the motion picture medium. It is a story of Mr. Motorboat, an unemployed negro, who lives as elegantly as circumstances will permit in an automobile dump and who sells carefully washed and polished apples on a street corner. The picture turns into fantasy as Mr. Motorboat appears to ride to work in the morning in one of the cars of the dump that stands motionless without its wheels. Then the fantasy becomes more complete when he makes a bit of money and uses it as bait with which to fish in Wall Street. This he does literally and actually and with marvelous results until the crash of 1929. Simultaneously with the explosion of the prosperity bubble, Mr. Motorboat's competitor smashes his apple stand and the picture ends in a magnificent chase sequence, Mr. Motorboat after the competitor. This picture is photographed superbly well, and the editing is as smooth as that of the professional studio product. It is filled with remarkable directorial touches and cinematic symbolism and, although it suffers to some extent from the haphazard admixture of fantasy and realism, it is decidedly the best experimental film of the year." Movie Makers, Dec. 1933, 522.
---
Date produced: 1960
Filmmaker(s):
Description:
Edited film "chronicling travel through Tahiti and Mo'orea including scenic landscapes, aerial views, harbor scenes, resorts, local flora, markets, underwater scenes, dance and storytelling," Human Studies Film Archives, Smithsonian Museum.
---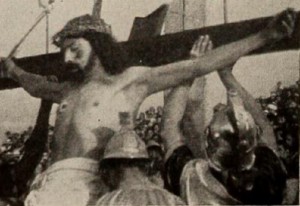 Date produced: 1946
Filmmaker(s):
Description:
"It is a platitude that there is more in Mexico than meets the eye. In Quaint Old Mexico, however, Guy Nelli proves that there is far more in Mexico than usually meets the camera. Mr. Nelli presents the gradual awakening of Mexico, as the farmers drive their produce to market, with a startling sense of early morning atmosphere; market scenes are developed lucidly and effectively. The high peak of the film is reached with a most remarkable sequence of religious festival shots, as virtually an entire village re-enacts the Stations of the Cross. The intense religious emotion evident in these scenes has rarely been caught for the screen. Mr. Nelli's film is outstanding for its fresh approach and, above all, for the natural and casual quality of its shots." Movie Makers, Dec. 1946, 488.
---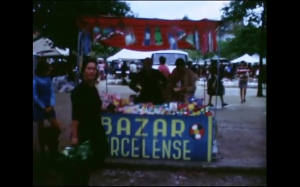 Date produced: 1974
Filmmaker(s):
Description:
Documental sobre un mercado en Barcelos, un pueblo del norte de Portugal, que se celebra todos los jueves del año. En él, se pueden encontrar hasta las cosas más inverosímiles.

Documentary about a market in Barcelos, a northern town in Portugal, that happens every Thursday of the year. In the market, even the most improbable things can be found.
---