---
---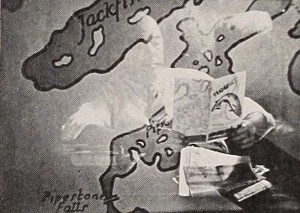 Date produced: 1939
Filmmaker(s):
Description:
"No better example of human interest in a vacation film will be seen for a long time to come than was exhibited in Two Perfect Weeks, made by Walter F. Hinkle. Strangely enough, there was practically no material of actually catching fish, yet the film gives one the impression that the party consisted of all genuine fishermen and that no more dyed in the wool sportsmen could be found than these happy vacationists. Starting with a clever introduction, the film moves rapidly along into camp. Here, a most handsome array of interest packed close shots serves to tell the story of tired business men at play, until the entire audience is ready to sit down and enjoy a meal of freshly cooked fish. The film ends in a novel way. To signalize the return to civilization, each member of the party is seen shaving off the beard that grew during the two weeks at camp. Although each of the group is introduced by means of a different type of activity, the picturization is at no time slow or dull. The secret lay in the fact that there was no "monkey business" in front of the camera, but rather a good collection of intimate views of the persons going about their various tasks. The color titles are well executed." Movie Makers, Dec. 1939, 632-633.
---
Date produced: 1933
Filmmaker(s):
Description:
"Under the Maple Leaf, by Hamilton H. Jones, ACL, is a partially refilmed and entirely reedited version of last year's award winner, Canadian Capers. A splendid picture a year ago, its new and additional sequences now bring to the film a photographic beauty plainly of the very first rank. A sequence of the morning mist rising from a lake deserves particular mention. Mr. Jones's considerable skill with his camera has increased in stature and may not yet have reached its full flowering. For this accomplishment his work has been given a place of honor in these selections. In the reluctant estimation of the judges, however, the editing and cutting of Under the Maple Leaf so far lagged behind its generally matchless beauty as to rob the film of its fullest emotional power. This factor only prevented Mr. Jones from repeating this year his full triumph of a year ago." Movie Makers, Dec. 1933, 523-524.
---
Date produced: 1933
Filmmaker(s):
---
Date produced: 1929
Filmmaker(s):
---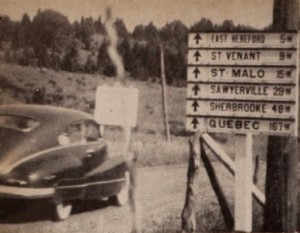 Date produced: 1949
Filmmaker(s):
Description:
"'Vacation Highlights,' as the title implies, is a record of a vacation trip, but instead of the usual array of catch-as-can shots which make up so many vacation record films, Terry Manos has given this excellently photographed narrative substance by employing inserts of a letter to his wife and daughter, describing his trip, and a number of tie-in shots of the two to knit the whole into a pleasant continuity. The picture is remarkable, not so much from its narrative standpoint as for its consistency in exposure. There is not a measurable difference in exposure in any scene throughout the picture. The picture depicts the start of the trip by automobile, which takes the travelers across the U.S. border into Canada and thence through the province of Quebec. On the return trip they visit such interesting sights as a wood pulp mill and the famed Ausabel Chasm, in upper New York. The camera treatment of the pulpwood sequence and of the Chasm scenes definitely mark this filmer as a photographer of promise. Manos used a 16mm. Bolex camera and Kodachrome daylight type film." American Cinematographer, Apr. 1950, 134.
---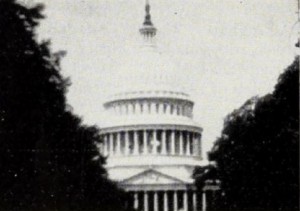 Date produced: 1951
Filmmaker(s):
Description:
"Sometime during the summer of 1950, Fred Evans, L. A.'s genial maestro of 8mm movies, arranged to pick up a new Nash sedan in Grand Rapids, Mich. What better excuse need there be for packing up his two Southern California sons and taking them East to meet the land of their forefathers? Which is exactly what he did in Vacation Highlights of 1950. The lead title is commonplace, perhaps almost banteringly so; but the film footage which follows it is not. Niagara Falls, his native Vermont, Concord, Lexington, New York, Philadelphia and Washington are on the Evans itinerary of American history. There is a rewarding stop at the St. Louis zoo — for its incomparable Sunday shows — and soon the Evans are home again. But not without one final twist to the tale. "Hey, look-out here, Pop!" urges the oldest offspring as he returns from scouting the premises. The family cat, with inimitable feline pride and savoir faire has had kittens." Movie Makers, Dec. 1951, 410.
---
Date produced: 1933
Filmmaker(s):
---
Date produced: 1937
Filmmaker(s):
Description:
"A Vacation with Lucy Carlisle, Margaret Pinkham, Virginia Carlisle." oldfilm.org
---
Date produced: 1950
Filmmaker(s):
Description:
"Footage of a boating trip on the Great Salt Lake. Views of the shoreline, passengers, raising and lowering of sails, sunset, the galley, dinner and sleeping accommodations. Also, views of the boat from the shore and unloading the boat at dock." University of Utah Marriott Library.
---
Date produced: 1933
Filmmaker(s):
Description:
"Lancashire's Fylde Coast resorts have year-round appeal, as we can see in this reel from the early 1930s. The seaside is not just for swimming and sandcastles; you can feed seagulls at Southport, or slide down sand dunes with your dog, or stroll across Blackpool's wide beaches on a cold day. And, at the time this film was shot, this coastline had many fine piers to enjoy, whatever the weather."(BFI Player)
---
Total Pages: 8