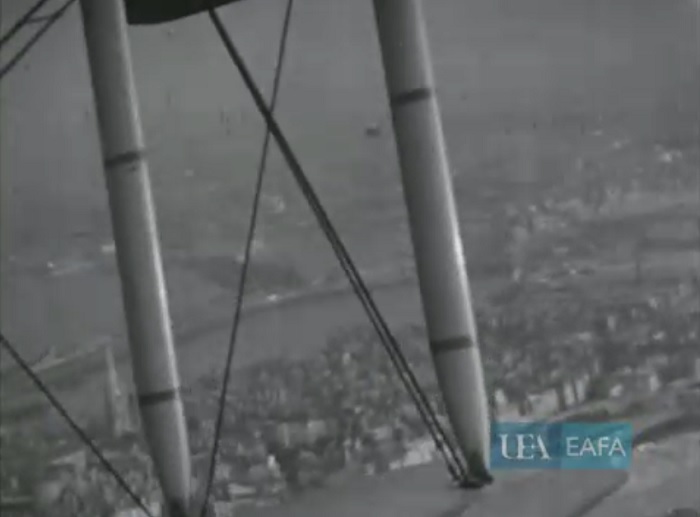 Identifier:
3284 (Source: East Anglian Film Archive)
Date produced: 1932
Filmmaker(s):
Languages:
English
Duration:
00:18:00
Length:
1 reel
Format:
16mm
Colour:
B&W
Sound Notes:
Silent
Awards/Recognition:
American Cinematographer Amateur Movie Makers Contest, 1933 - Gold Medal for Travel
IAC Film Collection, East Anglian Film Archive
Description:
"Film record of a journey to Egypt and a four day holiday in Cairo. The film begins at Croydon Airport, recording the activities of the ground crew and the arrival and departure of two Imperial Airways planes, the Heracles and the Hengist. The film records a stopover in Crete on the journey to Cairo where the plane is moored close to a yacht. The final section of the film records street scenes in Cairo and an excursion to the Great Pyramid and Sphinx, returning to the city by Marg and Old Heliopolis." East Anglian Film Archive.

"Ruth Stuart's Travel picture 'Egypt and Back With Imperial Airways,' was not only a fine example of consistent photography, but also showed a keen knowledge of editing and cutting that let the pictue breeze along in an entertaining fashion." American Cinematographer, Dec. 1933, 321.
Resources:
The film was recognized as "Best Film in the General Interest Class" in the Institute of Amateur Cinematographers contest of 1933 (American Cinematographer, Jan. 1934, 370).

This film is a part of the Institute of Amateur Cinematographers Collection held by the East Anglian Film Archive.
Locations:
Croydon Airport, London, England (Filming)
Cairo, Egypt (Filming)
Crete, Greece (Filming)
Subjects:
Genre:
Form:
Tags:
Repository:
Institute of Amateur Cinematographers Collection, East Anglian Film Archive
Screenings:
Screened by the Cherry Amateur Movie Society in 1938: Tokyo, Japan
Screened as part of the "Flying Through the 30s: A one day symposium on air travel and interwar Britain" program at the Aerodrome Hotel on April 16, 2016: London, England
Viewing Notes:
"Shots at Croydon airport include: pilots looking a weather/visibility chart; mail and passengers arriving at Coydon airport; a Handley Page 42 (Heracles) landing; baggage being unloaded by uniformed handlers (K.L.M. is the baggage handler); Heracles being towed; ground crew inspecting the aircraft following landing; coaches arriving with passengers for continental flights; passengers embarking on a Handley Page 42 Imperial Airways aircraft (Hengist - a Royal Mail insignia on the outside of the plane); aircraft taking-off; brief shot of a woman in the cabin looking out of the window.

Shots on Crete include: a flying boat (Scipio) being refuelled; passengers and crew on the company's yacht.

Shots in Egypt include: scenes on the streets in Cairo, including a visit to the city's eastern quarter; the pyramids; observations of market day in Marg and encounters with the local population, including sightings of a leper and women collecting water from a river, on the return journey from Old Heliopolis to Cairo." Viewing notes via East Anglian Film Archive.
Video Link:
---