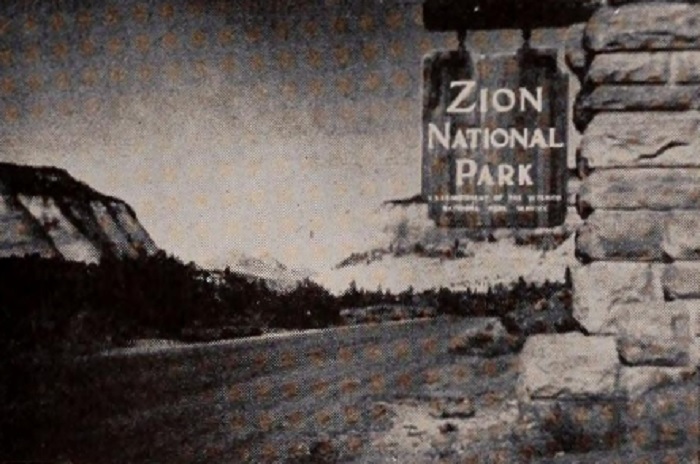 Date produced: 1946
Filmmaker(s):
Country of Production:
United States
Languages:
English
Length:
1600 ft
Format:
16mm
Colour:
Kodachrome
Sound Notes:
Silent
Awards/Recognition:
Union Pacific Railroad Amateur Film Contest 1946 - First Prize, $1000 & Engraved Trophy
UCLA Film and Television Archive list of titled amateur films
Description:
"Mr. Midgley's production is a gay and picaresque saga of a 350 mile jaunt by bicycle along the highways of Bryce and Zion National Parks and Cedar Breaks National Monument. Distinguished camera work, pleasing compositions and imaginative treatment contribute to the film's success. Outstanding in the picture, however, are its crisp pace and lighthearted laughter at the cyclist's own wry adventures. Brightly executed titles and a restrained use of a fine "running gag" round out this altogether engaging travel study." Movie Makers, Jan. 1947, 49.
Resources:
Report on the winners of the Union Pacific Railroad 1946 contest in Movie Makers (Jan. 1947, 49). Midgley and his award winning film also receive a write up in "Cycling Cinematographer" (Home Movies, Feb. 1947, 91, 112-113).

Midgley reveals how he shot the film, with his Kilroy automatic starting device, in "Let Kilroy Do It" (Movie Makers, May 1947, 193, 214-216).

This film is a part of the Stan Midgley Collection held by the UCLA Film & Television Archive.
Locations:
Bryce Canyon National Park, Utah (Filming)
Zion National Park, Utah (Filming)
Cedar Breaks National Monument, Utah (Filming)
Subjects:
Genre:
Form:
Repository:
Stan Midgley Collection, UCLA Film & Television Archive
Screenings:
Screened with Midgley's in-person narrative accompaniment at the Los Angeles Cinema Club in 1947: Los Angeles, CA
Screened by the La Casa Movie Club in 1947: Alhambra, CA
---