---
---
Date produced: 1976
Filmmaker(s):
Description:
Película argumental en la que un adolescente enamorado de una artista descubre que está no merece sus desvelos y vuelve a su vida normal de joven estudiante.

Fiction film in which a teenager in love with an artist discovers she is not worth losing sleep over, and the goes back to his regular young student life.
---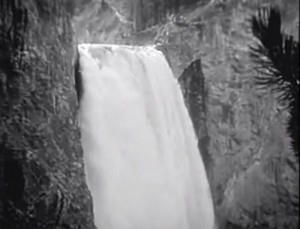 Date produced: 1936
Filmmaker(s):
Description:
"An eight week Western camping trip in the summer of 1936 by seven boys from the Hartford, Connecticut area, under the leadership of Ken Strong, a Hartford Seminary graduate. Filmed by then teenage amateur movie maker Robbins Barstow (1919-2010)." Center for Home Movies.
---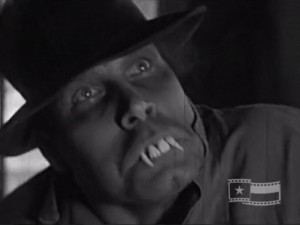 Date produced: 1964
Filmmaker(s):
Description:
"This amateur horror film, made by longtime Austin resident Ramon Galindo, follows a group of kids as they go fishing. When one girl falls and injures herself, she is taken by a Frankenstein-esque villian to an abandoned, rural house where he prepares a potion to give her as she lays on skeleton bones. When the girl makes a run for it, her friends and a sheriff's officer join in to help rescue the girl and capture the villain. This film was made in 1964 with children from Austin's Travis Heights neighborhood. Austin local Chris Crow plays the villain and commissioned the music for the film locally. It was shot in Hays County between Kyle and San Marcos, Texas" Texas Archive of the Moving Image.
---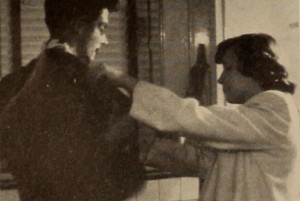 Date produced: 1949
Filmmaker(s):
Description:
"The trials, tribulations and eventual triumphs of a teen aged young man embarked on his initial evening engagement are engagingly portrayed by John C. Sherard in First Date. Even the traditional nuisance role played by junior members of the girl's family is given a new angle — a trained flea circus on the loose. But this bit of business and others in a basically imaginative comedy are, on occasion, drawn out too much for the best dramatic pace. Outstanding in the film, however, is Mr. Sherard's use of Type A Kodachrome outdoors without the corrective filter to simulate moonlight." Movie Makers, Dec. 1949, 469.
---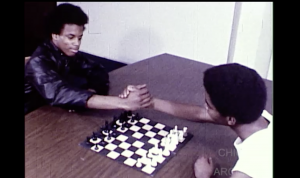 Date produced: 1972
Filmmaker(s):
Description:
"A South Shore High School student film that is an allegory on the wastefulness of war and the duplicity of those who wage it. Filmmaker Wayne Williams, who was 17 at the time, cuts back and forth between a chess game and a guerrilla theater war game to underscore the sense of importance of the fighters and the cynicism of those who control their lives - and deaths." Chicago Film Archives
---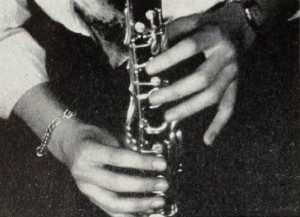 Date produced: 1950
Filmmaker(s):
Description:
"Almost since the beginning of amateur movies, the dawn-to-dusk continuity has been a perennial favorite in personal movie making. In Hands Around the Clock, William Messner presents a suave and refreshing variation on this well-worn theme. For in his version, as the title suggests, only a pair of hands (apparently belonging to a talented teen-aged youth) portray the morning-to-midnight activities being pictured. Outstanding in Mr. Messner's production is the implicit evidence of exact and imaginative planning. Scene flows into scene, and sequence into sequence, with an effortless ease which finds every transition in exactly the right place. Mr. Messner's musical score is pleasantly suitable, excellently recorded and accurately synchronized. The producer of Maxine's Big Moment, a 1948 Ten Best, has taken a big step forward in creative filming." Movie Makers, Dec. 1950, 464.
---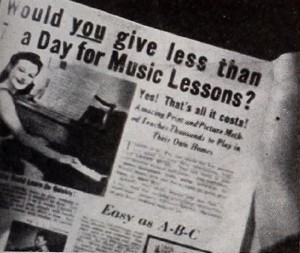 Date produced: 1943
Filmmaker(s):
Description:
"Lend Me Your Ear is an almost perfect synthesis of shrewd planning, impeccable camera work, smoothly integrated music and general, overall charm. It is gay, glamorous and in good taste. In it, Erma Niedermeyer has caught the lighthearted spirit of 'teen aged American youth. That she was amply aided by her own attractive son was her further good fortune. As the film opens, the Boy is discovered musing over that classic advertisement which guarantees to teach you piano in ten easy lessons. "You too can be the life of the party!" it clarions. The Boy answers the call, the lessons start arriving and the fun begins. There is the light "running gag" of the harried postman, continually overwhelmed by the Boy's enthusiasm as he delivers each new installment; there is the time the piano refuses to play, clogged up as it is by a basketball in its "innards"; there is the tousle headed imitation of Franz Liszt at the age of fourteen — and more. There is, in climax, the Boy's devastating triumph amid a bevy of admiring beauties, as he becomes in truth "the life of the party." Geared to these sequences — which are presented in swift pace and with unerring command of the camera — is a musical accompaniment as suave as the film itself. A single commercial recording provides a slight and recurring background theme. All the remaining score — from the first hesitant scales to the final rocking rendition of a jazz hit — is in the Boy's own playing, especially recorded by Mrs. Niedermeyer to fit her own picture. It is an ineffable and irresistible combination, this Lend Me Your Ear, warmly deserving of the high honor it has won." Movie Makers, Dec. 1943, 457.
---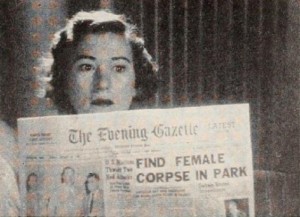 Date produced: 1952
Filmmaker(s):
Description:
"A teen-aged girl — whose imagination has been excited by murder headlines in the local paper — and a mysterious new boarder in her mother's home are the ingredients of The Man With The Box, a superlative melodrama by James L. Watson. For here is as hair-raising a thriller as you could want to see. Mr. Watson tells his story through the interplay of image and counterimage, without benefit of dialog, and he tells it simply and well. Taut and well paced, the film should hold any audience in suspense-filled excitement from its quiet and clearly stated beginning right up to the shock of its logical and terrifying conclusion. The small cast has been cunningly chosen and wisely directed. The players, Cathy Moss as the inquisitive young girl and John Dowell as the strange boarder, give restrained yet moving performances, sustaining the film's mood admirably. The accompanying score not only complements the story line: it becomes, excitingly, an integral part of it. The Man With The Box returns to the first principles of the silent cinema with rewarding vitality." Movie Makers, Dec. 1952, 399-400.
---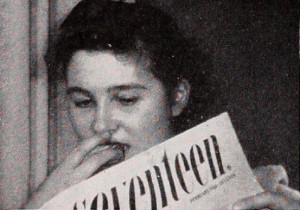 Date produced: 1948
Filmmaker(s):
Description:
"In Maxine's Big Moment, William Messner proves that he knows the language of the motion picture, for he tells his tale in true visual terms. No subtitles are used, nor are they needed. This is a small film but a suave one, scarcely more than a vignette, as it recounts the excitement of a teen age girl's first formal dance. In it, the producer has used high key lighting that is eminently suitable in portraying a lovely young girl anticipating and preparing for a party. The choice of softcolor backgrounds adds immensely to the mood of the film, and the imaginative mirror shots in which the young lady pins a corsage to her gown are noteworthy. Fine editing and smooth transitions, in addition to good acting, combine to make a delightful and entertaining home movie." Movie Makers, Dec. 1948, 476.
---
Date produced: 1967
Filmmaker(s):
Description:
"Teenagers...embark on a space mission to explore Alpha Centauri, the second closest star to Earth. The film follows the astronauts during the preparation for their mission, their journey through space, and finally, their encounters with life on Alpha Centauri. The end of the film portrays the astronauts and the Alpha Centaurians coming together in a utopian gathering, complete with cheerleaders, a pony, and an astral princess." Andrea McCarty, http://oldfilm.org/content/mission-alpha-centauri-0
---
Total Pages: 2