---
---
Date produced: 1927
Filmmaker(s):
Description:
"This proved to be an unusual serio-comedy, telling of a restless young husband and how he was cured. It was very well acted by Alfred Fontana as the husband, Margaret Ervin as the vamp, Anne Howe, and Beatrice Traendly as the wife. The directon of Russell T. Ervin Jr. was remarkably good, revealing an unusual facility for telling a story concisely and quickly. Then too, he understood how to cover any histrionic imperfections of his cast. 'And How!' is a suprisingly neat amateur film" Photoplay, June. 1928, 66
---
Date produced: 1967
Filmmaker(s):
Description:
"The Conscience is one of those psychological studies without being too psychological in its treatment and approach. A hit and run driver decides no one will know his crime, but he finds it hard to live with his conscience. Everywhere he looks he sees himself as judge and as prosecutor, finding himself guilty as he pleads for mercy. Photography is not the best, but the story is quite powerful" PSA Journal, Aug. 1967, 37.
---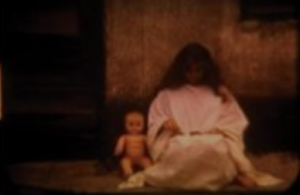 Date produced: 1972
Filmmaker(s):
Description:
"La cinta hacía un recuento de imágenes oníricas, en los que una mujer (Paloma Woolrich) sale de su casa para recorrer diversos espacios que en realidad parecen determinados por su imaginación: desciende los escalones de una calle en una zona peatonal, se muestra aprisionada por una roca gigantesca, aparece catatónica en una azotea con un bebé de plástico, lucha con un hombre contrahecho, apalea a un hombre amarrado, duerme con su pareja y su bebé de plástico en un cementerio, aparece desgreñada en una construcción en ruinas en medio del campo, donde es burdamente pintada por otra mujer" (Vázquez Mantecón, 2012)

"The film made a recount of dreamlike images, in which a woman (Paloma Woolrich, goes out of her house to go through several spaces that actually seem determined by her imagination: she goes down the steps of a street in a pedestrian area, then she is imprisoned by a gigantic rock, she appears catatonic on a roof top with a plastic baby, she struggles with a crooked man, she beats a tied man, she sleeps with her couple and her plastic baby in a graveyard, she appears disheveled in a construction site in ruins in the middle of the country where she is roughly painted by another woman" (Vázquez Mantecón, 2012).
---
Date produced: 1955
Filmmaker(s):
Description:
"The combined efforts of Massimo Sani-photography and Ezio Pecora-directing. A slowly paced, sensitive portrayal of adolescent emotions. While in many amateur films the acting is such that we can never forget it is a movie and that the actors are aware of the camera, in "Encounter on the River", the acting is natural, making this tender, almost too subtle story most enjoyable. The best directed amateur film seen in years." PSA Journal, Dec. 1955, 36.
---
Date produced: 1965
Filmmaker(s):
Description:
"Indecisive tells the story of a girl who is rather mixed up and can't decide if it is worth while to go on living. The treatment is unlike most amateur efforts and because of its novel approach the film maintains interest to the end" PSA Journal, Sept. 1965, 50.
---
Date produced: 1958
Filmmaker(s):
Description:
"Bill Messner has turned to religion and nature for his soul-searching film. His leading man, Sam, has a fine home, family and job and is too busy for extra activities such as church assignments. His personal relations suffer from his self imposed confinement. Something persuades Sam to make a retreat to a religious camp. There are the usual at camp activities, plus the opportunity for devotion and contemplation; the relation of ones soul; the atmosphere to reflect purpose and accomplishment. Introspection is the keystone of the picture and well done it is" PSA Journal, Nov. 1958, 48.
---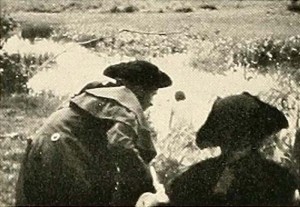 Date produced: 1937
Filmmaker(s):
Description:
"The Least of These handles a difficult subject in a way which promotes the cinematic medium to a high position as a sympathetic interpreter of the afflicted. Ripley W. Bugbee has presented a fine understanding of the problem of those whose minds are crippled and has given a clear cinematic exposition of the humane methods used in one institution to bring to these persons, young and old, a productive happiness. The film opens with a historical presentation of the problem of feeblemindedness, in a sequence which is smooth and effectively handled in costuming and direction as well as in photographic technique. Passing on to modern times, the work of a present day institution is shown in all its aspects. The handling of the color medium is exceedingly well done, particularly in those ordinarily difficult shots of interior activities. The closeup work, showing details of the manual operations involved in craftsmanship, is unusual in quality. Well chosen angle shots add variety to the film, which is expertly titled in the Kodachrome medium." Movie Makers, Dec. 1937, 603.
---
Date produced: 1966
Filmmaker(s):
Description:
"The Line combines serious commentary with humorous visuals to tell us that in man's lifetime his joys (above the line) just about equal his sorrows (below the line.)" PSA Journal, Sept. 1966, 35.
---
Date produced: 1967
Filmmaker(s):
Description:
"Love is found between a man and his mate, between adults and their children, for brothers and sisters, and in countless other familiar ways. But in this film we are introduced to yet another" PSA Journal, Aug. 1967, 37.
---
Date produced: 1935
Filmmaker(s):
---
Total Pages: 2