---
---
Date produced: 1966
Filmmaker(s):
Description:
"The Line combines serious commentary with humorous visuals to tell us that in man's lifetime his joys (above the line) just about equal his sorrows (below the line.)" PSA Journal, Sept. 1966, 35.
---
Date produced: 1967
Filmmaker(s):
Description:
"Love is found between a man and his mate, between adults and their children, for brothers and sisters, and in countless other familiar ways. But in this film we are introduced to yet another" PSA Journal, Aug. 1967, 37.
---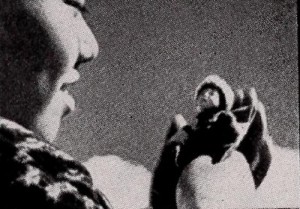 Date produced: 1931
Filmmaker(s):
Description:
"Possibly the most outstanding features of Okamoto's work were his photography and composition. Many regarded his photography as the finest that had ever been put on motion picture film." American Cinematographer, Dec. 1932, 7.

"Second prize was awarded to Tatsuichi Okamoto of Matsuyama, Japan. Title of his single reeler is 'Lullaby,' which depicts the emotions of a mother singing to her child." Variety, Dec. 13, 1932, 2.
---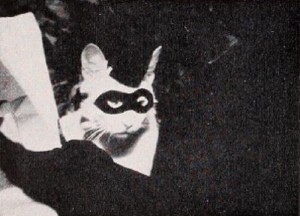 Date produced: 1948
Filmmaker(s):
Description:
"In The Magic City, Virginia Rodarmor shows a warm and winning appreciation of a child's love for fairy tales. After a delightful opening scene in which Mother pantomimes the end of a bedtime story to her three young ones, we see them being tucked away for the night. The film then pictures the children enacting, in a dream, the tale their mother has just related. A regrettable lack of steady camera support is offset by the sensitive unfolding of the story, keeping it unerringly on a level of pure fantasy. A delightful and characteristic conceit is the sequence in which the witch is transformed into a pure white cat — complete with miniature black mask and peaked hat. The role is played by the family pet with superb and feline aplomb. The Magic City is a rewarding adventure into the difficult realm of motion picture fantasy." Movie Makers, Dec. 1948, 495.
---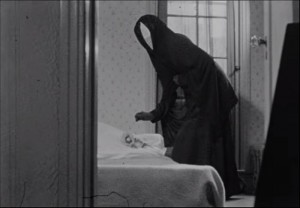 Date produced: 1943
Filmmaker(s):
Description:
"Meshes of the Afternoon is experimental in nature and exciting in its cinematic development. In it, the producers — Maya Deren and her husband. Alexander Hamid — have been concerned with the inner experiences of an individual. Although one sees on the screen the familiar backgrounds and impedimenta of physical existence, the events which transpire among them, through a summer's afternoon, portray subjective feeling rather than objective incident. Miss Deren's creative use of her camera to suggest these emotions blazes new and stimulating trails in pure cinematography." Movie Makers, Dec. 1945, 497.
---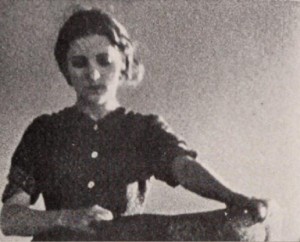 Date produced: 1933
Filmmaker(s):
Description:
"In New Horizon, Cinematographer Clardy presented the life of a farm girl at a moment of crisis. One reel, almost without titles, tells the story of her efforts to marry the man she loves in spite of her father's opposition which keeps her chained to the farm." American Cinematographer, Feb. 1935, 78.

"Clardy was the winner last year of the gold medal for scenario and photography. Last year Clardy's picture was based on a western theme, while this year his scenario, although set in its greater part in the outdoors had several indoor shots. However, most to be admired was the way in which he handled his production both from composition and directorial standpoint. There were only three people in his cast with the girl assuming the major role. His sense of dramatic values, and especially his fine feeling for the proper tempo brought forth unstinted praise from the judges." American Cinematographer, Dec. 1934, 365
---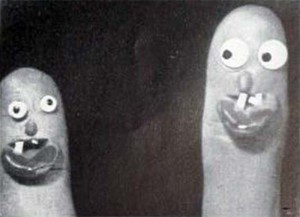 Date produced: 1936
Filmmaker(s):
Description:
"A perfectly delightful holiday in personal filming, replete with humor, and imagination, is the comedy, Nite Life, produced by J. Kinney Moore, entirely in Kodachrome and, what is more, almost entirely in interior Kodachrome, by artificial light. Mr. Moore, in his work, refutes the contention, sometimes heard, that the amateur should be wary of film comedy. And, beside negotiating this pinnacle successfully, the producer has added an outstanding technical handling of Kodachrome, as well as a highly diverting and intelligent use of the various camera illusions it is possible to produce with the aid of modern 16mm. equipment. The obvious zest and pleasure with which the actor producer entered into the creation of this film add immeasurably to its value as a genuine document of personal filming achievement. Examples of carefully planned and executed trick photography follow one another in such rapid succession in the film that the spectator is left time only to gasp. However, these tricks are not executed simply for their own sake, but strictly in accordance with the furtherance of the plot. It must be said that, in the second part of the film, the author does yield slightly to the temptation of attenuating the action somewhat in order to spin out his bag of tricks. But the film as a whole is so delightful that any audience could easily forgive this small shortcoming." Movie Makers, Dec. 1936, 542.
---
Date produced: 1934
Filmmaker(s):
Description:
"Not One Word, by Kenneth F. Space, ACL, is an all around triumph of amateur photoplay production. It is a simple melodrama of the keeper of a lighthouse, his wife and the rejected suitor who returns. A wreck at sea (beautifully staged in miniature) is the complicating dramatic factor, and, with these ingredients, a dignified motion picture story of remarkable unity has been produced. In it, Mr. Space and his able staff have blended dramatic lighting, authentic settings and superb photography to achieve a distinguished whole. Under restrained but smoothly paced direction, the three leading players have enacted their roles with definite histrionic skill. If one were to try to select a single quality in the film which is outstandingly brilliant, the vote of this observer would be cast for the cutting. It is accurate and incisive, adding that last bit of dramatic "punch" which is perhaps the quality least often achieved by the amateur producer. Not One Word speaks for itself, but in the wordless and potent idiom of cinematic imagination." Movie Makers, Dec. 1934, 534.
---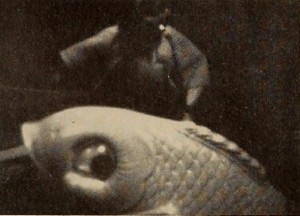 Date produced: 1949
Filmmaker(s):
Description:
"Neither the lead title nor the unpretentious opening scenes — as a small boy is seen building a crude toy boat — prepares the spectator for the pure enchantment of One Summer Day. For, almost unrealized even as it happens, the film melts with incredible smoothness from live action into animation and make-believe. The toy boat becomes a pirate galleon of old, a flower a maiden in distress and a twig her gallant suitor, as there unfolds a tale of romantic derring-do. Under cover of darkness, the pirates plot to kidnap the lady, whose protector, a humble fisherman, is away at his nets. He returns, only to be bested in the ensuing sword play, yet, undaunted, he still gives chase. With the help of a friendly whale, he overtakes the pirates, frees his lady and, as the galleon goes down in flames, the lovers return to shore, to live happily ever after. Then, as quietly as it all began, we are back at the edge of the sunlit pond. The boy lifts his boat from the water and turns homeward. And yet, through the true magic of the movies, we have entered for a brief moment childhood's enchanted world. Highly imaginative camera handling, technical skill and a keen sense of cinematic values make this an outstanding example of personal filming. The musical accompaniment and sound effects (including the cling-clang-cling of clashing swords) complement the picture perfectly. Glen Turner has added a new dimension to amateur filming with this simple story so superbly told in its brief 350 feet of 8mm. film." Movie Makers, Dec. 1949, 452-453.
---
Date produced: 1933
Filmmaker(s):
Description:
"Pipe Dreams, by Joseph Dephoure, ACL, and Edward Atkins, ACL, is ranked among the year's ten best because of its considerable triumphs over dramatic and technical difficulties. Through the imagination of its producers, a small cast, simple settings and moderate footage have been used to tell a big story, rich in pictorial effect. Dreaming that he has murdered his unfaithful wife, a young man sees in prospect the swift and fearful course of his life to the waiting gallows. The murder, the trial, the death cell and the hanging are represented in large part only by the imaginative and striking use of shadows of the real scenes. Occasional straight shots are heightened in effect by unusual angles and dramatic lighting. Sensitively planned, smartly executed and deftly cut, Pipe Dreams makes its simple story exciting and forceful." Movie Makers, Dec. 1933, 500.
---
Total Pages: 3