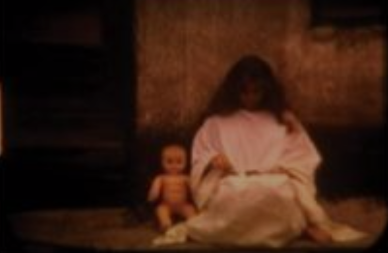 Date produced: 1972
Filmmaker(s):
Country of Production:
Mexico
Languages:
Format:
Super8
Colour:
Colour
Sound Notes:
Unknown
Awards/Recognition:
Exhibited in the Second Encounter of Filmmakers in 8 Film in Casa del Lago, Mexico.
Exhibited in the Super 8 Filmmakers Encounter of Nayarit's Youth Institute.
Description:
"La cinta hacía un recuento de imágenes oníricas, en los que una mujer (Paloma Woolrich) sale de su casa para recorrer diversos espacios que en realidad parecen determinados por su imaginación: desciende los escalones de una calle en una zona peatonal, se muestra aprisionada por una roca gigantesca, aparece catatónica en una azotea con un bebé de plástico, lucha con un hombre contrahecho, apalea a un hombre amarrado, duerme con su pareja y su bebé de plástico en un cementerio, aparece desgreñada en una construcción en ruinas en medio del campo, donde es burdamente pintada por otra mujer" (Vázquez Mantecón, 2012)

"The film made a recount of dreamlike images, in which a woman (Paloma Woolrich, goes out of her house to go through several spaces that actually seem determined by her imagination: she goes down the steps of a street in a pedestrian area, then she is imprisoned by a gigantic rock, she appears catatonic on a roof top with a plastic baby, she struggles with a crooked man, she beats a tied man, she sleeps with her couple and her plastic baby in a graveyard, she appears disheveled in a construction site in ruins in the middle of the country where she is roughly painted by another woman" (Vázquez Mantecón, 2012).
Resources:
Vázquez Mantecón, Álvaro. El Cine Super 8 en México 1970-1989 . Filmoteca UNAM, 2012. Find this book in Filmoteca UNAM Docs
Subjects:
Genre:
---