---
---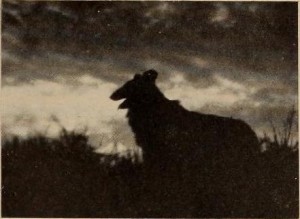 Date produced: 1949
Filmmaker(s):
Description:
"Raymond Berger has based his film on the familiar story of a dog that finds his way back home from a long distance, paralleled with a little girl's grief at the dog's absence. Imprisoned accidentally in the luggage compartment of a parked car, Lassie, a magnificent Collie, is driven miles from home before his equally accidental release. As the dog turns homeward, Mr. Berger maintains the suspense of his adventures over difficult terrain with admirable skill. A little closer cutting in the final re- union scenes at home would have heightened the dramatic quality. The few long shots in this 8mm. film are outstandingly executed, and there are touching closeups of the little girl as she mourns her pet." Movie Makers, Dec. 1949, 468.
---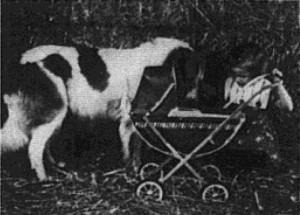 Date produced: 1959
Filmmaker(s):
Description:
"A most pleasant day with a little girl, her four kittens, and collie dog. The kittens do so many things that set them apart from other animals. They seem to enjoy their various playful activies before the flood lights and camera. While all this is going on, the collie feels just a little bit left out of things. Finally, all return to the barn for some fresh milk and a good night" PSA Journal, Nov. 1960, 39.
---
Date produced: 1965
Filmmaker(s):
Description:
"The Black Cat is a 25-minute version of Edgar Allen Poe's story by the same name and concerns a man who does away with his wife in what he believes to be the perfect crime, only to be outdone in the end by the family black cat. This low key, well dramatized version is the only 8mm film among the top ten and also received the MPD Scenario Film Award" PSA Journal, Sept. 1965, 50.
---
Date produced: 1962
Filmmaker(s):
Description:
"'This is a simple story concerning the affairs of a cat and a dog. Are they natural enemies, or can they become playmates?' (Amicus description, via Library & Archives Canada web site.) This film received a Certificate of Merit in the Amateur Category at the 14th Canadian Film Awards, 1962. English and French-language versions were apparently distributed by Thomas Howe Associates Ltd. in 1980" British Columbia Archives.
---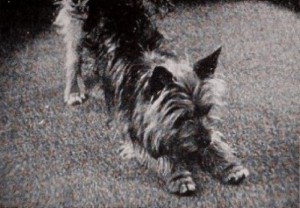 Date produced: 1948
Filmmaker(s):
Description:
"A young girl and an Australian terrier named Frisco are the ingredients of Calling Frisco, a sound on film story in which the speech is mostly from the dog's point of view. The film flows smoothly through typical scenes of a day's activities of eating and going to market and playing, ending in a dramatic climax in which Frisco protects his young mistress by warning off an intruder. Imaginative viewpoints and pleasant interior lighting are employed throughout. The dog's simple tricks are well pictured without being obtrusive, while the scene in which a bouncing ball lands in a goldfish tank, with its accompanying sound track, has the creative fantasy of Disney. Cyril Stevens has made a jolly film. " Movie Makers, Dec. 1948, 493.
---
Date produced: 1933
Filmmaker(s):
Description:
"Dog shows are no laughing matter, from the serious faces of the young people in this delightful film, though the dogs themselves are far more enthusiastic about the whole affair. The junior dog owners are clearly not quite in full control of their pets, and the watching crowd in this Cheshire field seems as interested in the camera as in the canine competition." (BFI Player)
---
Date produced: 1930
Filmmaker(s):
Description:
"Various shots of a dog doing tricks - begging for a ball; jumping over a metal pole and rolling over on its back. Concludes with shots of a woman taking a dog for a walk down a country lane." (NWFA Online Database)
---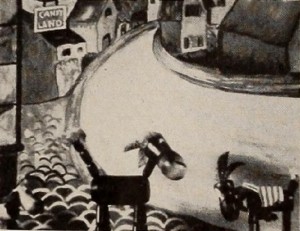 Date produced: 1947
Filmmaker(s):
Description:
"Using animated puppets and hand painted water color backgrounds, Charles H. Benjamin, in Fantasy in Toyland, takes a curious dog through the horrors usually reserved for white knights, to save a fabulous female canine in distress. The story is old but the treatment is new. The puppets were manipulated from below stage level and filmed frame by frame with a remotely controlled camera. The star of the piece meets cows, dragons and various beasts made of pine cones and other strange raw materials. The film ends on the accepted romantic note." Movie Makers, Dec. 1947, 536-537.
---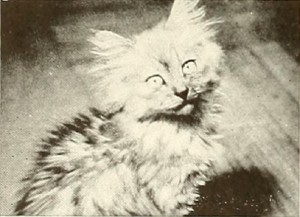 Date produced: 1940
Filmmaker(s):
Description:
"In Fluffy, the Kitten, a kitten tells her own story about herself — the things that she likes to do, the way she spends her day, the things she eats and the way in which her mistress takes care of her, to make her a happy companion. In designing and filming this continuity, Grayce and Kenneth Space have created the most natural and expressive movie of a pet that we have yet seen. Interpreted with titles, written in the first person, as if the kitten were speaking, this film presents interior lighting and camera work without blemish. The cutting is masterly, and the whole unit is as smooth as Fluffy's silky fur. The intention of the filmer was to create a new, direct and simple type of teaching film that would convey its message efficiently and entertainingly to children. This purpose was completely achieved; you cannot look at Fluffy, the Kitten without learning important things about cats and you cannot look at it without being delighted. Most amazing of all qualities in this film is the uncanny success of the producers in controlling the kitten actor. Fluffy appears to play each scene like a trouper. Unlimited patience and extraordinary skill were involved in making this picture. Movie Makers, Dec. 1940, 577, 599.
---
Date produced: 1977
Filmmaker(s):
Description:
"A dog tells her story, and sings for you." UCLA Film & Television Archive.
---
Total Pages: 4