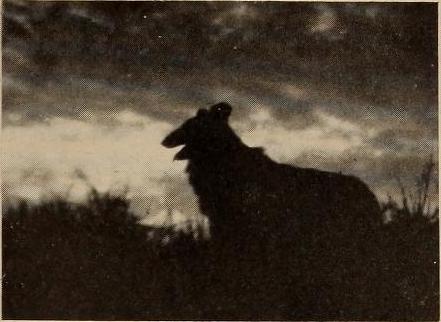 Date produced: 1949
Filmmaker(s):
Languages:
English
Length:
400 ft
Format:
8mm
Colour:
Kodachrome
Sound Notes:
Silent
Sound:
With music on disc.
Awards/Recognition:
ACL Ten Best 1949 - Honorable Mention
Description:
"Raymond Berger has based his film on the familiar story of a dog that finds his way back home from a long distance, paralleled with a little girl's grief at the dog's absence. Imprisoned accidentally in the luggage compartment of a parked car, Lassie, a magnificent Collie, is driven miles from home before his equally accidental release. As the dog turns homeward, Mr. Berger maintains the suspense of his adventures over difficult terrain with admirable skill. A little closer cutting in the final re- union scenes at home would have heightened the dramatic quality. The few long shots in this 8mm. film are outstandingly executed, and there are touching closeups of the little girl as she mourns her pet." Movie Makers, Dec. 1949, 468.
Resources:
The film won first award in an Amateur Cinema Club of Buffalo film contest in 1950 (Movie Makers, May 1950, 195).
Subjects:
Genre:
Form:
Screenings:
June 1950 - The Amateur Cinema Club of Buffalo (Movie Makers, June 1950, 234): Buffalo, N.Y.
Screened by the Denver Cinema League in 1950 (Movie Makers, June 1950, 234): Denver, CO
---
Do you know where this film is? Get in touch with us at amdb@ucalgary.ca.