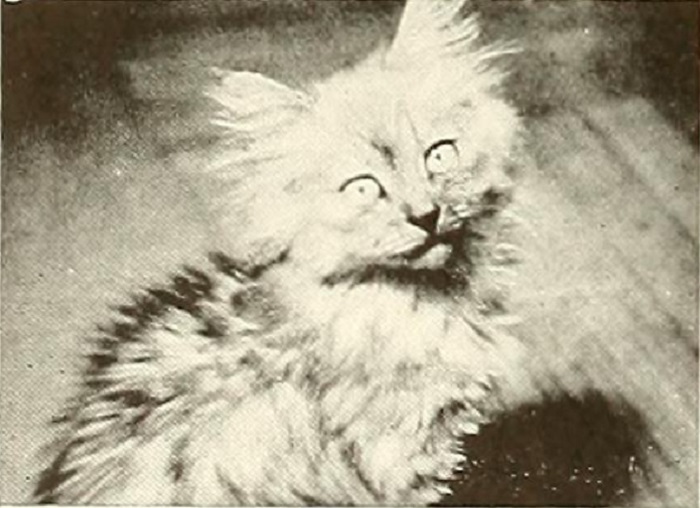 Date produced: 1940
Filmmaker(s):
Duration:
00:15:00
Languages:
English
Length:
400 ft
Format:
16mm
Colour:
B&W
Sound Notes:
Silent
Awards/Recognition:
ACL Ten Best 1940 - General Class
Description:
"In Fluffy, the Kitten, a kitten tells her own story about herself — the things that she likes to do, the way she spends her day, the things she eats and the way in which her mistress takes care of her, to make her a happy companion. In designing and filming this continuity, Grayce and Kenneth Space have created the most natural and expressive movie of a pet that we have yet seen. Interpreted with titles, written in the first person, as if the kitten were speaking, this film presents interior lighting and camera work without blemish. The cutting is masterly, and the whole unit is as smooth as Fluffy's silky fur. The intention of the filmer was to create a new, direct and simple type of teaching film that would convey its message efficiently and entertainingly to children. This purpose was completely achieved; you cannot look at Fluffy, the Kitten without learning important things about cats and you cannot look at it without being delighted. Most amazing of all qualities in this film is the uncanny success of the producers in controlling the kitten actor. Fluffy appears to play each scene like a trouper. Unlimited patience and extraordinary skill were involved in making this picture. Movie Makers, Dec. 1940, 577, 599.
Resources:
Discussed in "Closeups" (Movie Makers, June 1941, 256).

The film was available in the ACL's Club Film Library.
Subjects:
Form:
Repository:
State University of New York, Binghamton
Screenings:
Screened by the Hartford Cinema Club in 1941, Hartford, CT
Screened by the Metropolitan Motion Picture Club in 1941, New York City, N.Y.
Screened by the Brooklyn Amateur Cine Club in 1941, Brooklyn, N.Y.
Screened by the Passaic Cinema Club in 1941, Passaic, N.J.
Screened by the Tulsa Am-Mo Club in 1941, Tulsa, OK
Screened by the Amateur Movie Society of Milwaukee in 1941, Milwaukee, WI
Screened by the Norfolk Amateur Movie Club in 1941, Norfolk, VA
Screened by the Cine Group of the Schenectady Photographic Society in 1942 and 1944, Schenectady, N.Y.
Screened by the Public Service Camera Club in 1942, Newark, N.J.
Screened by the Mount Vernon Movie Makers in 1942, Mount Vernon, N.Y.
Screened by the Utah Amateur Movie Club in 1942, Salt Lake City, UT
Screened by the Staten Island Cinema Club in 1943, Staten Island, N.Y.
Screened by the Bell Laboratories Motion Picture Club in 1944, New York City, N.Y.
Screenings Map
Viewing Notes:
"In this elementary-grade film, a three-month-old Persian kitten tells, through titles, of his experiences, and suggests the best ways to care for cats. After an appropriate introduction, Fluffy appears in characteristic activities. He chews shoe-strings, stares out of a window, looks at the goldfish, and plays with a pencil. He explains that he likes to look in dark places and under things, and he is shown as he looks for a mouse. Several views of the kitten asleep appear as he says that he can sleep anywhere as long as he is not bothered. Kitten's-eye views reveal how big and tall the household furniture appears to a little kitten. Fluffy explains that he is usually hungry. When he was smaller he ate five times a day, mostly milk and bread, but now he has meat and vegetables with his milk, three times a day. He doesn't like baths, but he keeps himself neat and clean. His sanitary facilities consist of a pan and a newspaper. He says that it hurts when he is picked up by the nape of the neck; his mistress demonstrates the proper way of holding him. Views of his paws and claws accompany an explanation that he needs a log to scratch, instead of the furniture. He says that he won't scratch when you play with him, unless you play roughly. To demonstrate this, he very gently bites his mistress' hand. When he gets into intentional mischief, he is spanked. There are more kitten's-eye views. He explains that he doesn't care about toys, that he likes simple things such as a ball on a string. He exhibits his training by jumping over his mistress' outstretched hand, and then he sleeps in a box. In conclusion, he shows how he looks when normal, curious, angry, hungry, and sleepy, and then he appears prettily dressed in his best ribbon to say 'Good-bye.' " Via The Educational Screen, May 1941, 212.
Last Seen:
SUNY Binghamton Film Collection
---
Do you know where this film is? Get in touch with us at amdb@ucalgary.ca.