---
---
Date produced: 1967
Filmmaker(s):
Description:
"Problems in the Pounding Surf is an animated cartoon of a little dog's antics in the ocean. Entered in a previous film competition, judges in that event stated "A truly fabulous animation film, extremely competent timing and use of line with good overall humor." So our judges were not alone in their praise of this workmanship. What our judges did not know and won't know until they read these words here is that the maker of this film, Dale Ramsey, is only 15 years old" PSA Journal, Aug. 1967, 37-38.
---
Date produced: 1963
Description:
"A boy and his dog - the love, companionship and understanding between these two develop a deep bond. When the bond is broken, it is as though a part of life is gone. The fruitless search, the unanswered prayers take the spark out of a lively little boy. Even an appealing puppy substitute does not fill the gap for him, but does compensate a heartbroken little girl who has to give up the dog she has "found" and returned to his delight master" PSA Journal, Oct. 1963, 39.
---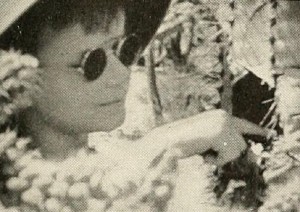 Date produced: 1940
Filmmaker(s):
Description:
"Sahuaro Land, by Frank E. Gunnell, is as clever and painless a teaching film as one may find in many a classroom screening. Here, in a colorful Arizona cactus desert, we find the surefire ingredients of a boy and his dog. The boy is an enthusiastic nature student who, in the course of his explorations of the region, contrives to make sundry entries in his notebook, which find their way to the screen. These data are all so natural a part of the story, however, that the information conveyed does not assume the rather forbidding status of an instructional title in any case. The outdoor color work is excellent, and the viewpoints are well chosen. Mr. Gunnell's use of telephoto technique for making closeup studies of distant, inaccessible objects (such as the bloom atop a tall cactus) was particularly effective. We learned a lot from this film." Movie Makers, Dec. 1940, 604.
---
Date produced: 1955
Filmmaker(s):
Description:
"A Short, appealing story of the little kitten who had no home. A wonderful example of what can be done within four flocks of one's home. The cast includes Mrs. Houghton, their two daughters, a few neighbors, and the family dog and kitten" PSA Journal, Dec. 1955, 36.
---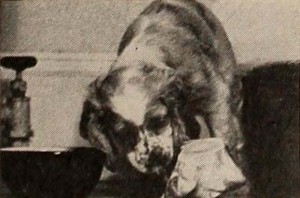 Date produced: 1938
Filmmaker(s):
Description:
"Shadow's Bones is all about Frank E. Gunnell's cocker spaniel, Shadow, and his annoying habit, common to most dogs, of leaving bones in all manner of places, where bones should not be, such as bath tubs, magazine racks, beds and other localities which are not really canine cupboards. With brilliantly accomplished black and white 16mm. cinematography, Mr. and Mrs. Gunnell, as cameraman and "support" for the chief actor, Shadow, have done what is still too rare in home movies — they have found the humor of home life, and of themselves as a part of it. The plan of this tale is simple, direct and is provided with a genial finish. The direction and acting, especially in persuading the recently acquired household pet to go through his part of the performance with naturalness and zest, are excellent. This sets a new mark in interest that can be given to family records, and the interior lighting is beyond criticism." Movie Makers, Dec. 1938, 620.
---
Date produced: 1934
Filmmaker(s):
Description:
"This was a sequel to his last year's picture 'Mischief.' It has the same characters, the dog, cat and bird with an addition to the dog and cat family." American Cinematographer, Feb. 1936, 73.
---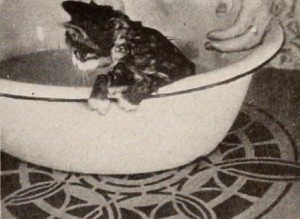 Date produced: 1945
Filmmaker(s):
Description:
"Every movie maker who owns a kitten probably has tried to film it; and, if so, he knows what a difficult task it is. Walter Bergmann has recorded, on film, incidents in the life of a stray kitten that is adopted by a soft hearted family. Reaction shots of a wise and dignified old cat express the disdain with which it views the foolish antics of the kitten, especially when the latter satisfies its curiosity about high places. Human beings in the film are introduced logically and unobtrusively, but Squeaky is essentially concerned with the star actor. Mr. Bergmann may be pardoned for occasional uneven exposure, for he has produced a film that will delight everybody, and especially those who love cats." Movie Makers, Dec. 1945, 496.
---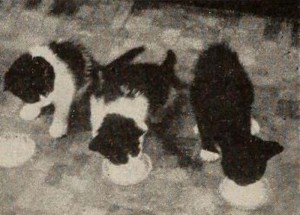 Date produced: 1946
Filmmaker(s):
Description:
"Last year's Honorable Mention Squeaky has grown up into a Ten Best and has had kittens to boot. In Squeaky's Kittens, Walter Bergmann presents the mother cat rearing her four lively offspring with the help of the Bergmann household. With what must have taken a great deal of patience and dexterity, the kittens are shown being fed and playing and sparring in typical fashion. Their inevitable disposal among the neighbors constitutes a delightful sequence in which the children and grownups of a suburban community are depicted in wholly natural and pleasing manner. Mr. Bergmann's manipulation of lighting, both interior and exterior, is warm and skillful, and he has supplemented the story with titles in light vein that are inserted with restraint." Movie Makers, Dec. 1946, 486.
---
Date produced: 1959
Filmmaker(s):
Description:
"A film of the family's pet K9 with its characteristic activities set to alphabetical prose with a pleasing pulse. Those who see the film will just love Suzy and the narrator, too" PSA Journal, Nov. 1959, 49.
---
Date produced: 1935
Filmmaker(s):
Description:
"The Home Movie award went to [Joseph] F. Hollywood for his 8mm picture 'Two Kids and a Pup.' The subject was truly home movie in nature. A brief continuity that showed the pup being brought home; both boy and girl wanted it and finally a compromise where it is agreed one day the boy is to hove the pup and the next day the girl; the children thus to alternate for peace's sake. Then is shown how the boy plays with a dog. He goes to a wooded lot, pretends to be hunting, etc. The girl, however, treats the dog the same as she would a doll. Makes clothes for it, dresses it up and places it in the doll buggy. Then comes the day when the girl decides to cheat a bit and rushes home to be the first to have the dog. When the boy arrives she has the dog completely covered in the doll buggy. However, at the crucial moment it rears its head and the fight is on. The mother then decides to settle the controversy by having the children stand at one end of the yard while she takes the dog to the other end. They are to call the dog and the one to whom the dog goes is to play with it that day. They are set, the dog is let loose and just at that moment another dog passes by and the pup rushes between the children after the other dog and thus the story ends. Hollywood's cutting and photography were good. And the handling of the whole picture was highly commendable." American Cinematographer, Jan. 1937, 25.
---
Total Pages: 4