---
Date produced: 1960
Filmmaker(s):
Description:
"Black and white and color film that shows a day in the life of a First Nation family in Utah." Church History Library.
---
Date produced: 1960
Filmmaker(s):
Description:
"Tells the story of 'Little Hunter' hunting a bear using images carved into stone walls near the Colorado River by a Native American tribe." Church History Library.
---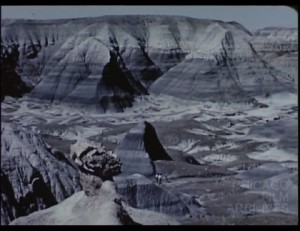 Date produced: 1960
Filmmaker(s):
Description:
"A two-part lecture travelogue film on the state of Arizona. The film would have been originally presented with live narration by the filmmaker, Robert Davis. Part one includes footage of desert landscapes, ranches, pre-historic artifacts, Native American art production & industry (wigs, textiles, etc), saloons, regional industry (logging, agricultural, and dams). Part two also includes footage of desert landscapes, cacti and dams as well as scenes from Phoenix and the surrounding area. Highlights from part two include a tour of a trailer park and footage of people skiing and sledding down a snowy hill." Chicago Film Archives.
---
Date produced: 1952
Filmmaker(s):
Description:
"Edited film describes life on the Navajo Reservation. Scenes include women weaving, grinding corn and caring for children (baby is bound into cradle board) and men herding, hoeing corn, silversmithing, and washing and binding their hair. Also shows Navajo Rodeo (encampments, stinger and bronco riding, wild cow milking and horse racing), trading post at entrance to Monument Valley (exchanging rug for goods), Ganado Mission, workers in uranium mine and scenic views of Monument Valley and Canyon de Chelly. Efforts to deal with lack of water is discussed in narration," Human Studies Film Archives, Smithsonian Museum.
---
Date produced: 1935
Filmmaker(s):
Description:
"Edited film used by an amateur travel-lecturer documents travel in western and southwestern United States beginning at a rodeo in Phillipsburg, Kansas (trick riding, lassoing jack rabbits, roping calfs, wrestling steers, horse races, bucking broncos and bucking steers as well as scenes of an airplane flyover and of an airplane crashing which possibly was a stunt) and continuing to Black Hills, South Dakota (forest scenery and ca. 1927 construction of Mount Rushmore--blasting off cliff face, scaffolding, men working and completed monument). Shown are roadside scenery, railroad tracks, men cleaning railroad tracks with hose and tank on small train car on the way to an unidentified mountain fishing camp possibly in Colorado (canoeing, fishing in stream, and a smokehouse) and a mountain farm where colts are branded. Cog railway is taken up to Pike's Peak. Travels continue to to the Southwest (unidentified southwestern town possibly Santa Fe with adobe buildings and men and children in Mexican dress singing and playing guitar, American Indian dance performance indoors possibly Zuni, parade of American Indians in unidentified city perhaps Gallup and Navajo band. Scenes of the southwest continue with Navajo in Canyon de Chelly (hogans and herding sheep), prehistoric archaeological sites (Mesa Verde, Chaco Canyon another unidentified cliff dwelling possibly Montezuma's castle) and Taos Pueblo. Film records American Indian dances at a gathering of Indian tribes possibly at Gallup, intertribal horse races and women's tug-of-war. Hopi are shown dancing at Hopi. Also shown are Indian women (possibly Apache or Navajo) and children together and children in cradleboard and the Navajo reservation (hogans, women spinning and weaving under a ramada, herds of sheep and goats and "dipping sheep"). Natural wonders of Grand Canyon, Monument Valley and Rainbow Bridge National Monument are featured.Travel continues to Yellowstone National Park, California (scenery, black bears, hot springs and geysers) and onto the California coast possibly Monterey (seals on rocks). Also shown are an unidentified town with oil pumps and derricks and people waterskiing" via the Human Film Studies Archives, Smithsonian Museum.
---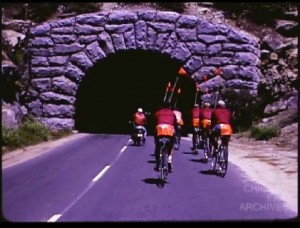 Date produced: 1968
Filmmaker(s):
Description:
"2 part edited travelogue following young men on a bicycle trip cross country (San Francisco to New York City) with Wandering Wheels, a faith based organization. Along with the noteworthy locations they visit, such as the Four Corners and New York City, this film includes much documentation of their down time and visits to Native American and small town communities to sing and meet with the people." Chicago Film Archives.
---
Date produced: 1980
Filmmaker(s):
Description:
"An Indian brave keeps his ear to the ground in vain!" Oldfilm.org
---
Date produced: 1966
Filmmaker(s):
Description:
Stan Midgley travels by bicycle through Utah in this "chucklelogue."
---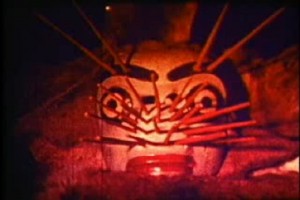 Date produced: 1953
Filmmaker(s):
Description:
"Mungo Martin demonstrates the making of a Bee Mask. Tony Hunt models the mask and provides a short rendition of the Bee Mask Dance" (Duffy, 140).
This film is also known as Mungo Martin Makes a Mask.
---
Date produced: 1939
Filmmaker(s):
Description:
"Cruise on Toketie. Coastal people, places and scenery between Vancouver Island and the mainland. Includes footage of Indian villages, pictographs, birds and wildlife, logging, other vessels, etc. Notably, there are good shots of the abandoned villages of Gwayasdums, Karlukwees, and Mamalilaculla, as well as the burial ground on Klaoitsis Island" British Columbia Archives.
---
Total Pages: 2