---
---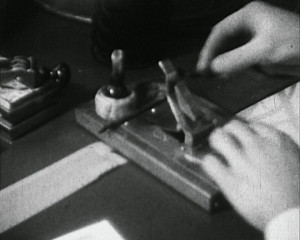 Date produced: 1930
Filmmaker(s):
Description:
"A film featuring the staff, equipment, and key activities involved in the process of developing and printing Selo film at a laboratory. The viewer is guided through the different stages of the process with a step-by-step visual demonstration by Selo staff, accompanied by intertitles, providing information, and separating the scenes. The entire administrative and technical process is recorded, from the moment the used film stock arrives at the factory, continuing with the preparations made in the darkroom, before the chemical processes of developing, fixing, and washing takes place in the laboratory. The specific tasks of drying and measuring using industry-standard equipment, operated by hand, are next. In the printing laboratory, the negative is inspected and a Schustek 16mm printer is used. Intertitles explain the technical process of adjusting the light intensity when printing the film. In the spooling room, the printed positives are examined, and leader is cement spliced to the film. Title cards are produced. The completed film is projected and viewed. Each developed positive and negative film is skillfully wrapped, placed in a film can, packaged together into a Selo box and sealed, ready to be dispatched to the customer. A shot of many Selo Film boxes showing address labels completes the film" (EAFA Database).
---
Date produced: 1949
Filmmaker(s):
Description:
"Marine mammals of the Pacific Coast: sea lions, sea otters, fur and harbour seals, porpoises, killer whales. Also: Indian whaling techniques; whaling ship Westwhale; processing of whale carcasses at Coal Harbour whaling station." (BC Archives)

Film includes some footage provided to Dr. Carl by the Western Whaling Corporation.
---
Date produced:
Filmmaker(s):
Description:
"Un-staged documentary footage shot and edited by Sallie Wagner. Sallie's description of the film: 'Wide Ruins and area, farming Navajos, Black Rock - Medicine Man, Cut Hair plowing, Joe Toddy following Cut Hair, planting, Patsy Martin standing on Cultivator, Jim House's wife husking corn, Paul Jones helping husk corn, sheep dipping at Ganado, Dwight Wagner viewing sheep dipping, wool shearing at Wide Ruins, loading sheep at Chambers, tall man in tan outfit Bill Cousins, Bent Knee sitting on fence, Crip Chee's grandson in closing scene'." New Mexico States Archives.
---
Date produced: 1940
Filmmaker(s):
Description:
"A documentary about peanut farming in the South Burnett district of Queensland. (EAFA Database)
---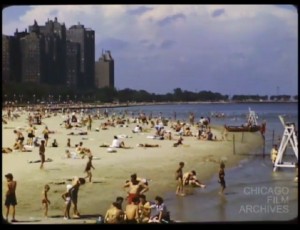 Date produced: 1948
Filmmaker(s):
Description:
"A two part travelogue featuring travel and industry highlights on the shores of Lake Michigan. Part one includes scenes of Indiana, Illinois and Wisconsin while part two includes travel highlights of Indiana and Michigan." Chicago Film Archives.
---
Date produced: 1968
Filmmaker(s):
Description:
"Amateur film that follows primitive character Ooom Titty Boom who lives his life sheltered from modern society happily living off the land and frolicking in forests. He is suddenly confronted by modern society and is quickly destroyed by the destructive products of industrialization. Film is narrated by an amusing musical soundtrack of noises and sounds of human expression." via Chicago Film Archives
---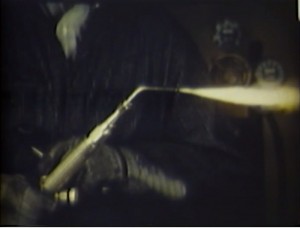 Date produced: 1942
Filmmaker(s):
Description:
"Good teaching films are not easy to produce, and welding activities are not easy to film. In making this picture, Ray Garner and the Harmon Foundation have solved both problems in a highly satisfactory manner. The procedures are clearly and simply outlined in titles which are combined with unusually fine camera work, to produce a well integrated whole. Done almost entirely in closeups, the actual welding scenes show perfect exposure and, in many instances, very interesting angles. The film was made at Hampton Institute, in Virginia, and a student demonstrates the proper techniques in procedure. The title art work was especially good in this film, and the entire production showed the effects of a well organized plan and a careful procedure." Movie Makers, Dec. 1942, 509.
---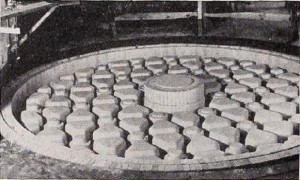 Date produced: 1934
Filmmaker(s):
Description:
"Pouring A 200 Inch Telescope Mirror, by Edmund H. Wellech, ACL, is a glorified industrial but greatly worthy as a clear record of one of civilization's milestones. Mr. Wellech's film, in addition to being an important scientific document, is, besides, a truly excellent cinematic achievement, for it makes an involved subject entirely understandable. The accomplishment of the single task of determining the correct exposure for scenes of molten glass against a dead black background is in itself a feat that would make the film outstanding. But, beside this, there are carefully worked out cinematic exposition and an approach to perfection in every aspect. As an engineer working at night for the Corning Glass Company, Mr. Wellech devoted his spare daytime hours to making this noteworthy film." Movie Makers, Dec. 1934, 546-547.
---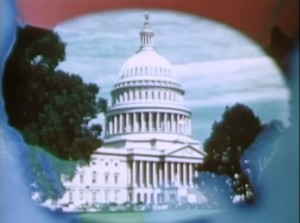 Date produced: 1940
Filmmaker(s):
Description:
"Bituminous coal is the major actor in The Power Behind the Nation. This sound on film color movie, made by Waldo E. Austin for the Norfolk and Western Railway Company, shows effectively the tremendous part played by soft coal in the development of the nation. The picture is well filmed and thoroughly integrated by an excellent narrative, while lead and end titles are appropriately double exposed on shots of moving trains, which serve to drive home the point that the railroad is the important link between the mine and the consumer. Exceedingly fine sequences of coal mining and well handled shots of the railroad equipment are high points. This film is a fine example of an industrial motion picture produced without the excessive equipment and appropriations sometimes thought to be necessary for such an effort. " Movie Makers, Dec. 1940, 604.
---
Date produced: 1970
Filmmaker(s):
Description:
A film sponsored by the Crown Zellerbach Corporation, an American pulp and paper conglomerate.
---
Total Pages: 7