---
Date produced: 1962
Filmmaker(s):
Description:
"Garden shots, including time lapse shots of flowers opening, and a 1962 parade in Sidney or Victoria" British Columbia Archives.
---
Date produced: 1937
Filmmaker(s):
---
Date produced: 1936
Filmmaker(s):
Description:
"Harrison and Harrison's offer of the firm's color meter in leather case, with six 1 1/4 -inch meter-matched filters in leather filter fold, was awarded Eugene L. Ritzmann of Berkeley, Cal., for his 'Garden Life.' The entrant has been making amateur movies for nine years, and his skilled work in putting on the screen in color by means of controlled timing the blooming of flowers demonstrated that his period of apprenticeship has long since expired. If a word of suggestion and distinctly not of criticism might be offered it would be the film would have greater value for the uninformed if titles should be inserted identifying the various flowers. The subject caused some tough eggs of the male persuasion to sit up and take notice. What it will do to the world of womankind it is not hard to imagine." American Cinematographer, Jan. 1938, 28.
---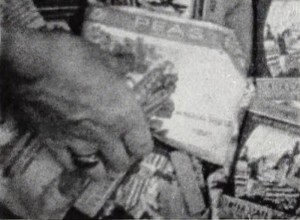 Date produced: 1944
Filmmaker(s):
Description:
"Albert D. Furnans has taken a group of charming people in a natural pursuit, truck gardening, and has developed a genuinely amusing "running gag"; the result is a delightful family film. Through an excellent sense of timing, he has sustained the "gag" with proper finesse until its final disclosure. The refreshing use of angles and the meaningful employment of lighting, together with good editing, bring balance and clarity. The entire picture shows the result of good planning and directing, and the filming keeps well abreast of these." Movie Makers, Dec. 1945, 496.
---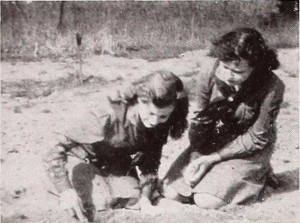 Date produced: 1944
Filmmaker(s):
Description:
"In As Ye Sow, Walter Bergmann has made a record of a Victory garden around the plot of the conscientious worker as contrasted to the indolent one. Mr. Shirker in his wishful thinking, through a dream sequence, takes the local prize for vegetables before the digging even begins. As the season progresses, Mr. Worker grows a fine garden, while his opponent achieves a harvest of weeds in spite of his bribes to helpers to produce his garden for him while he goes fishing. The players are well chosen and directed, and there is an amusing and well acted climax in which Mr. Shirker gets his inevitable just deserts." Movie Makers, Dec. 1944, 495.
---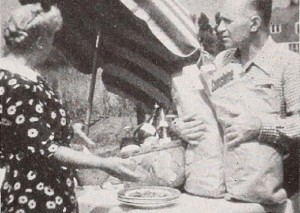 Date produced: 1943
Filmmaker(s):
Description:
"George Mesaros, who has demonstrated his competence as a maker of good movies in other fields, turns to humor in this film comment on wartime conditions. The point of the story — for it is the foray and not the tale that is pointless — turns on providing for a picnic in the yard of the home. While the master of the house is shopping with ration points, the skeptical family gets, from the Victory garden, cooks and eats the alfresco feast, at the end of which Father — who really did find something in the shops — returns with loaded arms. First class Kodachrome pictures and a well knit continuity are used by Mr. Mesaros to bring to American audiences something of the spirit of easy and natural outdoor fun with food that for so long characterized the Europe of happy memory. Some of the scenes of cooking are so realistic that one almost reaches for what is shown on the screen." Movie Makers, Dec. 1943, 478.
---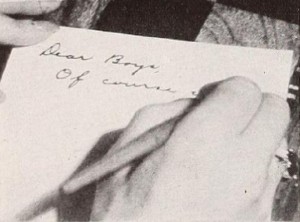 Date produced: 1943
Filmmaker(s):
Description:
"Dear Boys is a personal motion picture which might have been made in many an American home this past year. Looking about him, C. Manley DeBevoise found his two sons in the Army and his once lovely flower garden changing into a Victory vegetable patch, well tended but mundane. It was from these materials, mixed with imagination and technical competence, that Mr. DeBevoise compiled his film. Mother is discovered (as the picture begins) writing the familiar greeting to her service sons. Her comments during the course of the letter provide the subtitles and the continuity for this attractive record of domestic doings, while Mr. DeBevoise's carefully sequenced scenes tell the story. Dear Boys is simple, sincere and a family film story which any movie maker would be proud to produce — and to own." Movie Makers, Dec. 1943, 477.
---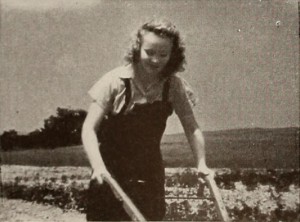 Date produced: 1942
Filmmaker(s):
Description:
"Ross M. Gridley, filmer of By the Garden Steps, is an agricultural teacher who knows that many films used in education are, although they need not be, dull. He writes that he wanted "to prove that it is possible, as well as desirable, to increase interest by adding a touch of drama to instructional films, without losing any of the teaching value from a scientific standpoint." With this very sensible idea, Mr. Gridley tells the tale of three sisters who grow a 4-H Victory Garden. When they have worked away long enough for the audience to realize that a little more footage will be repetitive, the story shifts to a couple of youngsters who are shooting at targets. By means of a toy airplane which is given rough treatment as a Nazi invader and which the girls mistake for a new kind of garden insect, the boys meet the girls. Finally, prize day comes, and the boys add an unexpected tribute to the girls whose tomatoes are honored. In cinematography, in handling subject matter and in the capacity to fit teaching objectives into the methods of movie making, Mr. Gridley has done a sound piece of work. Girls who see the film will catch the idea and will wonder if they, too, should not have a Victory Garden." Movie Makers, Dec. 1942, 507.
---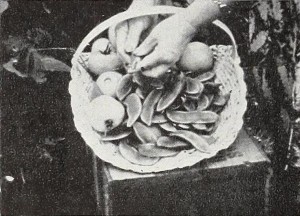 Date produced: 1942
Filmmaker(s):
Description:
"With his victory garden as an incentive, George Mesaros has made Back to the Soil a record of his garden's progress that does credit to his movie making ability and to the quality of the vegetables produced. This genre little picture strikes a happy balance between the action scenes of planting, hoeing and harvesting and the magnificent shots of the opulent, colorful red tomatoes, green peppers, yellow corn and the beans, lettuce, cucumbers and other vegetables. Mr. Mesaros has a natural sense of pattern and design which he gives full play in the excellent arrangements in this film. Noteworthy, too, is the feeling of space and distance achieved in a small plot of ground. It is surprising to learn that the garden which seems so extensive in the picture is in reality only a small backyard plot." Movie Makers, Dec. 1942, 506.
---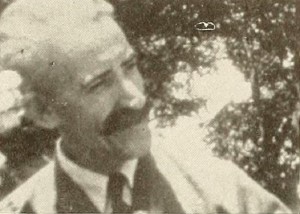 Date produced: 1941
Filmmaker(s):
Description:
"Flowering Byways, presented with well chosen musical accompaniment, is a story of the creation and growth of a home garden, cleverly interwoven with the thread of human interest. In it, Ernest Kremer has made a thoroughly enjoyable and interesting record of his father in law's gardening ability. "Pop's garden" has its beginnings in the chilly days of early spring, when the bare ground gives little promise of the profusion of bloom that is to spring up under Pop's skillful hands. We follow with keen interest the growth of the garden through subsequent months. Mr. Kremer's skill in presentation being demonstrated by the constant variety of material and by the interpolation of well chosen touches of human interest. Finally, the apotheosis of Pop's garden creation is realized when he takes first prize at the local garden club show. The flower closeups here are always excellent, but they are not made an end in themselves." Movie Makers, Dec. 1941, 565.
---
Total Pages: 2