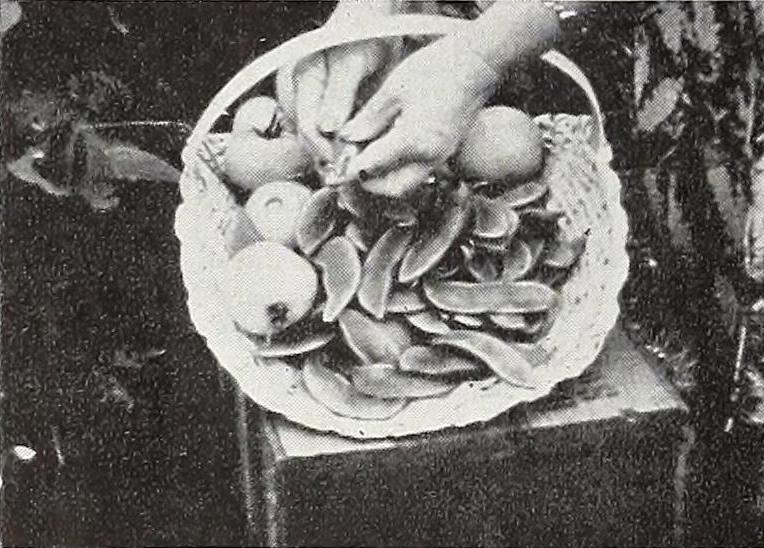 Date produced: 1942
Filmmaker(s):
Languages:
Length:
350 ft
Format:
16mm
Colour:
Kodachrome
Sound Notes:
Silent
Sound:
With music on disc.
Awards/Recognition:
ACL Ten Best 1942 - General Class
Description:
"With his victory garden as an incentive, George Mesaros has made Back to the Soil a record of his garden's progress that does credit to his movie making ability and to the quality of the vegetables produced. This genre little picture strikes a happy balance between the action scenes of planting, hoeing and harvesting and the magnificent shots of the opulent, colorful red tomatoes, green peppers, yellow corn and the beans, lettuce, cucumbers and other vegetables. Mr. Mesaros has a natural sense of pattern and design which he gives full play in the excellent arrangements in this film. Noteworthy, too, is the feeling of space and distance achieved in a small plot of ground. It is surprising to learn that the garden which seems so extensive in the picture is in reality only a small backyard plot." Movie Makers, Dec. 1942, 506.
Resources:
Discussed by Mesaros in "Filming a Victory Garden" (Movie Makers, April 1943, 134, 151).

The film was available in the ACL's Club Film Library.
Locations:
Long Island, New York (Filming)
Subjects:
Genre:
Form:
Tags:
Screenings:
Screened by the Brooklyn Amateur Cine Club 1942: Brooklyn, N.Y.
Screened at a Marines U.S.O. clubhouse in Long Beach in 1943: Long Beach, N.Y.
Screened by the Amateur Motion Picture Society of Albany in 1943: Albany, N.Y.
Screened by the Indianapolis Amateur Movie Club in 1943: Indianapolis, IN
Screened by the Utah Cine Arts Club in 1943 and 1945: Salt Lake City, UT
Screened by the Philadelphia Cinema Club in 1943: Philadelphia, PA
Screened by the Hartford Cinema Club in 1943: Hartford, CT
Screened for New York City's Y.M.C.A. in May 1943: New York City, N.Y.
Screened by the Staten Island Cinema Club in 1943: Staten Island, N.Y.
Screened by the Kenosha Movie Makers Club in 1944: Kenosha, WI
Screened by the Tri-City Cinema Club in 1944: Rockford, IL
Screened by the Berkshire Museum Amateur Movie Club in 1945: Berkshire, MA
Screened by the Amateur Motion Picture Club of St. Louis in 1946: St. Louis, MO
Screened by the Walla Walla Cinema and Camera Club in 1951: Walla Walla, WA
Screened by Haagse Amateur Filmclub and Haagse Smalfilm Liga in 1951: The Hague, Netherlands
Screened by the Cine Club I.C.A.L. Milano in 1951: Milano, Italy
Screened by the Richmond Movie Camera Club in 1953: Richmond, CA
---
Do you know where this film is? Get in touch with us at amdb@ucalgary.ca.