---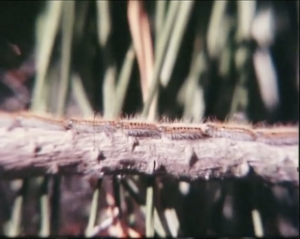 Date produced: 1971
Filmmaker(s):
Description:
El documental muestra el ciclo vital de la oruga procesionaria del pino (Thaumetopoea Pityocampa), abundante en bosques de pinos de Europa del Sur y América del Sur y considerada como el insecto defoliador más importante de los pinares españoles.

The documentary shows the life cycle of the pine processionary caterpillar (Thaumetopoea Pityocampa), abundant in Southern European and South American forests, considered as the most important defoliating insect of the Spanish pine forests.
---
Date produced:
Filmmaker(s):
Description:
Imágenes del bosque / Images of the forest.
---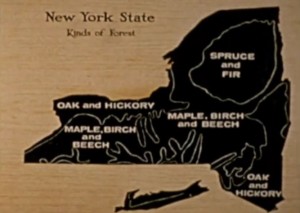 Date produced: 1956
Filmmaker(s):
Description:
'This film presents a revelation of the beauty and colorful activity of the trees of New York State. Beautiful time-lapse pictures show the emerging buds, leaves, and flowerings on the trees. The identifying features on tree branches, flowers, fruit, and bark are shown, utilizing time-lapse photography to show the moving detail," via SUNY College of Environmental Science and Forestry.
---
Date produced: 1935
Filmmaker(s):
Description:
"Burnford's picture was not only good from the documentary angle, but was very well photographed. It showed the lumbering industry in England starting with the felling of trees and then through the mills and then to the things built of wood, showing the most dramatic incidents." American Cinematographer, Feb. 1937, 73.
---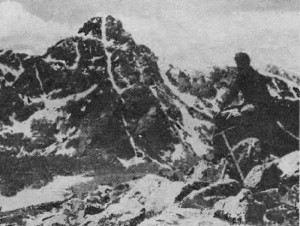 Date produced: 1958
Filmmaker(s):
Description:
"In a color chucklelogue Midgley will show spectacular pictures of Colorado today and give a nostalgic look into Colorado's colorful past. . . . The film features Denver, Pikes Peak, the Garden of the Gods, the Royal Gorge, Estes Park, ascent of Longs Peak, Trail Ridge Road, skiing at Aspen, and pictures of ghost towns and horseless carriages. Some of these pictures, filmed in excellent color years ago during the last days of the Narrow Gaugers, could never be replaced." The Clock Tower, Oct. 17, 1969, 1.
---
Date produced:
Filmmaker(s):
Description:
"The unique wilderness of the Spatsizi Plateau, and the area's flora, fauna and scenery, as observed by guide-outfitter Tommy Walker. The film points out the negative impact of recent development in the area, and emphasizes the importance of preserving the Spatsizi. Mountain sheep, Stone sheep, Osborn caribou, moose, eagles, beaver, marmots, and many other wildlife species are shown" British Columbia Archives.
This film was produced at some time between 1956 and 1970.
---
Date produced: 1938
Filmmaker(s):
Description:
"'Mystery in the Forest' came from Khoji Tsukamoto in Japan; a series of bird pictures of beauty and interest, with shots of heron chicks emerging from the shell outstanding" American Cinematographer, April, 1938, 173.
---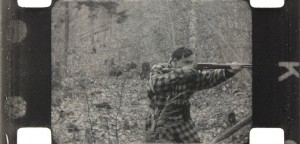 Date produced: 1926
Filmmaker(s):
Thomas Archibald (Archie) Stewart
Description:
"Structured around a hunting trip to Maine made by Archie Stewart and Howard Kendall. The two men travel to Perry, Maine, from New York state by train, then drive a car to a lake where they transfer their luggage to a motor boat on Grand Lake Stream and ride through heavy fog on rough water to West Grand Lake. They then carry a canoe to Lower Sysladobsis Lake, load the canoe with their rifles and supplies, and paddle off. After reaching their camp along the lake's shore, they check their rifles and eat before hunting." oldfilm.org
---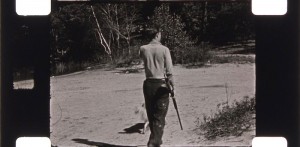 Date produced: 1937
Filmmaker(s):
Description:
"Hunting, cast of "Boy," played by Winthrop Rolfe, and "Dog," played by Teddy. Boy, walks with Dog through the forested mountainside, gazes at views over the alley, drinks water from a rushing stream, and kneels to shoot at birds." Notes by (NHF) Chris Reed and Chris Castiglia, June 2013
---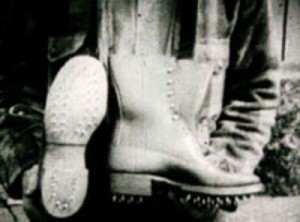 Date produced: 1930
Filmmaker(s):
Description:
"Depicts the year-round activities of the Machias Lumber Company on the Machias River in Washington County, Maine. Includes scenes of winter logging in the forest with hand tools and horses, as well as the spring log drive, with loggers using peaveys to break up log jams on icy rivers as the logs are moved from the forest to the mill. Includes footage of lumber loaded onto schooners in Machias for transport to New York and schooner being towed to sea by sardine boat." oldfilm.org
---
Total Pages: 2