---
---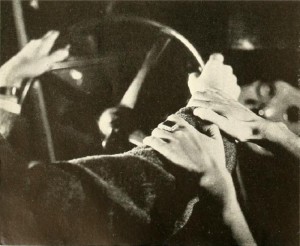 Date produced: 1934
Filmmaker(s):
Description:
"The producers of 'Chronicle' must be commended for a novel treatment. They employed the hands only to show the life of a boy from his third birthday until maturity. Into this novel treatment they spun a story of the boy's downfall until he is found guilty of murder and is incarcerated. All of it was interior and was well photographed." American Cinematographer, Jan. 1936, 40.
---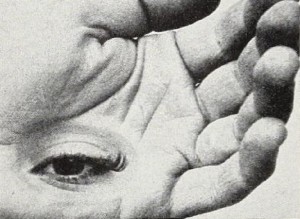 Date produced: 1942
Filmmaker(s):
Description:
"Robert Fels and his associates have made in Cine Whimsy a sound motion picture unlike anything that has seen the screen previously. Its plot is based on the literal picturization of figures of speech and, when the characters in this movie "lose their heads," they actually do! Similarly, when the heroine "hits the ceiling," she does just that and, when the hero "pulls the wool over her eyes," he does so with the aid of a ball of yarn. We could go on citing this kind of thing indefinitely without revealing the picture's true quality, which lies in a surrealist treatment, always ingenious and sometimes fantastic. The priest who rises from the cactus to "hitch" the headless couple who are hauling a cart on a barren road represents the kind of imagery that is typical of the film. The sound track is a brilliant combination of commentation and "fake" lip synchronism. Mr. Fells conceived and directed the picture; Newell Tune filmed it, and Norman Johnson collaborated on the shooting script. Mr. Tune's trick work is among the best yet produced on 16mm." Movie Makers, Dec. 1942, 507-508.
---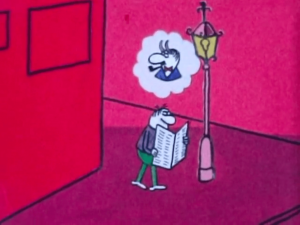 Date produced: 1971
Filmmaker(s):
Description:
Film experimental de animación que cuenta una pequeña historia de infidelidad conyugal.

Experimental animation film that tells a short story about marriage infidelity.
---
Date produced: 1935
Filmmaker(s):
Description:
"A five minute abstract film using live action, slow motion and shots showing the interplay of lights on coloured paper. Although the film was silent, its accompanying gramophone record married so well that the film was perceived as a sound film" ("McLaren and Grierson: Intersections").
---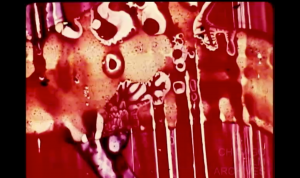 Date produced: 1968
Filmmaker(s):
Description:
"An amateur experimental film made by Sol Falon and distributed by the Society of Amateur Cinematographers (SAC)." Chicago Film Archives
---
Date produced: 1968
Filmmaker(s):
---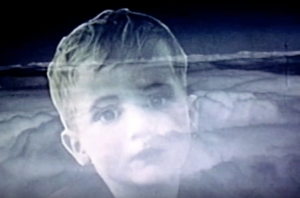 Date produced: 1968
Filmmaker(s):
Description:
"Dear Little Lightbird was entered as an experimental film by Leland Auslender, who also won one of the four top awards in the Class C category. He has a way with color, light and angles, and this talent easily put his film in the Top Ten. It's a story of a little boy born with an incurable disease, and how his three years of life brought into focus all the wonders of nature and this world around us. Perhaps this 18-minute film could be shortened somewhat, but it doesn't seem to matter for the film surrounds you with unusual shots of the simple things most of us miss in the helter-skelter of everyday life" PSA Journal, Oct. 1968, 49.
---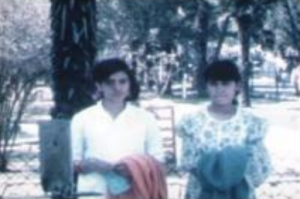 Date produced: 1971
Filmmaker(s):
Description:
"Esta cinta se basaba en una idea de David Celestinos de enviar a diversos equipos de filmación a desarrollar historias sobre lo que ocurre un domingo en la Ciudad de México de manera simultánea. El resultado fue interesante, en la medida en la que muestra la cotidianidad dominguera de diversos personajes que provienen de distintas clases sociales: un borracho llega con su compadre a la casa de la vecindad y es recibido de mala manera por la mujer, un grupo de juniors pasa el día en Cuernavaca, un hombre solitario recorre las calles y parques del centro de la Ciudad de México, un velador se aburre en el edificio que custodia, dos sirvientas pasan el día en Chapultepec, una familia clasemediera que va a misa y a pasar un día de campo... La cinta sigue el planteamiento hecho por el neorrealismo italiano de no convocar actores profesionales para presentar historias sencillas, ligeramente dramatizadas" (Vázquez Mantecón, 2012.

"This film was based in an idea by David Celestinos of sending diverse filming crews to develop stories about what happens simultaneously on a Sunday in Mexico City. The result was interesting since it showed the Sunday everydayness of diverse characters from different social classes: a drunk man arrives at his friend's house in a poor neighborhood and is received in a bad way by a woman, a group of juniors that spend their day in Cuernavaca, a lonely man that goes through the streets and parks of Mexico City, a night watchman that is bored in the building he is in charge of, two maids that spend the day in Chapultepec, a middle class family that goes to mass and to have a picnic... The film follows the idea posed by Italian Neorealism of not using professional actors to present simple stories, slightly staged" (Vázquez Mantecón, 2012).
---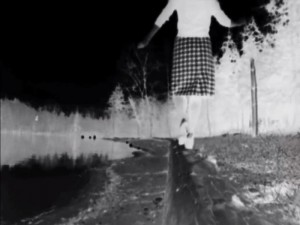 Date produced: 1960
Filmmaker(s):
Description:
"Loosely scripted film in which people at play in a park are interrupted by an authority figure who prevents them from enjoying themselves. The actors include many friend of the filmmakers, such as artists Michael Morris, Robert DiCastro and Sally Gregson. Images on negative stock are incorporated into the film" (Duffy, 94).
---
Date produced: 1971
Filmmaker(s):
Description:
"Doodlin' Along by W. L. Barton, a PSA member of Dallas, Texas. Bills clever idea with a "gimmick" toy and a prism lens and a combination of a title with a musical selection made a real shorty. You'll have to look quick so as not to miss this 1-minute 8mm film that was awarded an Honorable Mention" PSA Journal, Nov. 1971, 41
---
Total Pages: 14