---
---
Date produced: 1933
Filmmaker(s):
Description:
"Glimpses of Rural Hungary was the first film ever made by Elizabeth Rearick but its excellence must be credited to more than beginner's luck. It represents a willingness to follow instructions carefully and an ability to compose scenes as they are selected. The picture contains a charming record of the people and customs of Hungary, but capturing this was secondary, for Miss Rearick planned the film to be principally a record of folk dances. Most unusually accurate exposure and focusing make the film outstanding in its technical aspects. Clear, crisp, steady pictures inevitably do a great deal to present a subject in a delightful way. One of the remarkable features of the film was the rock steadiness of the camera, although Miss Rearick did not use a tripod at any time. The sequencing is worked out well and, although the film is intended for use in physical education work, it has a tremendous general interest value. The entire finished product is one of which an experienced filmer might well be proud." Movie Makers, Dec. 1933, 500.
---
Date produced: 1954
Filmmaker(s):
Description:
"Het is Lente in Holland!, by Esther Cooke, may well be one of the most beautiful and perceptive travel studies of this (or any) contest year. For here is no banal tourist mish-mash of the usual wooden shoes, windmills and cheese markets; we find in their stead a literate and respectful account of a small country with its old and cherished travel conditions. Technically sparkling and esthetically pleasing, It is Spring in Holland is so deceptively simple that each viewer is likely to assume that he could easily do likewise. But the skill which Mrs. Cooke has lavished on each succeeding scene should not be taken lightly. Her exposures are exact, creating color which seems magically luminescent; her viewpoints are knowingly selected to create fresh and revealing compositions, and her editing has blended the whole into a travel study of exceptional poise and beauty" PSA Journal, Jan. 1955, 48-49.
---
Date produced: 1956
Filmmaker(s):
Description:
"Item is an audio-visual production of Dr. Willinsky's Hellenic cruise near Greece with his wife, Sadie. Production contains footage of the ancient ruins and other landmarks they visited, including sites in Mycenae, Pergamum, Athens, Troy and Gallipoli. In the form of a travelogue, music and Dr. Willinsky's commentary accompanies images for about the first 30 minutes. The remainder of the production is mute." Ontario Jewish Archives.
---
Date produced: 1969
Filmmaker(s):
Description:
Hortobagy is a strange title, but only because the film comes from Hungary. Szilagyi Attila of Hungary shows us the plains of his country and the life of the Hungarian Cowboy and the Hungarian Sheepherders. The film is in black-and-white and is a very interesting 16 minutes about people, costumes, and a land that very few of us have an opportunity to see. The filming is well done and the sound track is in Hungarian," PSA Journal, Mar. 1970, 43.
---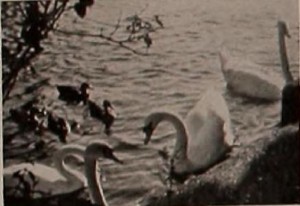 Date produced: 1939
Filmmaker(s):
Description:
"In Linden Lea is A. Scott Moorhouse's tribute to a mother land, a tribute paid with distinction and an admirable warmth of feeling. We go to the English countryside, where Mr. Moorhouse sings, in film, the ancient refrain that Chaucer, Shakespeare, Gray, Wordsworth, Jefferies, Kipling and Brooke lifted in the English tongue. It is Mr. Moorhouse's good fortune and his sound cinematic ability that have permitted him to bring what he feels so strongly in a very direct fashion to his audience. His is the last sight of a peaceful England, recorded with vibrant emotion. "Rainbows; and the blue bitter smoke of wood; "And radiant raindrops couching in cool flowers; "And flowers themselves, that sway through sunny hours, "Dreaming of moths that drink them under the moon; " These, Mr. Moorhouse has greatly loved, as did Brooke, and in English woods, he would hope we shall "see no enemy, but winter and rough weather." In this beautiful Kodachrome footage are preserved the byways, the little ways, the errant and individual ways through which wander the casual cows, the meandering motors, the clopping carts and the quiet English, themselves, while to right of them and left of them are "English unofficial roses." And there is "honey still for tea" in this English land, and people to enjoy it, unhurried and unflurried. Mr. Moorhouse has pictured a way of life by suggestion, because his scenes are almost all with few human beings, but he has pictured it sharply and triumphantly, even if tenderly. In this brief essay in film is the essence of "This royal throne of kings, this scepter'd isle, "This earth of majesty, this seat of Mars, "This other Eden, demi-paradise; "This fortress built by Nature for herself "Against infection and the hand of war; '"This happy breed of men, this little world; "This precious stone set in the silver sea . . . "This blessed plot, this earth, this realm, this England." Movie Makers, Dec. 1939, 609, 631-632.
---
Date produced: 1959
Filmmaker(s):
Description:
"Another documentary - travelogue in Esther Cooke's usual style of presenting in an easy way a phase of an old European town. This time old Rothenburg, with its ancient buildings and customs, and pageants re-enacting the past. In the village square there are interesting colorful patterns danced by the young folks. The narrations fills in interesting historical sketches contributing a great deal to the picture. This might be a citadel taken from the pages of a story book" PSA Journal, Nov. 1959, 47.
---
Date produced: 1935
Filmmaker(s):
Description:
"Film footage moderately edited with added intertitles, shot in Ceylon, Egypt, and Italy by oil explorer and geologist Walter Link during his personal vacation, records various tourist destinations. Landmarks include: the beach and harbor at Colombo, Sri Lanka (Ceylon); the Sphinx, pyramids, Mosque of Mohamed Ali and Egyptian Museum in and around Cairo, Egypt; Villa San Michele in Capri, Italy; and St. Peters and the Coliseum in Rome, Italy. Footage consists mainly of sights and structures, and features little interaction with local inhabitants," Human Studies Film Archives, Smithsonian Museum.
---
Date produced: 1962
Filmmaker(s):
Description:
"It started at a game of bridge when one of the ladies observed a charm bracelet worn by the hostess and asked her to tell them about it. The charms were acquired in the several cities visited in Holland, Norway, and Sweden. Rotterdam, Sweden, Copenhagen, Stockholm, and Stalheim in the mountains, the Yosemite of Norway. They visited the modern and the old parts of the cities, the waterfront, historic places, fish market, shop windows, amusement areas, countryside and rural settlements and villages. They explored the facilities of surface transportation. The narrator's voice adds a delightful touch to this travelog" PSA Journal, Oct. 1962, 35
---
Date produced: 1964
Filmmaker(s):
Description:
"Italian Diary takes us to Italy where we see many of the old familiar places but lots of little seen nooks and crannies as well. A young girl narrator gives life and effervescence to the film which otherwise could well be just another travelog. Harshbarger has tied the sequences together with a travel album, showing us color photos on the pages of the album which then come alive on the screen. The film also received the MPD Travel Film Award, judged as being the best travelog of well over a dozen that dotted this year's contest, six of which were among the top ten and the honorable mentions" PSA Journal, Sept. 1964, 50.
---
Date produced: 1962
Filmmaker(s):
Description:
"The film opens in Florence, Italy, with the statue of David by Michelangelo, in marble. Then we quickly move to the quarry to observe the processes of opening a crack, part of the process of shearing off a piece from the huge mountain of marble. Later we see the cutting and slicing into useful slabs and polishing. Also, we visit a studio where, among other works, a large block of marble is being carved into a statue of Abraham Lincoln for the city of Boston. The commentary on tape is well done. This will be included in the Package" PSA Journal, Oct. 1962, 33.
---
Total Pages: 9