---
---
Date produced: 1954
Filmmaker(s):
Description:
"Item is a film of a trip to Spain taken by Dr. Willinsky, his wife, Sadie, and some of their friends. Despite its title, the film does not contain footage of France. In the form of a travelogue, footage of landmarks, the local population, and the Willinsky's activities are accompanied by music and Dr. Willinsky's commentary. Footage includes shots of the Square of Spain, Sadie walking along the streets of a shopping district, churches and monasteries, a boat cruise from Palma to Figuera, a spring festival procession and dancing in Majorca. Most of the scenes were taken in Palma and Majorca." Ontario Jewish Archives.
---
Date produced: 1934
Filmmaker(s):
Description:
"a soggetto"/fiction
---
Date produced: 1934
Filmmaker(s):
Description:
"Local newsreel - includes items on the 'New World Wonder Tunnel' in Merseyside, March 31st 1934; Manchester City football team is welcomed home after winning the FA cup at Wembley - includes scenes at North Edgeley Station and Piccadilly Square - A royal visit to Manchester and Liverpool, July 17th / 18th, 1934. King George V is greeted by large crowds as he opens the new Central Reference Library in Manchester and the new East Lancashire Road in Liverpool. The newsreel concludes with shots of Stockport's floral tributes." (NWFA Online Archive)
---
Date produced: 1964
Filmmaker(s):
Description:
"A Glimpse of Paris shows us the usual sights of the French capital as well as some of the less common places. Tight editing keeps the film moving yet the feel of jumping rapidly from one spot to another, so often prevalent in travel films, is not present in this one" PSA Journal, Sept. 1964, 50.
---
Date produced: 1935
Filmmaker(s):
Description:
"Item is a film taken by Dr. Willinsky of a trip to Rome, Italy. In the form of a travelogue, footage of landmarks, ruins and the local population are interspersed with captions that were added in by Dr. Willinsky to provide information about the country's history and culture. Included are shots of the Pantheon, the Colosseum, a Roman market, the Appian Way and dinner at a Roman restaurant. Dr. Willinsky's wife, Sadie, is occassionally spotted in the footage with travel companions who are probably relatives or family friends." Ontario Jewish Archives.
---
Date produced: 1933
Filmmaker(s):
Description:
"Glimpses of Rural Hungary was the first film ever made by Elizabeth Rearick but its excellence must be credited to more than beginner's luck. It represents a willingness to follow instructions carefully and an ability to compose scenes as they are selected. The picture contains a charming record of the people and customs of Hungary, but capturing this was secondary, for Miss Rearick planned the film to be principally a record of folk dances. Most unusually accurate exposure and focusing make the film outstanding in its technical aspects. Clear, crisp, steady pictures inevitably do a great deal to present a subject in a delightful way. One of the remarkable features of the film was the rock steadiness of the camera, although Miss Rearick did not use a tripod at any time. The sequencing is worked out well and, although the film is intended for use in physical education work, it has a tremendous general interest value. The entire finished product is one of which an experienced filmer might well be proud." Movie Makers, Dec. 1933, 500.
---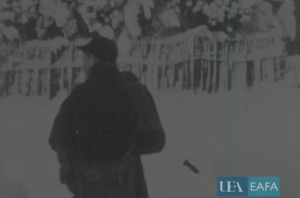 Date produced: 1958
Filmmaker(s):
Description:
'Scenes of Frinton covered in snow and ice. A man plays with a dog and people dig paths through the snow. People attempt to walk through the snow; some out to enjoy themselves, others seeking to carry out a normal routine of shopping and other daily business. A man tries to unlock his frozen car. In the town centre there is a shop with a 'sale' sign in the window. The area is practically deserted. Hammonds' filling station is covered in snow and deserted. A lorry attempts to drive through the snow, but is having to rely on a push. One vehicle that does manage to take to the road is a Land Rover. Finally, a snow-covered St. Mary's Church and frozen power cables brought down by the severe conditions' (EAFA).
---
Date produced: 1954
Filmmaker(s):
Description:
"Het is Lente in Holland!, by Esther Cooke, may well be one of the most beautiful and perceptive travel studies of this (or any) contest year. For here is no banal tourist mish-mash of the usual wooden shoes, windmills and cheese markets; we find in their stead a literate and respectful account of a small country with its old and cherished travel conditions. Technically sparkling and esthetically pleasing, It is Spring in Holland is so deceptively simple that each viewer is likely to assume that he could easily do likewise. But the skill which Mrs. Cooke has lavished on each succeeding scene should not be taken lightly. Her exposures are exact, creating color which seems magically luminescent; her viewpoints are knowingly selected to create fresh and revealing compositions, and her editing has blended the whole into a travel study of exceptional poise and beauty" PSA Journal, Jan. 1955, 48-49.
---
Date produced: 1956
Filmmaker(s):
Description:
"Item is an audio-visual production of Dr. Willinsky's Hellenic cruise near Greece with his wife, Sadie. Production contains footage of the ancient ruins and other landmarks they visited, including sites in Mycenae, Pergamum, Athens, Troy and Gallipoli. In the form of a travelogue, music and Dr. Willinsky's commentary accompanies images for about the first 30 minutes. The remainder of the production is mute." Ontario Jewish Archives.
---
Date produced: 1969
Filmmaker(s):
Description:
Hortobagy is a strange title, but only because the film comes from Hungary. Szilagyi Attila of Hungary shows us the plains of his country and the life of the Hungarian Cowboy and the Hungarian Sheepherders. The film is in black-and-white and is a very interesting 16 minutes about people, costumes, and a land that very few of us have an opportunity to see. The filming is well done and the sound track is in Hungarian," PSA Journal, Mar. 1970, 43.
---
Total Pages: 10