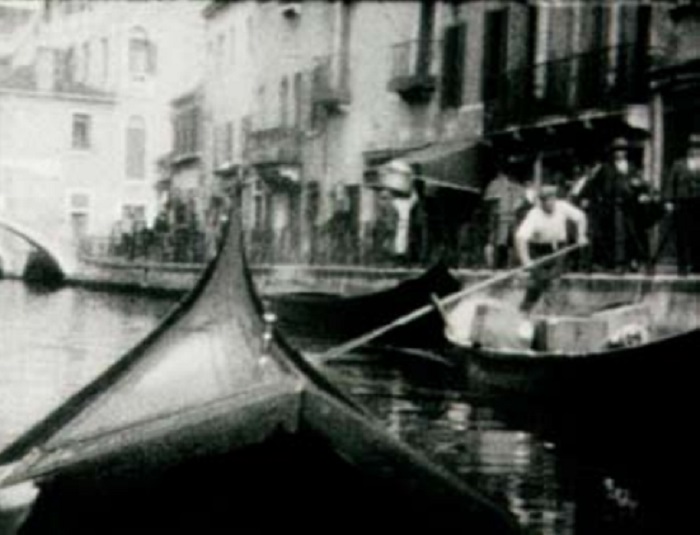 Identifier:
b18380614 (Source: UC Berkeley Library Web Catalog)
Date produced: 1928
Filmmaker(s):
Country of Production:
United States
Languages:
English
Duration:
00:13:26
Length:
1 reel (336 ft)
Format:
16mm
Colour:
B&W
Sound Notes:
Silent
Awards/Recognition:
Pacific Film Archive list of titled amateur films
Description:
"Travelogue with intertitles of Alexander Black's trip to Europe in 1928. It includes footage of air and sea travel, a phantom ride in a gondola, and footage of Black himself feeding pigeons in Venice, Italy." UC Berkeley Library.
Resources:
The film is discussed in the brochure "Alexander Black: Cinema Pioneer" from the Pacific Film Archive, Nov. 22, 2009.

This film was preserved and is held by the Pacific Film Archive.
Locations:
Genoa, Italy (Filming)
Venice, Italy (Filming)
Paris, France (Filming)
Subjects:
Genre:
Form:
Tags:
Repository:
Alexander Black Collection, UC Berkeley Art Museum and Pacific Film Archive
Screenings:
Screened on the program "Alexander Black: Cinema Pioneer" at the Pacific Film Archive on Nov. 22, 2009: Berkeley, CA
Viewing Notes:
"Intertitles: And so I sailed on the Lapland -- You may see that I am on my way -- Out of my port hole -- Ship's work -- The boat drill -- Captain Harvey and the purser -- The Captain looks at the sun -- And tries to let one of the kids see it -- In this bus I flew to Paris -- One of the airplane engines at work -- Faint glimpses of the earth -- The edge of the Channel -- The Opera House, Paris -- The "Eternal light" under the Arch of Triumph -- One of the towers of Fontainbleau Palace -- In the old town -- When I walked over the Alps 50 years ago I cam to an old Italian tower inn -- You see why I had to go downstairs to bed -- Old houses in the town of the tall tower Domodossola -- Monumnet here to an italian flier who fell out of the sky -- Beautiful Maggiore -- Isola Bella is now pretty much a Coney Island -- On Lake Lugano -- On the lake shore -- And so to the Grand Canal of Venice -- The church across the way -- By-ways -- A Grand Canal taxi -- On the way to St. Marks -- Entering St. Marks Square -- St. Marks from the Grand Canal -- In the great square before St. Marks -- I feed the pigeons -- This should have been one of my grandchildren -- The house in Genoa where Columbus was born -- The city of the Columbus house -- From my window in Nice." Via UC Berkeley Library.
---