---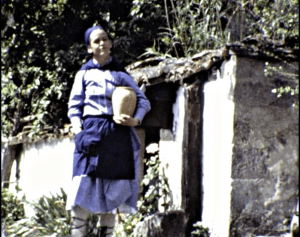 Date produced:
Filmmaker(s):
Description:
Una niña y una mujer van en el automóvil. La niña se queda dormida y comienza a soñar con la historia de la lechera.

A girl and a woman ride a car. The girl falls asleep and begins dreaming of a milkmaid story.
---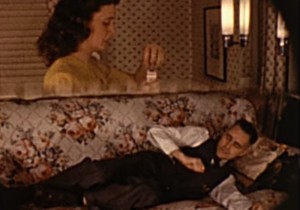 Date produced: 1944
Description:
A man has a petty argument with his wife over her cooking. The argument concludes with the wife declaring "you'll be sorry!" The man goes straight to sleep, but has nightmare visions of his wife dying. When he awakens, the man rushes to check on his wife, who he finds in an alarming condition.
---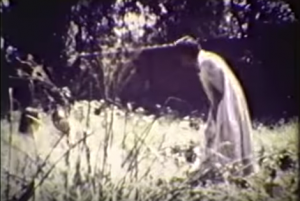 Date produced: 1973
Filmmaker(s):
Description:
" Ah, verda'? planteaba una extraña combinación entre la militancia política y la contracultural. Jugaba con el ataque a los símbolos del orden nacional y estatal (la bomba en el Monumento a la Revolución y en el PRI, los judiciales persecutores), la crítica a la sociedad de consumo representada por la huida de la pareja de jóvenes entre los espectaculares, la liberación sexual (la combi zarandeada porque dentro hacen el amor, o la urgente calentura de los monjes una vez que han probado el LSD y cruzado las puertas de la percepción), y la representación de la fantasía jipiteca de que el mundo sería más alivianado si todos probaran las drogas duras" (Vázquez Mantecón, 2012).

" Ah, verda' [Ah, right?] was a strange combination between political and countercultural militancy. It played with the attack to symbols of state and national order (a bomb in the Monument to the Revolution and in PRI offices [Revolutionary Institutional Party], the chasing police men), a critique to a consumer society represented by a young couple running away in between billboards, the sexual liberation (a truck shaken because someone is making love inside, the sex desire of monks once they have tried LSD and crossed the gates of perception), and the representation of the mexican hippies' fantasy in which the world would be cooler if everyone tried hard drugs" (Vázquez Mantecón, 2012).
---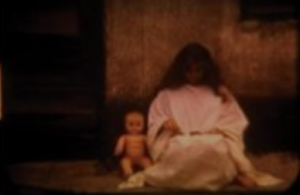 Date produced: 1972
Filmmaker(s):
Description:
"La cinta hacía un recuento de imágenes oníricas, en los que una mujer (Paloma Woolrich) sale de su casa para recorrer diversos espacios que en realidad parecen determinados por su imaginación: desciende los escalones de una calle en una zona peatonal, se muestra aprisionada por una roca gigantesca, aparece catatónica en una azotea con un bebé de plástico, lucha con un hombre contrahecho, apalea a un hombre amarrado, duerme con su pareja y su bebé de plástico en un cementerio, aparece desgreñada en una construcción en ruinas en medio del campo, donde es burdamente pintada por otra mujer" (Vázquez Mantecón, 2012)

"The film made a recount of dreamlike images, in which a woman (Paloma Woolrich, goes out of her house to go through several spaces that actually seem determined by her imagination: she goes down the steps of a street in a pedestrian area, then she is imprisoned by a gigantic rock, she appears catatonic on a roof top with a plastic baby, she struggles with a crooked man, she beats a tied man, she sleeps with her couple and her plastic baby in a graveyard, she appears disheveled in a construction site in ruins in the middle of the country where she is roughly painted by another woman" (Vázquez Mantecón, 2012).
---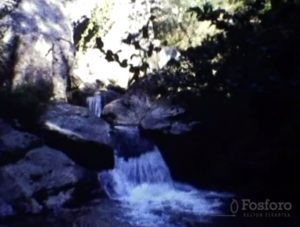 Date produced:
Filmmaker(s):
Description:
El filme muestra diversos paisajes naturales de Ribera en Álava (España) mientras se escucha la narración de un hombre reflexionando mientras deja atrás la ciudad y mira las montañas y ríos. El hombre recuerda distintos fragmentos de su vida y mientras mira el río concluye que aún le queda un largo camino en la vida.

The film depicts several natural landscapes of Ribera in Álava (Spain) while a male voice narrates the reflections of a man while he leaves the city behind and watches the mountains and the rivers. The man remembers many fragments of his life and while he sees the river he concludes that there is still a long road ahead for him in life.
---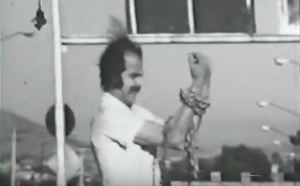 Date produced: 1971
Filmmaker(s):
Description:
"A successful man living in a great metropolis is increasing awareness of the unjust social reality that lives in the absurdity. This immerses him in a uneasiness that sinks into alcoholism and depression. In his wandering through the streets viewer gets to be the unfortunate suicide of another victim of the meaninglessness of life, which will produce a series of dreamlike hallucinations bordering on the madness. In a stroke of consciousness of his misfortune, he does run aimlessly without course. Devastated, to the dawn, with the light of the dawn he sees to be reborn the hope personified in an innocent girl who stretches the hand donating bread" Internet Archive.
---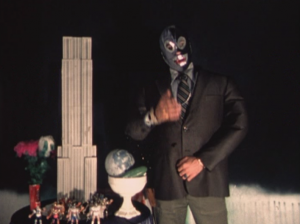 Date produced: 1978
Filmmaker(s):
Description:
"Siete cortometrajes de Maris Bustamante y Rubén Valencia, integrantes del No Grupo, que indican el acercamiento de artistas plásticos al formato súper 8. Los trabajos del No-Grupo tendieron a hacer una reflexión a la vez lúdica y crítica sobre la naturaleza del arte" Superocheros.

"Seven short films made by Maris Bustamante and Rubén Valencia, members of the No Group, that indicate the interest of artists in the plastic arts to use the super 8 format. The works of the No Group were usually a playful and critical reflexion on the nature of art" Superocheros.
---
Date produced: 1970
Filmmaker(s):
Description:
"EL TERCER SUSPIRO. Separa de un grupo de paseantes en la Alameda a un joven que al aceptar la invitación a subir a un auto que le hacen tres desconocidos (identificados con el movimiento revolucionario de 1910, mediante un montaje de fotografías de la época), durante el paseo por el Periférico se ve acometido por una serie de evocaciones imaginarias. Primero se le ve huir del coche saltando a un paso de peatones, y ser acosado a través de casas derruidas. Al regresar al tiempo presente uno de los hombres le pone la mano en un revólver. Después se ve en un lugar desierto, penosamente sostenido en pie por un aparato ortopédico, mientras una marea creciente lo empieza a cubrir. En ese punto desciende del coche en marcha y se coloca en el centro de la carretera, amenazando con el arma a algo que se aproxima; pero antes de que se produzca el disparo evoca un encuentro amoroso. Esta acción se repite varias veces antes de disolverse en las imágenes de un lago que ahora lo ha cubierto todo"(Garmendia en Vázquez Mantecón, 2012).

"THE THIRD SIGH. Separates a young man from a group of pedestrians in the Alameda, when he accepts an invitation by three unknown men to get into a car (the men were identified with the revolutionary movement of 1910 through a photographic montage of the time), during the ride through Periférico, he is undertaken by a series of imaginary evocations. First he is seen running away from the car, jumping to a crosswalk, and being harassed through demolished houses. When coming back to the present, one of the men puts his hand on a revolver gun. Afterwards, he is seen in a desert place, shamefully sustained by an orthopedic device, while a rising tide starts to cover him. At this point he descends from the moving car and goes to the center of the highway, menacing with his gun something that is approaching; but before the shot is produced, a loving encounter is evoked. This image is repeated several times before dissolving into images of a lake that has now covered everything" (Garmendia in Vázquez Mantecón, 2012).
---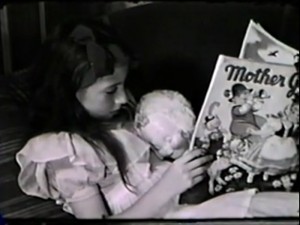 Date produced: 1942
Filmmaker(s):
Description:
"Amateur drama of a girl's dreams inspired by a Mother Goose book." Center for Home Movies.
---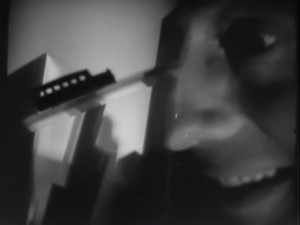 Date produced: 1927
Filmmaker(s):
Description:
"Robert Florey and Slavko Vorkapich created one of the most creative (particularly in light of its reputed $97 budget) and bleakest of the early avant-garde films. Photographed by Gregg Toland, who would become best known for his work on "Citizen Kane," the film is the time-worn tale of a movie extra (Jules Raucort) marginalized by one casting director after another until he's seen only as a number symbolically appearing on his forehead. The ultra simplistic sets and props, made of toys and cardboard buildings projected like shadows, help to create intricate German Expressionistic cityscapes reminiscent at times of "Metropolis." " National Film Registry.
---
Total Pages: 4