---
---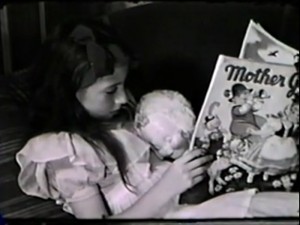 Date produced: 1942
Filmmaker(s):
Description:
"Amateur drama of a girl's dreams inspired by a Mother Goose book." Center for Home Movies.
---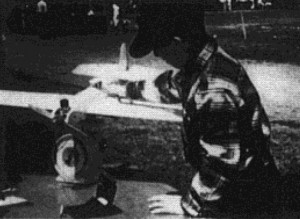 Date produced: 1960
Filmmaker(s):
Description:
"Mother gives Junior a model airplane kit and immediately, he sets about the task of assembly while Dad works on the opposite side of the table editing motion pictures. During the night, Junior goes into a dream sequence of flying his airplane. Later he flies his toy in a local contest and wins the big prize. A likely event in the life of a boy" PSA Journal, Oct. 1961, 48.
---
Date produced: 1966
Filmmaker(s):
Description:
"Gold for the excellent trick work in its dream sequence in which a young boy imagines, in a neatly feathered "balloon" above his head, the adventures he is about to have in the forest" PSA Journal, Sept. 1966, 36.
---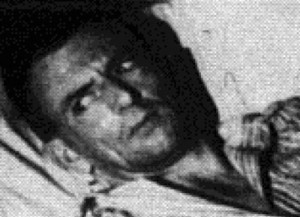 Date produced: 1962
Filmmaker(s):
Description:
"Something has induced the man in the film into a nightmare accompanied by wind-blown Venetian slats, moving windows, turning door knobs, footsteps, and music to stir the emotions - all to the punishment of the victim and the excitement of the viewing audience" PSA Journal, Oct. 1962, 35
---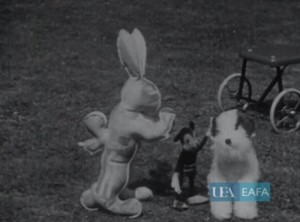 Date produced: 1932
Filmmaker(s):
Description:
"A record of the second birthday of June Thubron. The spontaneous actions of a little girl on finding her birthday presents. A record of her actions without any adult direction. The little girl plays with her birthday presents on the lawn and also waters flowers in the garden before falling asleep. In a stop-frame animated sequence subtitled 'Dreamland' towards the end of the film, her new toys come alive." East Anglian Film Archive.
---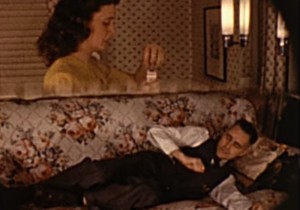 Date produced: 1944
Description:
A man has a petty argument with his wife over her cooking. The argument concludes with the wife declaring "you'll be sorry!" The man goes straight to sleep, but has nightmare visions of his wife dying. When he awakens, the man rushes to check on his wife, who he finds in an alarming condition.
---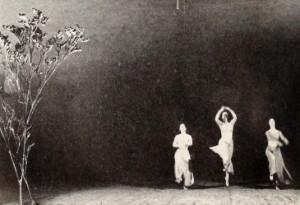 Date produced: 1951
Filmmaker(s):
Description:
'In Fancy Free' is a fantasy, imaginatively planned, photographed, and edited, which pictures the day-dreams of a young woman as she sits by the window looking out on her garden. Nearby objects, such as a Buddah, a porcelain figure of a dancer, a flower, and the passing of friends by her house set her to reflecting on her greatest wish -to be a dancer. She becomes absorbed in these dreams as a participant and the dances she imagines are laid against colorful and symbolic backgrounds. As the picture unfolds, narration by a young woman with a remarkable appealing voice tells the story of the young girl's desires, and then in the closing sequence, we learn in a brief heart-tugging climax that the girl, a cripple, can never take part in the activities of her dreams. The production is replete with effect lighting and special photographic effects -a forte which Turner ably established in his earlier productions. The dance numbers demanded skill, both in direction and execution; and the musical score, especially prepared by members of the student orchestra of the college where Turner is an instructor, is a vital and moving contribution to the picture." American Cinematographer, May 1952, 222.

"Save for a few opening and closing scenes, In Fancy Free is creative film fantasy of the highest order. For in it Glen H. Turner, beginning only with an idea, has evoked from his own mind and heart and spirit a superb and moving visual drama. As with all truly great art, the theme of In Fancy Free is essentially simple. At the film's opening a grave and tranquil girl is seen seated by a sunny window overlooking a rose garden. Laying aside her book amid these halcyon surroundings, she daydreams to herself of that which in all her life means most — the joys of dancing. There follow then four sequences of modern ballet, their themes suggested by objects or activities around her — an Oriental figurine, a string of paper dolls, a tennis game and the sunny, nodding roses. As these ballets end, we learn — in a brief, throat-tightening climax — that never, in her lifetime, can the girl take part in them. Although thematically quite different, In Fancy Free is a direct descendant of One Summer Day, with which (on 8mm. film) Mr. Turner won the Maxim Memorial Award in 1949. For in both fantasies the producer has, with sound dramatic instinct, related his world of pulsing wonder directly with the world of poignant reality. Thus it is that Mr. Turner's brilliant creative imageries take on a meaning above and beyond their mere technical virtuosity. The story development, dance themes, abstract settings and, needless to say, the camera work of In Fancy Free are all original creations by the producer. Mr. Turner enjoyed, however, a wealth of heart-warming collaboration in bringing this picture to its full flowering. An assistant professor of art at Brigham Young University, he was able to enlist the enthusiasm of countless other creative spirits. Thus it was that an original and brilliant musical score was written directly into this film dream. Thus, too, that this music was performed for recording by the university orchestra and that the dance themes were developed, almost step by step with the picture's progress, by the college ballet group. There will be those among the carping who are sure to complain that with this cooperation and those resources any amateur could produce a winner. To these few our unequivocal answer is "Non-sense!" Great art is created by the mind and heart of the artist — not by the hands of those who help him. That Mr. Turner could integrate these efforts into his own filmic concept is only another measure of this man as a truly creative cine artist." Movie Makers, Dec. 1951, 392-393, 410.
---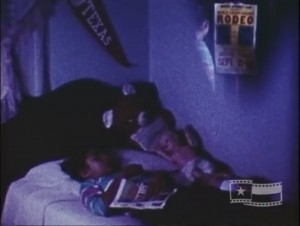 Date produced: 1962
Filmmaker(s):
Description:
"This amateur film from Ramon Galindo is titled 'Josephine's Dream' and uses home movie footage and special effects to tell a story. A girl is reading in her bedroom when she falls asleep and begins dreaming of going to the rodeo, a dream sequence we can see through Galindo's use of special effects. The film then takes us to a rodeo in Austin in 1962, capturing scenes of bucking broncos, calf roping, lasso tricks, bareback bullriding, rodeo clowns, horse tricks, and, most notably, a performance by actor and singer Michael Landon. Landon sings with a trio of cowboy guitarists, likely performing his 1957 single 'Gimme a Little Kiss (Will 'Ya' Huh)' that was rereleased in 1962 to capitalize on his newfound fame in his role as Little Joe Cartwright on the television series 'Bonanza'." Texas Archive of the Moving Image.
---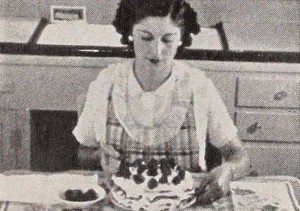 Date produced: 1939
Filmmaker(s):
Description:
"Within the brief confines of Lady on June Street, Leo Caloia presents a satisfying example of the personality film worked out in story form. Faced with the common problem of family filming, he has resolved the riddle with imagination, humor and marked cinematic ability. The "lady" in question is pictured as a lazy, luxury loving wife, spiritually eager to be the best of helpmates, but physically enslaved to satins and sweetmeats. Dozing, as she regards with languorous ambition an advertisement for homemade shortcake, she dreams vividly of a sweet but unaccustomed success with pot and pan. Crash! In her dream, the lady slips, and her magnificent shortcake slithers across the kitchen linoleum. Bump! In reality, she has rolled sleepily from her couch, to awake with a thud on the living room floor. The film fades swiftly as she hurries the tops off canned beans and sauerkraut." Movie Makers, Dec. 1939, 632.
---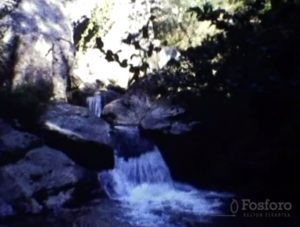 Date produced:
Filmmaker(s):
Description:
El filme muestra diversos paisajes naturales de Ribera en Álava (España) mientras se escucha la narración de un hombre reflexionando mientras deja atrás la ciudad y mira las montañas y ríos. El hombre recuerda distintos fragmentos de su vida y mientras mira el río concluye que aún le queda un largo camino en la vida.

The film depicts several natural landscapes of Ribera in Álava (Spain) while a male voice narrates the reflections of a man while he leaves the city behind and watches the mountains and the rivers. The man remembers many fragments of his life and while he sees the river he concludes that there is still a long road ahead for him in life.
---
Total Pages: 4