---
---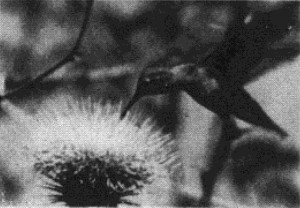 Date produced: 1960
Filmmaker(s):
Description:
"Wildflowers and desert life of some of the birds and small animals have called many but few have captured the beauty with such ease and grace. There is an intimacy with all the creatures as we watch them feed and play and the birds nest in the cactus, feeding and training the young. Those who live with and appreciate the desert will be delighted with this gem of a nature film" PSA Journal, Nov. 1960, 39.
---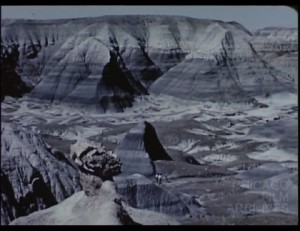 Date produced: 1960
Filmmaker(s):
Description:
"A two-part lecture travelogue film on the state of Arizona. The film would have been originally presented with live narration by the filmmaker, Robert Davis. Part one includes footage of desert landscapes, ranches, pre-historic artifacts, Native American art production & industry (wigs, textiles, etc), saloons, regional industry (logging, agricultural, and dams). Part two also includes footage of desert landscapes, cacti and dams as well as scenes from Phoenix and the surrounding area. Highlights from part two include a tour of a trailer park and footage of people skiing and sledding down a snowy hill." Chicago Film Archives.
---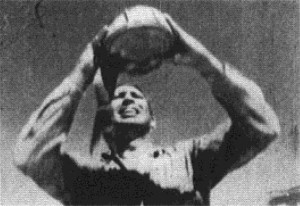 Date produced: 1960
Filmmaker(s):
Description:
"A story of two bad guys on the loose and three others on their trail in the dry desert. We move over the desert floor and into the hills for some gun play. The need for water is so pressing that the fight centers about a canteen of water which becomes the center of no-mans-land. The bad gys meet their fate and the canteen is empty from bullet holes. The actors do a credible job in a chapter from a "Western" PSA Journal, Nov. 1960, 40-41.
---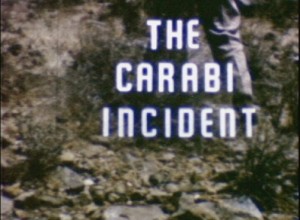 Date produced: 1951
Filmmaker(s):
Description:
"Once again Harry W. Atwood has used the desert locales of the Southwest and his mastery of outdoor color filming to mount a dramatic and exciting action picture. Although The Carabi Incident is truly an incident rather than a full-fledged photoplay, it does manage to include an abandoned mine, a lost prospector, a worried young girl and her companion — and both a happy and a tragic ending! The production is enriched with Mr. Atwood's usually fine selection of camera angles and suspenseful editing. For these reviewers, however, an excess of dialog subtitles was a drag on the film's development." Movie Makers, Dec. 1952, 341.
---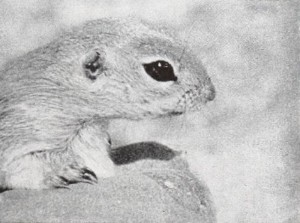 Date produced: 1941
Filmmaker(s):
Description:
"Desert Life is a painstaking and little short of amazing study of the unusual creatures that make their homes on the American desert. Its thoroughgoing coverage of the subject may be because of the fact that Henry E. Hird is an Easterner who approaches this cinematic exposition with a fresh viewpoint. Every shot in his color movie is clean cut and perfectly exposed, but the really unusual feature of the film is an unmistakable indication of the infinite patience which must have been Mr. Hird's as he stalked his prey. The lizards and reptiles of the desert are all here, just as they move and have their being; the gila monster, the little, darting lizards and the snakes, including the strangest of rattlers, the "side winder." The desert rodents are represented, too. Most remarkable are the ultra closeups which show the fangs of the rattlesnake and how poison is extracted from them. The deadly black widow and other spiders pose for closeups, too, in this comprehensive film. Then, to show the desert's beauty as well as its danger, there are some excellent flower shots." Movie Makers, Dec. 1941, 563.
---
Date produced: 1937
Filmmaker(s):
Description:
According to the filmmakers, "The scenario was our own—concerning the difficulties confronting a British telegraph company in maintaining communications between Uganda and the Sudan. A story requiring such foreign locale—Africa's desert, veldt and jungle—was written with the object of demonstrating to our audiences the cinema possibilities of our northeastern states" (111).
---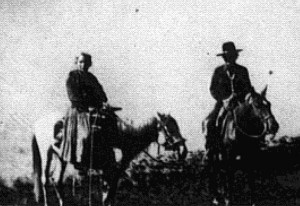 Date produced: 1961
Filmmaker(s):
Description:
"The wilderness of Colorado where the visitor may wonder how the Indian can extract a livelihood from the dry, treeless land. To be sure, there are trees, and some with the raiment of ghosts, from which life long ago departed. The rugged Indian does eke a living from this waste, mostly from sheep, goats, weaving, and trinkets. The film is a record of these things in well chosen settings, including a desert storm" PSA Journal, Oct. 1961, 49
---
Date produced: 1935
Filmmaker(s):
Description:
"Edited film used by an amateur travel-lecturer documents travel in western and southwestern United States beginning at a rodeo in Phillipsburg, Kansas (trick riding, lassoing jack rabbits, roping calfs, wrestling steers, horse races, bucking broncos and bucking steers as well as scenes of an airplane flyover and of an airplane crashing which possibly was a stunt) and continuing to Black Hills, South Dakota (forest scenery and ca. 1927 construction of Mount Rushmore--blasting off cliff face, scaffolding, men working and completed monument). Shown are roadside scenery, railroad tracks, men cleaning railroad tracks with hose and tank on small train car on the way to an unidentified mountain fishing camp possibly in Colorado (canoeing, fishing in stream, and a smokehouse) and a mountain farm where colts are branded. Cog railway is taken up to Pike's Peak. Travels continue to to the Southwest (unidentified southwestern town possibly Santa Fe with adobe buildings and men and children in Mexican dress singing and playing guitar, American Indian dance performance indoors possibly Zuni, parade of American Indians in unidentified city perhaps Gallup and Navajo band. Scenes of the southwest continue with Navajo in Canyon de Chelly (hogans and herding sheep), prehistoric archaeological sites (Mesa Verde, Chaco Canyon another unidentified cliff dwelling possibly Montezuma's castle) and Taos Pueblo. Film records American Indian dances at a gathering of Indian tribes possibly at Gallup, intertribal horse races and women's tug-of-war. Hopi are shown dancing at Hopi. Also shown are Indian women (possibly Apache or Navajo) and children together and children in cradleboard and the Navajo reservation (hogans, women spinning and weaving under a ramada, herds of sheep and goats and "dipping sheep"). Natural wonders of Grand Canyon, Monument Valley and Rainbow Bridge National Monument are featured.Travel continues to Yellowstone National Park, California (scenery, black bears, hot springs and geysers) and onto the California coast possibly Monterey (seals on rocks). Also shown are an unidentified town with oil pumps and derricks and people waterskiing" via the Human Film Studies Archives, Smithsonian Museum.
---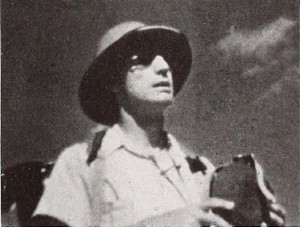 Date produced: 1943
Filmmaker(s):
Description:
"Rainbow Fantasy, in the words of Charles C. Hammack, is "an attempt to produce — not a conventional travelog — but more a story of adventure, a hiking adventure to what is probably one of the least visited of our national monuments, Rainbow Bridge, in southeastern Utah." In achieving this goal, Mr. Hammack has been largely and creditably successful. For him and his young wife, Rainbow Bridge takes on the aura of a lost horizon, a Shangri La protected from the outside world by the blistering desert heat and the brutal desert rocks. He brings this overtone of feeling to his film, both through his imaginative camera treatment of the subject and the intentionally dramatic acting of the two travelers. Mr. Hammack's is a new name in Ten Best competition, but it is one which we believe will be heard again."Movie Makers, Dec. 1943, 478.
---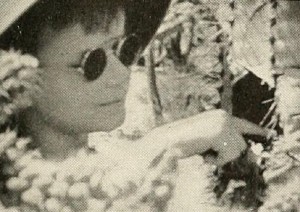 Date produced: 1940
Filmmaker(s):
Description:
"Sahuaro Land, by Frank E. Gunnell, is as clever and painless a teaching film as one may find in many a classroom screening. Here, in a colorful Arizona cactus desert, we find the surefire ingredients of a boy and his dog. The boy is an enthusiastic nature student who, in the course of his explorations of the region, contrives to make sundry entries in his notebook, which find their way to the screen. These data are all so natural a part of the story, however, that the information conveyed does not assume the rather forbidding status of an instructional title in any case. The outdoor color work is excellent, and the viewpoints are well chosen. Mr. Gunnell's use of telephoto technique for making closeup studies of distant, inaccessible objects (such as the bloom atop a tall cactus) was particularly effective. We learned a lot from this film." Movie Makers, Dec. 1940, 604.
---
Total Pages: 2