---
---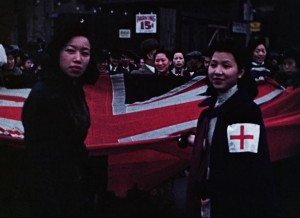 Date produced: 1942
Filmmaker(s):
Description:
The title card reads: an amateur movie reel in kodachrome. Footage includes: S. Hurok Ballet Theater : "La fille mal gardée" (excerpts); Folk Dance Demonstrations by Ukrainians; Chinese Stage Dragon Dance for Red Cross; Eaton's Santa Claus Parade (no date); A Bit of the Toronto Skating Carnival; and An Abrupt Change to Ballet on a Stage in Toronto. Library and Archives Canada
---
Date produced: 1966
Filmmaker(s):
Description:
"Ballerina is easily the most unusual film to be entered in the Competition in many years. Alise Ziverts the maker, has scratched the images on a piece of opaque 16mm film. Though the technique is not new, her masterful effort of depicting a man and a woman dancer with no more than a sharp needle is little less than amazing. With a screen time of one minute at 16 frames per second, this amounts to approximately 1000 separate drawings Miss Ziverts was required to make on the small frame area" PSA Journal, Sept. 1966, 35.
---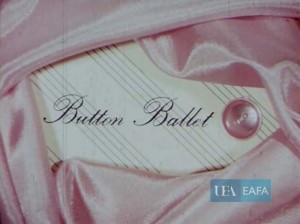 Date produced: 1967
Filmmaker(s):
Description:
"Button Ballet is a nifty little piece of animation. A number of buttons do a ballet set to Brahms music in one of the most masterfully executed animation films ever seen in this competition" PSA Journal, Aug. 1967, 36.
---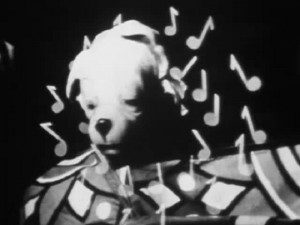 Date produced: 1936
Filmmaker(s):
Description:
"The Annual Fancy Dress Ball at Glasgow School of Art: 'Something New Under the Sun'. Includes two ballets, 'Hungarian' and 'Machine Age' and animated sequences." National Library of Scotland Moving Image Archive.
---
Date produced: 1953
Filmmaker(s):
Description:
"Item is a film of Dr. Willinsky's trip to the Canary Islands with his wife, Sadie. In the form of a travelogue, music and Dr. Willinsky's commentary accompanies footage of the landscape, architecture, and local population. Included are shots of the local population carrying out their daily activities, children dressed in costume for Ash Wednesday festivities, markets, and traditional dances. Sadie is occassionally spotted sight-seeing and visiting with locals." Ontario Jewish Archives.
---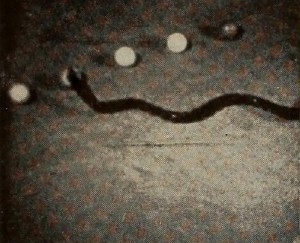 Date produced: 1953
Filmmaker(s):
Description:
"Candy Capers is a gay little dance fantasy in animation, using lollypops, wafers and other familiar childhood sweets. It is gay, that is, until the entrance of the villain— a long black sinuous licorice snake. The wafers shiver in horror as one of them is captured by the intruder. Then they organize their attack and rout the enemy. Roy Fulmer jr. has achieved smooth animation of his puppets and accompanies them with a pleasant musical score. The result is a bit of confection that is a delight to the eye and ear." Movie Makers, Dec. 1953, 334.
---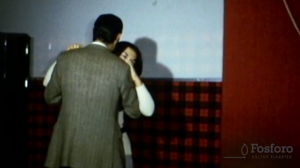 Date produced:
Filmmaker(s):
Description:
El filme muestra a una mujer esperando en su casa, tocando música, leyendo y acordando por el teléfono verse con alguien. Ella ve a una amiga y le dice que su novio, un hombre llamado Javier, está fuera de la ciudad por negocios. Primero van a una feria y después a un bar llamado El Pez Rojo, donde escuchan a una banda en vivo y toman algunos tragos, eventualmente ven que Javier está ahí bailando con otra mujer. Se van y Javier se queda bailando, después aparecen diversas imágenes de letreros de clubes nocturnos. Después se ve Javier manejando por la mañana con la otra mujer y deteniéndose a fumar un cigarro mientras es visto por su novia y su amiga. Mientras la pareja discute, la amiga de la primera mujer golpea a Javier en la cabeza con un arma. Después el filme corta a una escena de la primera mujer despertando y abriendo la puerta a sus amigas, mismas que reclaman haberla esperado demasiado, a lo que responde que se quedó atrapada por una historia que estaba leyendo, implicando que todo había sido producto de su imaginación.

The film shows a woman waiting in her house, playing music, reading and agreeing to see someone over the phone. She meets with a friend and tells her that her boyfriend, a man named Javier, is out of town on business. They first go to the fair and then to a bar called El Pez Rojo [The Red Fish] where they listen to a live band and have drinks, eventually they see that Javier is there dancing with another woman. They leave and Javier keeps dancing, then a series of images of several night clubs signs appear. Javier is then seen driving in the morning with the woman and stopping to smoke a cigar, where he is seen by his girlfriend and her friend. While the couple fights, the friend of the first woman hits Javier in the head with a gun. Then we see the woman waking up and opening the door to her friends who claim that she has kept them waiting for too long, and she says she got caught up in the story of the book she was reading, implying it was all a product of her imagination.
---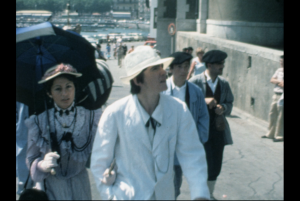 Date produced:
Filmmaker(s):
Description:
Euskal Ezkontzien erreportaia.

El filme retrata una boda vasca.

The film depicts a Basque wedding.
---
Date produced: 1933
Filmmaker(s):
Description:
"Glimpses of Rural Hungary was the first film ever made by Elizabeth Rearick but its excellence must be credited to more than beginner's luck. It represents a willingness to follow instructions carefully and an ability to compose scenes as they are selected. The picture contains a charming record of the people and customs of Hungary, but capturing this was secondary, for Miss Rearick planned the film to be principally a record of folk dances. Most unusually accurate exposure and focusing make the film outstanding in its technical aspects. Clear, crisp, steady pictures inevitably do a great deal to present a subject in a delightful way. One of the remarkable features of the film was the rock steadiness of the camera, although Miss Rearick did not use a tripod at any time. The sequencing is worked out well and, although the film is intended for use in physical education work, it has a tremendous general interest value. The entire finished product is one of which an experienced filmer might well be proud." Movie Makers, Dec. 1933, 500.
---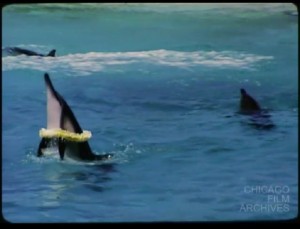 Date produced: 1966
Filmmaker(s):
Description:
"2 part edited travel footage taken in numerous Hawaiian locations. Focuses on events and people as well as the natural scenery. Includes traditional dancing, a festival and a visit to an aquarium as well as religious locations." Chicago Film Archives.
---
Total Pages: 3