---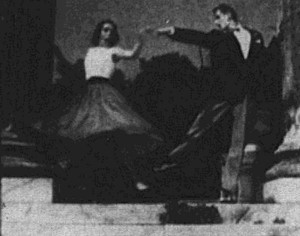 Date produced: 1954
Filmmaker(s):
Description:
"Once Upon a Rose is romantic fantasy of a high and handsome order. In it a young gallant on a walking tour comes upon a lovely pleasance leading, at its far end, to a columned Grecian portico and the statue of a goddess. Starting to dance upon the wide stone steps, he soon hears footballs echoing behind him. The goddess has come to life and, in a series of gay modern dances, she and the boy make tender and romantic love. Then, like the princess in the fairy tale, she is again transfigured into stone—and the young man is left with only a rose to mark her memory. Now...except for brief opening and closing sequences, all of this action takes place in the single setting of the Grecian porch. To be sure, the choreography by Jimmy Inman (who also plays the young gallant) is lively and kinetic. And Mary Jo Bishop is graceful as the girl. But the film's real rhythmic flow is due in its major part to the imagination and skill of the producer, William H. Eddy. It is from his fluid camera that there blossoms this rose-scented romance which never was" PSA Journal, Jan. 1955, 49.
---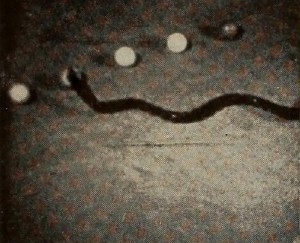 Date produced: 1953
Filmmaker(s):
Description:
"Candy Capers is a gay little dance fantasy in animation, using lollypops, wafers and other familiar childhood sweets. It is gay, that is, until the entrance of the villain— a long black sinuous licorice snake. The wafers shiver in horror as one of them is captured by the intruder. Then they organize their attack and rout the enemy. Roy Fulmer jr. has achieved smooth animation of his puppets and accompanies them with a pleasant musical score. The result is a bit of confection that is a delight to the eye and ear." Movie Makers, Dec. 1953, 334.
---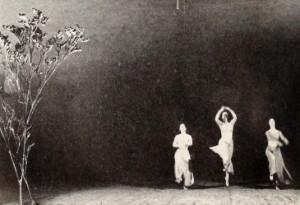 Date produced: 1951
Filmmaker(s):
Description:
'In Fancy Free' is a fantasy, imaginatively planned, photographed, and edited, which pictures the day-dreams of a young woman as she sits by the window looking out on her garden. Nearby objects, such as a Buddah, a porcelain figure of a dancer, a flower, and the passing of friends by her house set her to reflecting on her greatest wish -to be a dancer. She becomes absorbed in these dreams as a participant and the dances she imagines are laid against colorful and symbolic backgrounds. As the picture unfolds, narration by a young woman with a remarkable appealing voice tells the story of the young girl's desires, and then in the closing sequence, we learn in a brief heart-tugging climax that the girl, a cripple, can never take part in the activities of her dreams. The production is replete with effect lighting and special photographic effects -a forte which Turner ably established in his earlier productions. The dance numbers demanded skill, both in direction and execution; and the musical score, especially prepared by members of the student orchestra of the college where Turner is an instructor, is a vital and moving contribution to the picture." American Cinematographer, May 1952, 222.

"Save for a few opening and closing scenes, In Fancy Free is creative film fantasy of the highest order. For in it Glen H. Turner, beginning only with an idea, has evoked from his own mind and heart and spirit a superb and moving visual drama. As with all truly great art, the theme of In Fancy Free is essentially simple. At the film's opening a grave and tranquil girl is seen seated by a sunny window overlooking a rose garden. Laying aside her book amid these halcyon surroundings, she daydreams to herself of that which in all her life means most — the joys of dancing. There follow then four sequences of modern ballet, their themes suggested by objects or activities around her — an Oriental figurine, a string of paper dolls, a tennis game and the sunny, nodding roses. As these ballets end, we learn — in a brief, throat-tightening climax — that never, in her lifetime, can the girl take part in them. Although thematically quite different, In Fancy Free is a direct descendant of One Summer Day, with which (on 8mm. film) Mr. Turner won the Maxim Memorial Award in 1949. For in both fantasies the producer has, with sound dramatic instinct, related his world of pulsing wonder directly with the world of poignant reality. Thus it is that Mr. Turner's brilliant creative imageries take on a meaning above and beyond their mere technical virtuosity. The story development, dance themes, abstract settings and, needless to say, the camera work of In Fancy Free are all original creations by the producer. Mr. Turner enjoyed, however, a wealth of heart-warming collaboration in bringing this picture to its full flowering. An assistant professor of art at Brigham Young University, he was able to enlist the enthusiasm of countless other creative spirits. Thus it was that an original and brilliant musical score was written directly into this film dream. Thus, too, that this music was performed for recording by the university orchestra and that the dance themes were developed, almost step by step with the picture's progress, by the college ballet group. There will be those among the carping who are sure to complain that with this cooperation and those resources any amateur could produce a winner. To these few our unequivocal answer is "Non-sense!" Great art is created by the mind and heart of the artist — not by the hands of those who help him. That Mr. Turner could integrate these efforts into his own filmic concept is only another measure of this man as a truly creative cine artist." Movie Makers, Dec. 1951, 392-393, 410.
---
Date produced: 1933
Filmmaker(s):
Description:
"Glimpses of Rural Hungary was the first film ever made by Elizabeth Rearick but its excellence must be credited to more than beginner's luck. It represents a willingness to follow instructions carefully and an ability to compose scenes as they are selected. The picture contains a charming record of the people and customs of Hungary, but capturing this was secondary, for Miss Rearick planned the film to be principally a record of folk dances. Most unusually accurate exposure and focusing make the film outstanding in its technical aspects. Clear, crisp, steady pictures inevitably do a great deal to present a subject in a delightful way. One of the remarkable features of the film was the rock steadiness of the camera, although Miss Rearick did not use a tripod at any time. The sequencing is worked out well and, although the film is intended for use in physical education work, it has a tremendous general interest value. The entire finished product is one of which an experienced filmer might well be proud." Movie Makers, Dec. 1933, 500.
---
Total Pages: 3