---
---
Date produced: 1960
Description:
"Edited film by Floyd Henry Wells, a retired salesman and a member of the Wally Byam Caravan Club of Airstream trailers, chronicles travel with a Wally Byam club down the Baja Peninsula. Film documents scenic landscapes, road signs and natural wonders along the Baja Pen and scenes of cities, town, churches and markets in Mexico. Film also captures local peoples including Mexican bands and dancers and a bakery with an outdoor stone oven. Some identified locations include Ensenada, Rancho Santa Ynez, El Presidente (motor lodges), Santa Rosalia, Tropic of Cancer, La Paz, Alamos, El Caracol and the Hotel los Portales. Film is narrated by his wife, Ruth Wells, who identifies many of the locations and events depicted with some historic comments or trivia. Wells also comments on various issues of importance to travelling by an Airstream trailer such as water sources and etiquette," Human Studies Film Archives, Smithsonian Museum.
---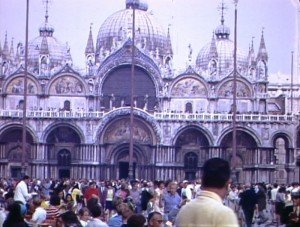 Date produced: 1968
Filmmaker(s):
Description:
"Travel through the Balkans." UC San Diego Library.
---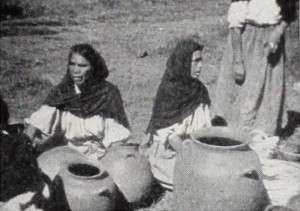 Date produced: 1950
Filmmaker(s):
Description:
"Ella Paul did not try to cover the whole of Mexico, as do so many who visit that fascinating country. In fact she chose to limit her study to one small locale — the town of Patzcuaro and the activities on its lake. This primitive yet industrious community is recorded in pleasing compositions and with sympathetic appreciation of its sunny warmth and charm. The familiar butterfly nets, dugout canoes and the heroic statue of Morelos are all there in Beneath Mexican Skies; but Mrs. Paul's camera gives them a fresh treatment." Movie Makers, Dec. 1950, 466.
---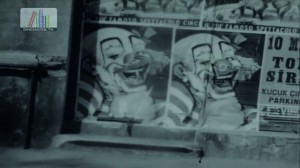 Date produced: 1968
Filmmaker(s):
Description:
"Beyoğlu 68 Üzerine Beyoğlu'nu filme çekmeye karar verdik. Artun yönetecek, ben kamerayı kullanacaktım. Güç bela birkaç kutu pelikülle 16 mm.lik bir kamera edindik ve Mayıs 68'de Beyoğlu'na çıktık. Artun bana kaydedilmesini istediği şeyleri gösteriyor, ben çekiyordum. Amaç tüketim toplumunu eleştirmekti ama senaryo yoktu. İşin kurguda bağlanacağını biliyorduk […]." Jak Şalom, sinematek.tv: http://sinematek.tv/beyoglu-68/ (25 October 2019).
"On Beyoğlu 68: 'We decided to film Beyoğlu. Artun had to direct it and I was responsible for the camera operations. We hardly found a box of unexposed film as well as a 16mm camera and started wandering around Beyoğlu. Artun was telling me what to shoot and I was recording. The purpose was to critique consumer society, but there was no script. We knew that we need to deal with it during the process of montage' […]." Jak Şalom, sinematek.tv: http://sinematek.tv/beyoglu-68/ (25 October 2019).
---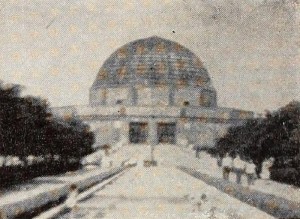 Date produced: 1952
Filmmaker(s):
Description:
"Attempting to film a large city with its huge skyscrapers and teeming population through the lens of an 8mm. camera would seem to be an almost overwhelming task. However, boldly tackling such a gigantic project, Richard Guetl in his entry, The Big City, proves it can be done. This competent photographic work presents a good, clear coverage of Chicago, where Mr. Guetl resides. His angles are interesting and compositions pleasing. His street shots around the Loop and his camera treatment of the human derelicts on Skid Row are worthy of special commendation. While The Big City is not an epic, it is a capable, factual presentation with just enough skyscraper shots to make it authentic, enough stores and people to give it pulsating life, and enough pathos to arouse the emotion." Movie Makers, Dec. 1952, 340-341.
---
Date produced: 1939
Filmmaker(s):
Description:
"Documentary on smoke pollution and the effects it has on people's health." (EAFA Database)
---
Date produced: 1940
Filmmaker(s):
Description:
"A tale of a misguided farm boy who gets into trouble trying to get his girl in the big city." Minnesota Historical Society.
---
Date produced:
Description:
"...in which flow fast visions of the Virgilian city, temples monuments palaces frescoes particular and total, boats on the Mincio and aquatic flora" "...in cui scorrono veloci visioni della città virgiliiana, templi monumenti palazzi affreschi particolari e totali, barche sul Mincio e flora acquatica" —Ermes Cavassori, "I film della Mostra," Il popolo del Friuli, Dec. 12, 1942
---
Date produced: 1938
Filmmaker(s):
Description:
"B&W: views of Arrow Lakes scenery from a sternwheeler; arrival; the "Minto" at dock. Two men travelling by packhorse in the Lardeau. The steam tug "Beaton". Sequence on gold mining in the Cariboo, with footage of a hydraulic mining operation. COLOUR: Vancouver; Lions Gate Bridge and Stanley Park approach; city skyline. Trip on the steamship S.S. "Catala": views at sea; approaching settlement; people meeting the boat; log boom and sawmill adjacent to the dock. Alert Bay: views of village, store, homes, etc.; Indian children at play; schoolgirls in red sweaters [from St. Michael's Indian Residential School]; steamboat arriving; many shots of totem poles, graveyard, etc. Fishing fleet in harbour, preparing nets, and heading out to sea. Fishboat crew hauling in net full of thrashing salmon, and brailing them onto boat. Other fishboats setting their nets, hauling in salmon. Fishboat crew unloading salmon onto conveyor; shots of cannery wharf, female cannery workers. Savary Island: family vacation scenes; lodge; children at play; adults playing golf on beach at low tide; departing on a boat trip." (BC Archives)
---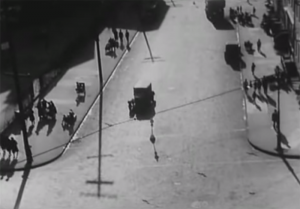 Date produced: 1931
Filmmaker(s):
Description:
An avant-garde city symphony film set in the Bronx, New York.
---
Total Pages: 14