---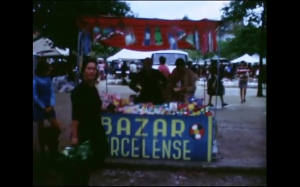 Date produced: 1974
Filmmaker(s):
Description:
Documental sobre un mercado en Barcelos, un pueblo del norte de Portugal, que se celebra todos los jueves del año. En él, se pueden encontrar hasta las cosas más inverosímiles.

Documentary about a market in Barcelos, a northern town in Portugal, that happens every Thursday of the year. In the market, even the most improbable things can be found.
---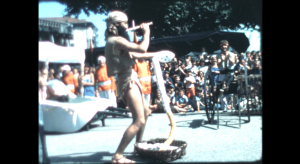 Date produced:
Filmmaker(s):
Description:
Desfile de gente disfrazada por las calles de Lekeitio hasta llegar a la plaza donde se reúnen todos y hacen sus respectivos espectáculos.

A parade of people in costumes in the streets of Lekeitio, until their arrival to a square where everyone meets and perform.
---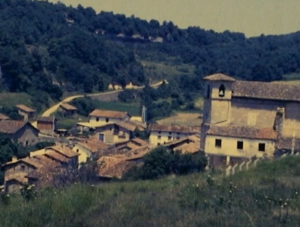 Date produced:
Filmmaker(s):
Description:
Corto documental sobre el pueblo de Izkiz , en el que el narrador describe de forma poética el pueblo entre planos de paisaje y arquitectura de este mismo. Mientras se recitan varias poesías aparecen imágenes de casas, tejados, laderas, ventanas, calles, la iglesia, casas abandonadas, animales, personas, niños –jugando o andando en bicicleta –, personas mayores, escenas de campo y vida campesina, escenas vacacionales, invernaderos, flores, insectos, el río, etc.

Documentary short about the town of Izkiz, in which the narrator describes the town in a poetic way while the film shows shots of landscapes and architecture. While several poetries are recited, we see images of houses, roofs, hillsides, windows, streets, the church, abandoned houses, animals, persons, children –either playing or riding bikes–, elderly people, countryside and country life scenes, vacation moments, greenhouses, flowers, insects, the river, etc.
---
Date produced:
Filmmaker(s):
---
Date produced: 1978
Filmmaker(s):
---
Date produced: 1964
Filmmaker(s):
---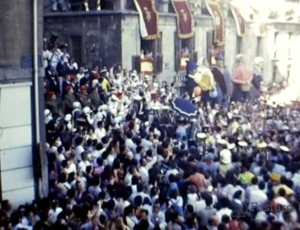 Date produced: 1981
Filmmaker(s):
Description:
El filme comienza con personas preparándose para la fiesta del pueblo. Gente cocina, decora, come y bebe vino. A esto siguen imágenes de una competencia de motocicletas, gente en las calles comprando largas tiras de ajo, competencias en el pueblo, arquitectura y esculturas, calles muy llenas y finalmente tomas de juegos de feria durante la noche.

The film begins with people getting ready for a party of the town. People are cooking, decorating, eating and drinking wine. There are images of a motorcycle competition, people in the streets buying large strips of garlic, competitions in the town, architecture and sculpture, very crowded streets and finally a few shots of games in a fair at night.
---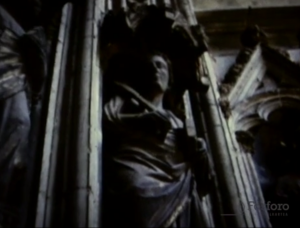 Date produced: 1970
Filmmaker(s):
Description:
El filme utiliza rimas y música para describir la arquitectura gótica de Vitoria, capital de Álva en España.

The film describes through rhymes and music the gothic architecture of Vitoria, capital of Álava in Spain.
---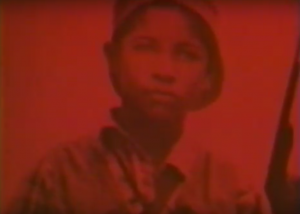 Date produced: 1979
Filmmaker(s):
Description:
"En Patria Libre, Sergio García documentó los primeros logros de la revolución sandinista en Nicaragua. [...] Se trataba de un documental convencional, con una voz off (leída por Felio Eliel) sobre un momento de frescura y esperanza por el triunfo del Frente Sandinista de Liberación Nacional. El arranque del documental con una serie de imágenes de Sandino en alto contraste que culminan en la foto de un adolescente guerrillero (mientras que en la banda sonora se escucha a Pablo Milanés cantar "Los caminos") preludian el tono que se desarrollará sobre el caso de la revolución sandinista" (Vázquez Mantecón, 2012.)

"In Patria Libre [Free Country], Sergio García documented the first achievements of the Sandinista Revolution in Nicaragua. It was a conventional documentary, with an off voice (read by Felio Eliel) about a moment of freshness and hope because of the triumph of the Sandinista National Liberation Front. The documentary begins with a series of highly contrasted images of Sandino that end with the picture of a guerrilla teenager (while the soundtrack plays "Los caminos" [The roads] by Pablo Milanés), which is a prelude to the tone that will be used to describe the Sandinista Revolution" (Vázquez Mantecón, 2012).
---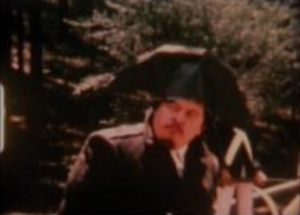 Date produced: 1971
Filmmaker(s):
Description:
"Se trataba del regreso de un soldado de origen mexicano a la Ciudad de México después de haber combatido en Vietnam con las tropas estadounidenses. El hombre llega a la estación del ferrocarril de Buenavista y recorre la ciudad para acabar finalmente en el departamento de su hermano. Busca trabajo y no lo encuentra. Por la voz off que sigue el hilo de sus pensamientos, nos enteramos que a su mente guerrera le cuesta trabajo adaptarse a la vida pacífica. La película intercala una serie de secuencias oníricas que de alguna manera ilustran su delirio belicista: sueña que es un soldado griego que asesina al niño que lo molesta en el taxi colectivo (un pesero) que lo conduce a casa de su hermano; imagina en el personaje que lo entrevista cuando aplica para obtener un trabajo a Napoleón Bonaparte (interpretado por Juan José Gurrola) dirigiendo una batalla; o sueña que es un caballero medieval que asesina a su familia en un pacífico día de campo. Finalmente el personaje no encuentra cabida en la sociedad pacífica y acude –todavía en traje de caballero medieval – al aeropuerto para comprar un boleto de avión "a la guerra más próxima"" (Vázquez Mantecón, 2012).

"It is about the comeback of a Mexican soldier to Mexico City after fighting in Vietnam along with American troops. The man arrives to the train station in Buenavista y goes around the city to end up at his brother's apartment. He looks for a job and cannot find one. The off voice, that follows his train of thought, tells us that his war mind has trouble adapting to a peaceful life. The film inserts a series of dreamlike sequences that in a way illustrate his war delirium: he dreams he is a greek soldier that murders the kid that bothers him in a collective cab that drives him to his brother's house; he imagines the character that interviews him when he is looking for a job is Napoleon Bonaparte (played by Juan José Gurrola) directing a battle: or he dreams he is a medieval knight that murders his family in a peaceful day in the country. Finally the character doesn't find a place in a peaceful society and goes –still in medieval armor– to the airport to buy a by a plane ticket to the "nearest war" " (Vázquez Mantecón, 2012).
---
Total Pages: 12