---
---
Date produced: 1958
Filmmaker(s):
Description:
Edited film "chronicling travel through Nova Scotia, Prince Edward's Island and Cape Breton. Film includes scenic landscapes (Langdale/Bowen Island, Queen Elizabeth Arboretum, Yoho National Park, Yoho Glacier, Twin Falls, Bow Lake, Columbia icefield, Athabasca Falls, Banff, Gaspe, Cape Breton Highlands National Park), urban scenes, fishermen, outdoor garden of religious statuary, light houses, bag pipe players, Canadian Royal Mounted Police and the Lovat Scots, a boag and drum corp," Human Studies Film Archives, Smithsonian Museum.
---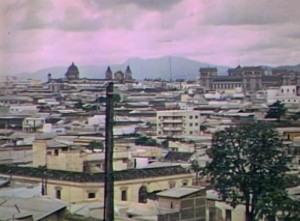 Date produced: 1960
Filmmaker(s):
Description:
Kodachrome travelogue showing life and culture in Guatemala and Panama.
---
Date produced: 1937
Filmmaker(s):
Description:
"'Chicago the Vacation Center of the Nation,' which was awarded the honors in the Documentary class, was photographed in 16mm. color by Theodore D. Shaw of the Metro Movie Club of Chicago. Mr. Shaw has been making movies for eight years, which fact perhaps explains why he was able to accomplish what he did without the use of filters or other effects. The film gives an excellent portrayal of life in a big town, starting with the day as Chicago appears at sunrise. Perhaps it would be difficult to name a city which possesses so varied a background in its lake and river and bridges. Certainly educational authorities searching for subjects that portray with authenticity life in metropolitan centers could not go wrong in seeking this fine picture of Chicago. The subject rates in all departments as a finished film." American Cinematographer, Jan. 1939, 17.
---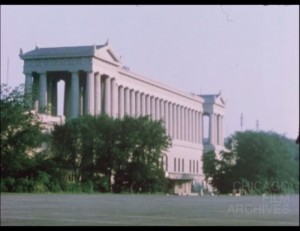 Date produced: 1962
Filmmaker(s):
Description:
"A "city symphony" film, produced to encourage Photographic Society of America members to attend their 1963 conference in Chicago, City to See is a surprising film. It combines footage of Chicago with a deadpan commentary that pokes fun commercial travel films: "Chicago is my town," the narrator says wryly, "and no other town will do."" Chicago Film Archives
---
Date produced: 1953
Filmmaker(s):
Description:
"Shows various types of commerce and industry in Victoria, including a large department store, a milk bottling plant, a beauty parlour, offices, garbage collection, a weaver's shop, a bakery, etc." (Duffy, 84).
Other sequences included the Ogden Point grain elevators, Royal Jubilee Hospital, shipyards, a plywood plant, and carpet factory. Nanaimo Daily News, 26 October 1953, p. 5.
---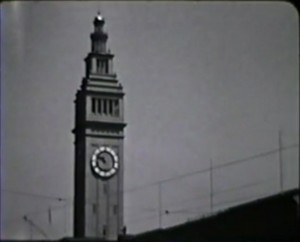 Date produced: 1936
Filmmaker(s):
---
Date produced: 1936
Filmmaker(s):
Description:
This was one of five films Rocker submitted to the American Cinematographer contest of 1937 on the subject of "the service given by some municipal agency of his home city of Cleveland." American Cinematographer, Feb. 1938, 78.
---
Date produced:
Filmmaker(s):
Description:
Un documental corto sobre la ciudad de Vitoria que comienza con el narrador en voz en off comentando aspectos sobre la ciudad. El documental muestra siete entrevistas a mujeres y hombres de diversas edades mientras hay cortes a planos de la ciudad. Continúa una entrevista a un joven y una niña sobre sus impresiones de la catedral de Vitoria. La entrevista final muestra a un joven y un niño hablando sobre el parque de la ciudad.

A short documentary about the city of Vitoria. The film begins with a narrator commenting on some aspects of the city. Then seven interviews with men and women of diverse ages are shown while shots of the city intersect the interviews. Then there are interviews to a young man and a girl about their impressions of Vitoria's cathedral, and finally there is an interview with a young man and a boy talking about the city's park.
---
Date produced: 1978
Filmmaker(s):
---
Date produced: 1971
Filmmaker(s):
Description:
"Hansen gives to Curacao, a Caribbean territory of Netherlands, a visit. He films the industrial, residential, and commercial areas of Willemstad." UC San Diego Library.
---
Total Pages: 12