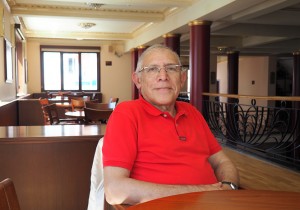 Jak Şalom
Dates active:
1968 (as an amateur filmmaker)
Gender:
Male
Awards/Recognition:
2. Hisar Kısa Film Yarışması [The 2nd Hisar Short Film Contest]
Sinematek Dijital Sinema Kütüphanesi [Sinematek Digital Cinema Library]
Films:
Profession:
Academician, Author/Writer, Essayist, Researcher
Biographical Notes:
"A champion of the collective film memory and film culture for decades, Jak Şalom was born in Istanbul in 1946. Since its inception, he was part of the Turkish Cinematheque Association from 1965 to 1972. Between 1972 and 1977 he served as assistant to Henri Langlois at the Cinémathèque Française in Paris. His articles were published in Yeni Sinema and Film magazines between 1966 and 1972. From 1976 to 2012 he worked as an associate professor of Turkish grammar, verbal communication and literary composition at the National Institute of Oriental Languages and Civilizations (INALCO) in Paris. He was in charge of the institute's department of Turkish Languages and Civilizations between 2006 and 2012 and served as the assistant director of the Eurasian Department. He was an associate at the Les Teinturerie Upper School Theatre in Lausanne from 1999 to 2012. He is working as a lecturer at the Bosphorus University Istanbul since 2015. He co-authored two books in French on the Turkish language and published a Turkish-French/French-Turkish dictionary. He issued assertions and gave talks on Turkish history, film, and the Cinematheque at many conferences. He is the project designer and director of the ongoing Cinematheque/Film House project within the Kadıköy Municipality in Istanbul. Jak Şalom is an "Officier" recipient of the Ordre des Arts et des Lettres by the French Minister of Culture." Iksv.org: https://film.iksv.org/en/honorary-awards/jak-salom (25 Oct 2019).
Bibliographic Resources:
https://film.iksv.org/en/honorary-awards/jak-salom (25 Oct 2019).