---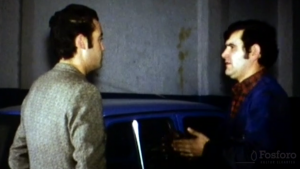 Date produced:
Filmmaker(s):
Description:
En Noche Buena, un hombre lleva su automóvil a un mecánico para que sea arreglando mientras el camina por una ciudad. Mientras el mecánico trabaja en el vehículo, recibe una llamada telefónica que lo distrae, y después da el coche al hombre, diciéndole que está arreglado. Mientras el hombre está ya en el camino, el mecánico recuerda haberse distraído y no haber apretado los tornillos de la rótula del automóvil, lo cual pone en peligro la vida del conductor. El mecánico intenta contactarlo desesperadamente a través de la policía de caminos mientras imagina que si muere, él será considerado culpable. El conductor eventualmente pierde el control del vehículo y queda varado en un camino solitario, desde donde contacta al mecánico quien agradece a Dios que nada terrible haya pasado. El filme termina con imágenes de luces navideñas en la ciudad y un letrero que muestra la rótula.

On Christmas Eve, a man takes his car to a mechanic to get it fixed while he walks around a city. When the mechanic is fixing the car, he gets distracted by a phone call, then he gives the car to the man and tells him it is fixed. While the man is already on the road, the mechanic remembers getting distracted and not tightening the screws of the car's ball joint, which endangers the passenger's life, so he tries to contact him desperately through the road police and imagining him claiming that his death was his fault. Eventually the man loses control of his car and gets stranded in a lonely road, he contacts the mechanic who thanks God that nothing terrible happened. The film ends with images of Christmas lights in the city and a sign showing the ball joint.
---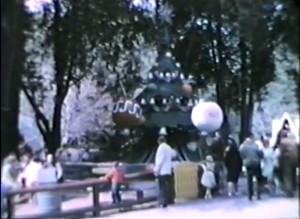 Date produced: 1964
Filmmaker(s):
Description:
"A tour of the California theme park." Center for Home Movies.
---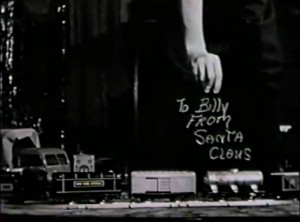 Date produced: 1942
Filmmaker(s):
---
Date produced: 1965
Filmmaker(s):
---
Date produced: 1938
Filmmaker(s):
---
Date produced: 1937
Filmmaker(s):
Description:
"'Santa Visits Elaine,' 16mm. in color, by John E. Pohl of Cicero, Ill., was the winner in the home movies class. The picture is finely done. It greets you with an unusually strong title when it flashes upon you on the screen. No filters are used. There are few characters in the story—as a matter of fact Elaine and her mother carry the greater burden of the cast. To be sure, Santa is in the limelight long enough to do a little tree and interior decorating. Elaine looks a trifle large to accept as gospel truth all the conversation sometimes handed to children about the comings and goings of Santa Claus, but the young lady does or is caused to do one good deed which may indicate one of two things: either she is going to do her utmost to entertain Santa while he is visiting that house or else she has a line on the habits of the male person who is in her mind slated to do the hanging. She very prominently places a bottle of beer and a large glass right where the visitor cannot miss it. Does he miss it? No, he does not. In spite of the obstacle presented by the phoney mustaches he gets around them." American Cinematographer, Jan. 1939, 17.
---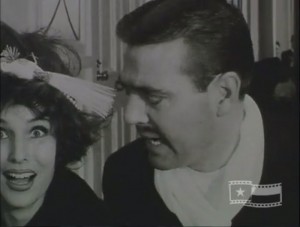 Date produced:
Filmmaker(s):
Description:
"This parody of a silent film was made for the El Paso Junior League to promote their Holiday Provisional Bash at the El Paso Club. Using black and white film and intertitles, the parody follows the Rich family's Christmas morning where Rico Rich gives Rhonda Rich the same gift she gets every year - manure. When the couple attends the Jr. League Provisional Bash, a "Eureka!" moment occurs, providing the moral of the story: If you don't want your husband to keep giving you that same old manure every Christmas . . . Come to the Provisional Bash" Texas Archive of the Moving Image.
---
Date produced: 1940
Filmmaker(s):
---
Date produced: 1940
Filmmaker(s):
Description:
"The First Christmas Gift is a 'first film'. It was made over a week-end, only two hundred feet of film were exposed to make a two hundred foot picture. This was part of the problem, for the film was a bit of 'home work' in the University course being pursued by the producer. Christmas actually having passed, it was necessary for the producer to manufacture the small Christmas tree used for atmosphere, and so also, the snow on the lady's coat was improvised from materials found at home on a Sunday" ("Program Notes," 1940).
---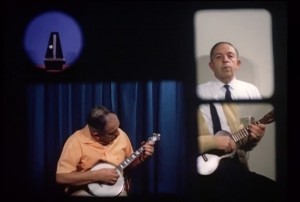 Date produced: 1970
Filmmaker(s):
Description:
"Multiple Sidosis by Sidney N. Laverentz a PSA member of National City, California. Sid's title is a mind-boggler surpassed only by the unbelievable single frame multi-image exposures, all in synchronization, that is reminiscent of his winner of a few years ago, "One Man Band." This 10-minute 16mm film won for him a Ten Best medal and the Golden Microphone Award, the new title for the past Sound Award" PSA Journal, Nov. 1970, 38.
---
Total Pages: 3