---
---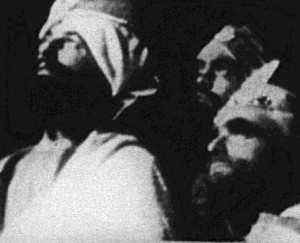 Date produced: 1954
Filmmaker(s):
Description:
"Everybody has religion of some kind, of some creed. But to try to portray it in motion pictures takes courage in any language your faith. In The Nativity, Sal Pizzo has picture the story of the birth of Christ with unerring good taste, complete reverence and warm beauty. In it he follows old Biblical paintings as a pattern, but he animates these tableaux in a natural manner. One might wish, in fact, that he had followed them even further and used lighting to suggest halos around Mother and Babe. The long-shot model of the town of Bethlehem is believable. The bearded faces of the innkeepers are believable and, a great achievement, the costumes of the opulent kings are believable. The acting is handled with admirable restraint, the story being carried by the words of familiar Christian carols of background music. Especially well-staged are the scenes of the shepherds around their fires and of the Magi as they present their gifts to the Child in the humble manger. Mr. Pizzo and his associates have planned and executed a picture on a subject that few if any would dare to attempt. They are to be congratulated on their tender and moving triumph" PSA Journal, Jan. 1955, 50.
---
Date produced: 1938
Filmmaker(s):
---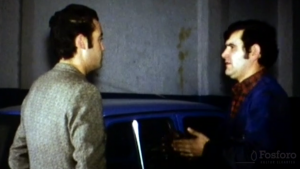 Date produced:
Filmmaker(s):
Description:
En Noche Buena, un hombre lleva su automóvil a un mecánico para que sea arreglando mientras el camina por una ciudad. Mientras el mecánico trabaja en el vehículo, recibe una llamada telefónica que lo distrae, y después da el coche al hombre, diciéndole que está arreglado. Mientras el hombre está ya en el camino, el mecánico recuerda haberse distraído y no haber apretado los tornillos de la rótula del automóvil, lo cual pone en peligro la vida del conductor. El mecánico intenta contactarlo desesperadamente a través de la policía de caminos mientras imagina que si muere, él será considerado culpable. El conductor eventualmente pierde el control del vehículo y queda varado en un camino solitario, desde donde contacta al mecánico quien agradece a Dios que nada terrible haya pasado. El filme termina con imágenes de luces navideñas en la ciudad y un letrero que muestra la rótula.

On Christmas Eve, a man takes his car to a mechanic to get it fixed while he walks around a city. When the mechanic is fixing the car, he gets distracted by a phone call, then he gives the car to the man and tells him it is fixed. While the man is already on the road, the mechanic remembers getting distracted and not tightening the screws of the car's ball joint, which endangers the passenger's life, so he tries to contact him desperately through the road police and imagining him claiming that his death was his fault. Eventually the man loses control of his car and gets stranded in a lonely road, he contacts the mechanic who thanks God that nothing terrible happened. The film ends with images of Christmas lights in the city and a sign showing the ball joint.
---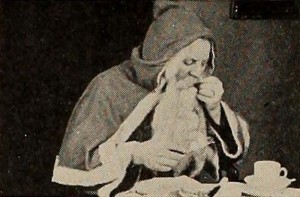 Date produced: 1938
Filmmaker(s):
Description:
"Santa Passes Out is another of John Martin's delightful pictures of family life, a subject which he handles con amore. A series of unusually fine child studies makes this film outstanding, and the utterly spontaneous character of most of this material is all the more praiseworthy because every bit of it carries the story forward. Mr. Martin did not succumb to the sore temptation that besets the producer parent, to insert an irrelevant shot here and there because it is "so cute." The story itself is a gentle narration of the inevitable expose that awaits the fond parent when he impersonates Santa Claus, and the film as a whole is completely delightful. There is unusually good interior color photography throughout and a very clever, double exposed main title." Movie Makers, Dec. 1938, 597.
---
Date produced: 1937
Filmmaker(s):
Description:
"'Santa Visits Elaine,' 16mm. in color, by John E. Pohl of Cicero, Ill., was the winner in the home movies class. The picture is finely done. It greets you with an unusually strong title when it flashes upon you on the screen. No filters are used. There are few characters in the story—as a matter of fact Elaine and her mother carry the greater burden of the cast. To be sure, Santa is in the limelight long enough to do a little tree and interior decorating. Elaine looks a trifle large to accept as gospel truth all the conversation sometimes handed to children about the comings and goings of Santa Claus, but the young lady does or is caused to do one good deed which may indicate one of two things: either she is going to do her utmost to entertain Santa while he is visiting that house or else she has a line on the habits of the male person who is in her mind slated to do the hanging. She very prominently places a bottle of beer and a large glass right where the visitor cannot miss it. Does he miss it? No, he does not. In spite of the obstacle presented by the phoney mustaches he gets around them." American Cinematographer, Jan. 1939, 17.
---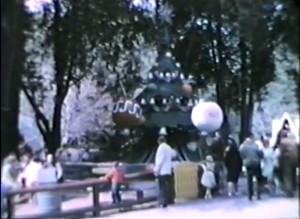 Date produced: 1964
Filmmaker(s):
Description:
"A tour of the California theme park." Center for Home Movies.
---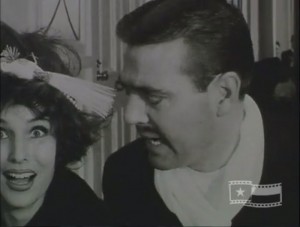 Date produced:
Filmmaker(s):
Description:
"This parody of a silent film was made for the El Paso Junior League to promote their Holiday Provisional Bash at the El Paso Club. Using black and white film and intertitles, the parody follows the Rich family's Christmas morning where Rico Rich gives Rhonda Rich the same gift she gets every year - manure. When the couple attends the Jr. League Provisional Bash, a "Eureka!" moment occurs, providing the moral of the story: If you don't want your husband to keep giving you that same old manure every Christmas . . . Come to the Provisional Bash" Texas Archive of the Moving Image.
---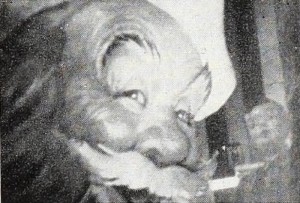 Date produced: 1951
Filmmaker(s):
Description:
"Most Christmas films seem to be concerned with only one aspect of this December holiday — the gaiety of family life around the tree, opening presents and a festive dinner. Grace Lindner has recorded the material side of the season in the early footage of her film, Xmas Time, as she shows gleaming shop windows, hurrying shoppers, decorated doorways and members of her family around the hearthside. But in a smooth transition from a creche under the tree to the children saying their prayers, she ends her film with a series of architectural studies of the spires and bell towers of churches, filmed through bleak branches against a winter sky. This moving climax, accompanied by a choir recording of The Lord's Prayer, admirably fulfills her aim to portray the triumph of the spirit of Christmas over the baser observances." Movie Makers, Dec. 1951, 412.
---
Total Pages: 3