---
---
Date produced: 1936
Filmmaker(s):
Description:
"doc. a fantasia"/avant-garde documentary
---
Date produced: 1933
Filmmaker(s):
---
Date produced: 1935
Filmmaker(s):
Description:
"Film footage moderately edited with added intertitles, shot in Ceylon, Egypt, and Italy by oil explorer and geologist Walter Link during his personal vacation, records various tourist destinations. Landmarks include: the beach and harbor at Colombo, Sri Lanka (Ceylon); the Sphinx, pyramids, Mosque of Mohamed Ali and Egyptian Museum in and around Cairo, Egypt; Villa San Michele in Capri, Italy; and St. Peters and the Coliseum in Rome, Italy. Footage consists mainly of sights and structures, and features little interaction with local inhabitants," Human Studies Film Archives, Smithsonian Museum.
---
Date produced: 1951
Filmmaker(s):
Description:
"Item is an audio-visual production of Dr. Willinsky's trip to Israel. In the form of a travelogue, Willinsky accompanies footage of landmarks, ruins and the local population with audio commentary. The production includes a brief discussion of the formation of the state of Israel and features various cities, such as, Jerusalem and Tel-Aviv. Sadie [Willinsky] is occassionally spotted in the footage interacting with locals and visiting the homes of friends." Ontario Jewish Archives.
---
Date produced: 1931
Filmmaker(s):
Description:
"Stephen F. Voorhees's 400 ft. travel film of Italian architectural scenes deserves placement in this list because it combines three factors but rarely brought together in pictures of this type. First, the photography is extraordinarily good, not only with reference to the routine requirements of exposure and focus but because it is artistic throughout and the composition never descends to the casual or the "snap shot" level. Second, Mr. Voorhees's film has a natural and easy continuity, jogging amiably through Venice and its environs, much as a traveler might do himself, pausing for a bit of incidental human interest and catching a scene that the filmer felt was unusual but presenting it without any preliminary flourishes, as one friend who might have said to another in the course of a stroll, "Don't miss that, by the way," pointing to something seen on the way. Last of the three things, so unusual to find combined, is a professional study, made by the filmer, himself a great architect, preserving those details which he wished to bring from northern Italy for later possible use. The great Colleoni statue is studied from many angles. Details of tiles and other wall ornamentations are offered and buildings are presented from one viewpoint after another. Yet all of this is done unpedantically and the nonprofessional audience is not aware that this subtle architectural record is more than a delightful travel film." Movie Makers, Dec. 1931, 658.
---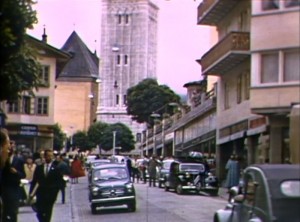 Date produced: 1956
Filmmaker(s):
Description:
Kodachrome travelogue showing daily life and architecture in Italy.
---
Date produced: 1938
Filmmaker(s):
Description:
'Record of the building of a house. On screen title states "A specification for building a modern house in Dorset". The films proceeds through the following processes - Site inspection by architect and surveyor, clearing the site, laying trenches and adding concrete, bricklaying, placement of joists and lintels, installing outside staircase, building flat asphalted roof, foreman keeping an eye on works, adding steel balustrades, architect regularly inspecting, installing interior partition walls, installing internal staircase, electrically polishing downstairs wooden floors, painting, viewing the finished house' (EAFA Database).
---
Date produced: 1965
Filmmaker(s):
Description:
"Edited film created by Frank L. Kreznar, an award winning amateur filmmaker, with assistance from his wife during a guided tour of the Soviet Union in 1965. Film consists of footage of Moscow and Leningrad mainly of public places with a special emphasis on historically important buildings. Throughout the footage Kreznar shows modern apartment buildings as they are being constructed, with his commentary discussing the Soviets' efforts to modernize the territories under their control and the recent population growth in these cities. Kreznar is also interested in the modes of public transportation in each city – such as street cars or the metro in Moscow. Kreznar notes that most automobile production in the Soviet Union focuses on trucks for work while cars are considered a rare luxury for private citizens. He also discusses the high volume of pedestrian traffic. Kreznar also takes an interest in religion in this footage, showing churches in disrepair or having been de-sanctified and converted into housing, museums, or other government administrated buildings. Kreznar notes that this is due to the Soviet government's anti-religious policy, but he also shows some churches under recently started restoration due to the government's realization of the touristic value of these sites. Film includes occasional shots of people working, mainly in outdoor produce markets. Women are shown doing road construction in Moscow as well as various public parks, swimming pools, and other public recreation areas, with a special emphasis on how the Soviet government has given children places to play," Human Studies Film Archives, Smithsonian Museum.
---
Date produced: 1970
Filmmaker(s):
Description:
"The Little Monastery by the Side of the Road by Peter A. Kransz, a PSA member of Niles, Ill. Peter has made this corny, but very clever, shorty film that will have everyone chuckling and wondering why they didn't think of it! This 3-minute 16mm film won for him a Ten Best medal and the Humorous Film Award" PSA Journal, Nov. 1970, 38.
---
Date produced: 1935
Filmmaker(s):
Description:
"In London Terrace, a picture made to advertise an apartment house, T. W. Willard, ACL, has shown quite clearly that interesting and attractive scenes and well planned action can combine to make a most effective sales argument. The interiors were even better handled than in Mr. Willard's Honorable Mention winner for 1934. The film has an air of complete confidence in presentation that was largely because of effective planning and direction, items very often slighted in the production of commercial pictures. The film succeeds in entertaining an audience and holding its attention consistently, in spite of a continuous sales message. Excellent, straightforward photography of many rather difficult sets was featured throughout the entire reel. The picture shows clearly how well 16mm. can be used for industrial work." Movie Makers, Dec. 1935, 550.
---
Total Pages: 6