---
---
Date produced: 1962
Filmmaker(s):
Description:
"A delightful filming of the nursery story in which mother, daughter, auntie, and the family collie do the parts. Instead of the usual home movies we so often see, the Wolnezs have captured the family on film in a story that will delight all who see it, young and old. This will be blown up to 16mm and included in the Package" PSA Journal, Oct. 1962, 34.
---
Date produced: 1932
Filmmaker(s):
Description:
Based on PG Wodehouse novel Something Fresh.
---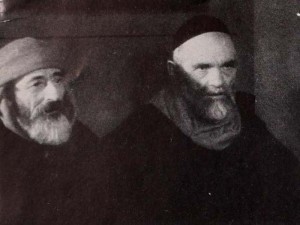 Date produced: 1932
Filmmaker(s):
Description:
"Lot, two reels 35mm., produced by Dr. James S. Watson, jr., ACL, and Melville Webber, may be said to be as much of an advance in motion picture technique over Fall of the House of Usher, their earlier production, as that film was an advance over standard professional cinematography. There are very few cinematographers in the world who have devoted the whole of their efforts to experimentation with the motion picture as an art medium and, in the opinion of Movie Makers' staff, there is none who has achieved the signal results of these two. Lot represents a complete innovation, not only in the treatment of the theme as a whole, but in the cinematic interpretation of the sequences. In it, the familiar tools of the advanced cinematographer, multiple exposure, trick printing, complicated lighting, symbolism, models and models in combination with life size sets are used to secure an entirely new and very beautiful cinematic representation of the Biblical story. In Lot these two amateurs have mastered the world of illusion of the motion picture but, in doing so, they have produced more than a mere novelty; they have founded a new cinematic art." Movie Makers, Dec. 1932, 538.

An avant-garde retelling of the biblical story of Lot and the destruction of Sodom (from the Book of Genesis, chapters 17-19), this film was controversial for its nudity and homoerotic overtones. (D.J. Duffy)
---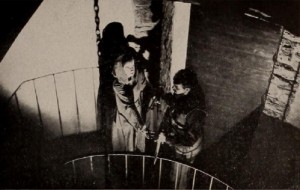 Date produced: 1947
Filmmaker(s):
Description:
"David Bradley, the dynamic heart of Willow Films, producers of Macbeth, has behind him a long and amazing record of outstanding dramatic pictures. Among these are his productions of The Christmas Carol and Oliver Twist, by Charles Dickens; Emperor Jones, by Eugene O'Neill, and Peer Gynt, by Henrik Ibsen. His Macbeth is the greatest of them all. And in a sense, this moving evocation of the brooding Shakespearian tragedy is the end product of them all — since, in it, Mr. Bradley's creative and cinematic abilities have come fully and splendidly of age. The character of this brilliant achievement may perhaps best be illumined by Mr. Bradley's own words from his plans for the film. "We realized clearly," he has written, "that the strength of our Macbeth must be found in stimulating cinematic treatment, portrayed with such angular camera compositions as to suggest the twisted, supernatural aspects of the drama. We planned our lighting for harsh contrasts and textures, so that, on occasion, the brooding menace of cold, murky stone could almost be felt. For our Macbeth was to be, above all, a movie, depending on atmosphere more than acting, 'punch' more than pomp, for its ultimate success or failure." That it has been success, not failure, is rewardingly the case." Movie Makers, Dec. 1947, 534, 536.
---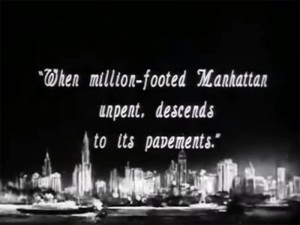 Date produced: 1921
Filmmaker(s):
Description:
"In 1921, Sheeler and Strand collaborated to make Manhatta, considered to be the first American avant-garde film. Inspired by Walt Whitman's poem "Mannahatta," which is quoted in one of the intertitles, the film portrays life in New York City in sixty-five nonnarrative shots. The sequences display one epic day in Lower Manhattan, beginning with a ferry approaching the city in early morning and ending with a sunset view from a skyscraper. Shot from extreme camera angles, the film captures the dynamic qualities of the new metropolis" Museum of Modern Art (New York), Department of Film.
---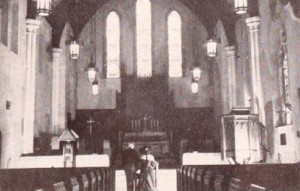 Date produced: 1940
Filmmaker(s):
Description:
David Bradley's amateur feature film adaptation of Charles Dickens's Oliver Twist.
---
Date produced: 1941
Filmmaker(s):
Description:
"Seldom has an amateur embarked upon so formidable a production as did David Bradley when he and some friends decided to film Ibsen's Peer Gynt, using Grieg's music for background. This mystic drama is considered so difficult that it has been performed only twice in the American theatre; yet the task held no terror for this group. Fashioning their own costumes and finding suitable locations in suburban Chicago, Mr. Bradley's intrepid band has done an amazingly good job. It would be easy to visualize the result had the production been in less capable hands than those of Mr. Bradley, and it is to his great credit that such quaint characters as the Button Moulder and the many trolls and woodland sprites do not appear ludicrous. The chief fault in this tremendous undertaking is that Ibsen's gigantic play has been transliterated to the screen rather than translated. That is, Mr. Bradley, by his own admission, modeled his scenario as closely as possible on a work written expressly for the theatre. Had he taken more liberties with the dramatic form in favor of a more peculiarly cinematic treatment — as exemplified so strikingly in the fine Hall of the Mountain King sequence — there would have been no structural weaknesses in his film. With this fundamental concept firmly in mind, Mr. Bradley, recently turned twenty one, should scale the heights in his future productions." Movie Makers, Dec. 1941, 566.
---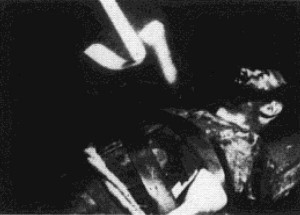 Date produced: 1961
Filmmaker(s):
Description:
"We have the creation of an audiovisual of Edgar Allen Poe's classic. Mr. Cowel's picture interpretation gives the dimension of life to Mr. Poe's terrifying drama. A prisoner of the Spanish Inquisition at Toledo, in a dark dungeon, describes his horrible tortures" PSA Journal, Oct. 1961, 48.
---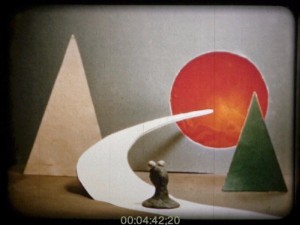 Date produced: 1949
Filmmaker(s):
Description:
"The imaginative experiments with animated clay figures begun last year in No Credit have, in this year's Proem, proved out as a suave and wholly integrated art form. The unique and wholly delightful work of Leonard Tregillus and Ralph Luce, jr., has here come handsomely of age — both technically and creatively. Proem, conceived as a preface to the theme of Carroll's Through the Looking Glass, is of far greater filmic stature than its already rented status permits it to be rated." Movie Makers, Dec. 1949, 470.
---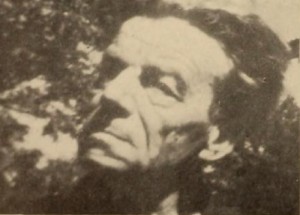 Date produced: 1949
Filmmaker(s):
Description:
"In this dramatization of James Whitcomb Riley's well known poem for children, Andy Potter chose a perfect character for the leading role. It is his fine acting that bolsters the spirit of the story and outweighs the uneven exposure of a few early scenes. Imaginative camera viewpoints and an interesting musical score give pace to what might have been a tritely sentimental production. Suspense is maintained where it is needed, and the settings, both indoors and out, have been chosen with an eye for variety. Quotes from the poet's verses serve as titles. The Raggedy Man is a sensitive portrayal of childhood pathos and drama." Movie Makers, Dec. 1949, 455.
---
Total Pages: 5