---
---
Date produced: 1927
Filmmaker(s):
Description:
"The special award, also of $500, went to Kennin Hamilton, of 28 Maitland Street, Toronto, Ontario, Canada, for his visualization of Hood's 'The Dream of Eugene Aram' in 16 millimeters. Mr. Hamilton played the principal role of Eugene Aram, disclosing a graceful pantomimic skill. The photography was handled by K. A. Mackenzie. A Cine Kodak, using Kodak Safety Film, was used. Mr. Hamilton had no special lenses or equipment and yet he achieved some singularly beautiful shots. Nature supplied his lighting, even for his interiors. A stepplader served as a tripod." Photoplay, Jun. 1928, 136.
---
Date produced: 1930
Filmmaker(s):
Description:
"Electra, 400 ft., 16mm., produced by Clyde Hammond, is a picturization of that Greek drama. Its most novel quality is the evidence of an intelligent search for the best motion picture treatment to present an accurate film version of the story. A series of tableau like sequences were finally used with much better results than if the plot had been adapted and scenarized in the customary manner. Certainly this film version is much truer to the original than would otherwise have been possible. Not being able to erect the complicated sets that would seem necessary, Mr. Hammond used flat gray walls, producing the suggestion of ancient Greek palaces and dwellings with "props," costumes and occasional wall ornamentation. The photographic quality is uniformly good throughout and, one sequence has very good double exposures." Movie Makers, Dec. 1930, 787-788.
---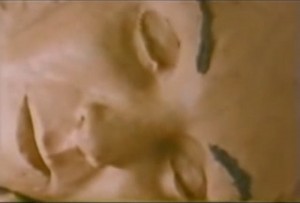 Date produced: 1970
Filmmaker(s):
Description:
"An exceptional portrayal of the world's creation, from a barren landscape to the emergence of the Woman and the Serpent, ending with Society as we know it. The film is technically unsurpassed in plasticine animation." Canadian Filmmakers Distribution Centre.
---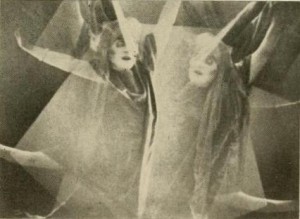 Date produced: 1928
Filmmaker(s):
Description:
"The Fall of the House of Usher" not only represents a new cinema technique but it is also unique in that it does not attempt to tell Poe's story in detail, rather to invoke in its audiences the esthetic impressions and moods which the tale creates in its readers. This revolutionary approach to the cinema opens a fascinating field for further pioneering. Fortified with the new scientific instruments which have recently been devised for the detection and recording of emotional reactions, the amateur producer may now truly be said to face a new world for cinematic experimentation in translating such reactions into film. Properly motivated by medical authority films of this nature may even prove to have a tremendous psychological significance. From any viewpoint "The Fall of the House of Usher" represents a forecast of possibilities which are amazing." Movie Makers, January 1929, 847.
---
Date produced: 1955
Filmmaker(s):
Description:
"Undoubtedly a great deal of time and effort went into this production. An ambitious undertaking, complete with specially designed costumes and props. Excellent lighting." PSA Journal, Dec. 1955, 37.
---
Date produced: 1951
Filmmaker(s):
Description:
"Joseph Fischer's 'Goldilocks And The Three Bears' is an unusual amateur accomplishment in which the filmer and his associates staged the age old nursery tale in miniature, building all the sets, props and the marionette figures themselves. A drawback is the lack of sound narration or continuity titles." American Cinematographer, May 1952, 224.
---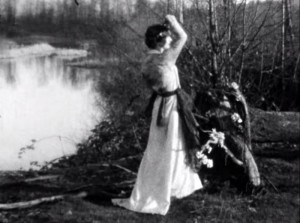 Date produced: 1952
Filmmaker(s):
Description:
"A parody of William Shakespeare's "Hamlet," produced and directed by James Blue while he was an undergraduate student at the University of Oregon." Knight Library.
---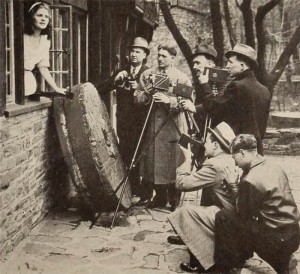 Date produced: 1938
Description:
An amateur club adaptation of Alfred Noyes poem The Highwayman. A "ballad of love and murder" that "emphasizes atmosphere and explores the sympathetic relationship between natural and dramatic elements". The poem "narrates the highwayman's secret meeting with his love Bess, a landlord's daughter, their discovery by a group of soldiers who hold Bess as bait for the highwayman, and her grisly death by musket...Throughout the poem the natural settings play an important role in amplifying its supernatural and dramatic content...Like its use of natural settings, a natural acting style was employed to set this film adaptation apart from its source materials and its rival media. Finally, the film's use of double exposure in order to create the impression of ghostliness in the tragic couple's final reunion marks a particularly cinematic solution to the problem of visual representation" Tepperman, 244-245.
---
Date produced: 1935
Filmmaker(s):
Description:
"In the Beginning, although far from being a perfect picture, is nevertheless one of the few truly great films thus far to come from a motion picture camera — either theatrical or amateur. Here, the magnificent beauty and awesome strangeness of the natural world have been seen in their fundamental and ultimate meanings. As an interpretation of the epic story of creation, In the Beginning follows directly in the noble tradition of Homer, Dante and Milton. One is left stilled and humble before the simple purity of imagination which conceived it. To this superb document of nature, F. C. Ells, ACL, the producer, has brought a technical skill and sensitive craftsmanship more than equal to the demands of his subject. Using as his titles direct quotations from the first chapter of Genesis, Mr. Ells has added a subtle undertone to the beautiful King James English by the use of primitive, geometrical symbols (indicative of fire, rain, infinity, etc.) for his title backgrounds. Somber and stunning scenes of the heaving waters, the new born earth and bursting streams in the first reel are followed, in the second, by flawlessly executed telephoto and macroscopic studies of the earth's myriad creatures. Integrating the entire production is a musical accompaniment of stately church music, recorded on disc by the Sistine Choir. Mr. Ells, who has looked upon the earth and found it good, has produced a sincere and beautiful film, great even as it falls short of perfection." Movie Makers, Dec. 1935, 550.
---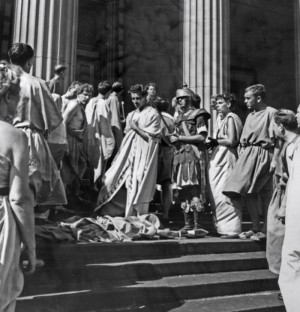 Date produced: 1950
Filmmaker(s):
Description:
Charlton Heston stars in David Bradley's amateur adaptation of Shakespeare's Julius Caesar. "Julius Caesar was produced with amateur actors and makes impressive use of available, neoclassical Chicago locations, including the steps of the Art Institute and the pillars of Solider Field. But the film, which cost at least fifteen thousand dollars to produce, was seen by both the ACL and the local Chicago press as a quasi-professional--if independent--production; indeed, it was on the merits of this film that Bradley won his much-sought-after contract with MGM" Tepperman, 252-253.
---
Total Pages: 5