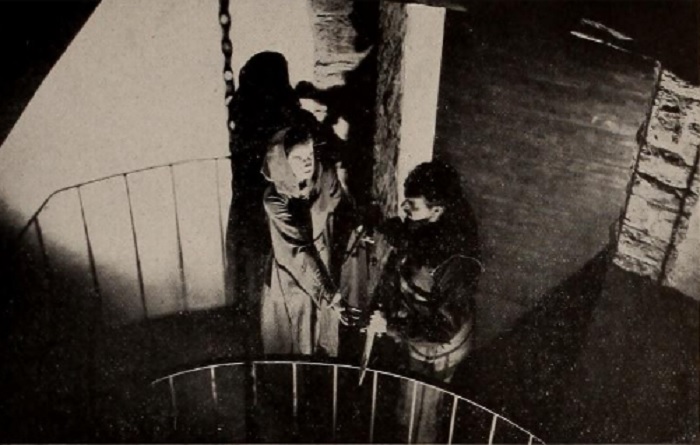 Identifier:
BR5255 (Source: https://iucat.iu.edu/catalog/6563649)
Date produced: 1947
Filmmaker(s):
Languages:
English
Duration:
01:13:00
Length:
2800 ft
Format:
16mm
Colour:
B&W
Sound Notes:
Optical
Sound:
Sound on film.
Awards/Recognition:
ACL Ten Best 1947 - Special Class
Description:
"David Bradley, the dynamic heart of Willow Films, producers of Macbeth, has behind him a long and amazing record of outstanding dramatic pictures. Among these are his productions of The Christmas Carol and Oliver Twist, by Charles Dickens; Emperor Jones, by Eugene O'Neill, and Peer Gynt, by Henrik Ibsen. His Macbeth is the greatest of them all. And in a sense, this moving evocation of the brooding Shakespearian tragedy is the end product of them all — since, in it, Mr. Bradley's creative and cinematic abilities have come fully and splendidly of age. The character of this brilliant achievement may perhaps best be illumined by Mr. Bradley's own words from his plans for the film. "We realized clearly," he has written, "that the strength of our Macbeth must be found in stimulating cinematic treatment, portrayed with such angular camera compositions as to suggest the twisted, supernatural aspects of the drama. We planned our lighting for harsh contrasts and textures, so that, on occasion, the brooding menace of cold, murky stone could almost be felt. For our Macbeth was to be, above all, a movie, depending on atmosphere more than acting, 'punch' more than pomp, for its ultimate success or failure." That it has been success, not failure, is rewardingly the case." Movie Makers, Dec. 1947, 534, 536.
Resources:
Discussed by Bradley in "Shakespeare on a Shoestring" (Movie Makers, April 1947, 146-147, 161-162). The article extensively discusses the film's production and shows numerous film stills.

Discussed in "Shakespeare in 16mm." (Home Movies, July 1947, 429, 446). This article states that the film took three months to produce, and notes that Bradley received praise for his performance as Macbeth. Film stills and production stills are shown.

Mentioned in "Closeups" (Movie Makers, Dec. 1946, 456), where production credits are listed.
Also mentioned in "Closeups" (Movie Makers, April 1947, 142).

The film was second prize winner in the "Special" class of a Smoky Mountain Movie Club amateur movie salon in 1949 (Home Movies, Nov. 1949, 590).
Locations:
Winnetka, Illinois (Filming)
Subjects:
Genre:
Form:
Tags:
Repository:
Bradley Film Collection, Indiana University Libraries Moving Image Archive
Screenings:
Premiered at the Winnetka Community Playhouse in December 1946: Winnetka, IL
Screened at the Films of the World Festival on April 1, 1947: Chicago, IL
Screened by the Smoky Mountain Movie Club in 1949: Asheville, N.C.
---