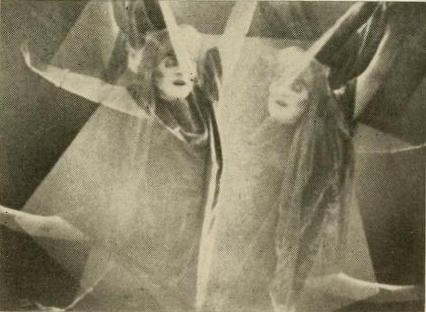 Date produced: 1928
Filmmaker(s):
Languages:
English
Duration:
00:13:00
Format:
35mm
Colour:
B&W
Sound Notes:
Silent
Awards/Recognition:
National Film Registry (U.S.), 2000; National Film Preservation Foundation
Description:
"The Fall of the House of Usher" not only represents a new cinema technique but it is also unique in that it does not attempt to tell Poe's story in detail, rather to invoke in its audiences the esthetic impressions and moods which the tale creates in its readers. This revolutionary approach to the cinema opens a fascinating field for further pioneering. Fortified with the new scientific instruments which have recently been devised for the detection and recording of emotional reactions, the amateur producer may now truly be said to face a new world for cinematic experimentation in translating such reactions into film. Properly motivated by medical authority films of this nature may even prove to have a tremendous psychological significance. From any viewpoint "The Fall of the House of Usher" represents a forecast of possibilities which are amazing." Movie Makers, January 1929, 847.
Resources:
"The Amateur Takes Leadership," Movie Makers, January 1929, 847.
Locations:
Subjects:
Genre:
Form:
Tags:
Repository:
James Sibley Watson, Jr. Collection, George Eastman House (Rochester, N.Y.)
Institute of Amateur Cinematographers, EAFA
Screenings:
Feb. 1, 1929. Public Premiere: Film Guild Cinema, New York City: New York, NY
Feb. 13, 1929. Organizational meeting of New York Amateur Motion Picture Club: New York, NY
May 1929. Cleveland Movie Club: Cleveland, OH
Oct. 1929. Portland Oregon Cine Club: Portland, OR
Oct. 1929. Toledo Cinema Club: Toledo, OH
Oct. 1929. Dallas Little Theatre: Dallas, TX
Nov. 1929. Philadelphia Amateur Motion Picture Club: Philadelphia, PA
Nov. 1929. Danbury Connecticut movie club: Danbury, CT
Nov. 1929. London (UK): London, UK
Dec. 1929. Wichita Amateur Movie Club: Wichita, KS
Dec. 1929. Amateur Cinema Club of Delaware (Wilmington): Wilmington, DE
Jan. 1930. San Diego Amateur Motion Picture Club (1st meeting): San Diego, CA
Feb. 1930. Cinema Club of Plainfield, NJ: Plainfield, NJ
Feb. 1930. Hudson County Cine Club: Jersey City, NJ
Feb. 1930. The Satellites: Brooklyn, NY
Feb. 1930. Amateur Cinema Club of Wichita: Wichita, KS
Feb. 1930. Springfield (IL) Movie Club: Springfield, IL
March 1930. Hartford (CT) Motion Picture Club: Hartford, CT
March 1930. Architectural League (New York, NY): New York, NY
May 1930. Screenings at AMPAS, MGM, Fox, Universal and Paramount studios: Los Angeles, CA
May 1930. Amateur Film Club of Sheffield (UK): Sheffield, UK
June 1930. Film Society of Newport (England): Newport, UK
July 1930. Philolexian Society (Columbia University student group): New York, NY
Aug. 1930. Motion Picture Club of Norfolk (VA): Norfolk, VA
Oct. 1930. Portage Camera Club, Akron OH: Akron, OH
Jan. 1931. Sheffield Amateur Film Club: Sheffield, UK
March 1931. Washington (D.C.), informal club: Washington, DC
May 1931. Sierra Cinema League, Fresno (CA): Fresno, CA
July 1931. 9.5 Amateur Cinema Club of Chicago: Chicago, IL
Sept. 1931. Cine Art (Marseilles France experimental film club): Marseilles, France
Oct. 1931. Artcraft Cinema Club, Indianapolis: Indianapolis, IN
Jan. 1932. Vineland (NJ), informal club: Vineland, NJ
March 1932. Metropolitan Motion Picture Club (New York, NY): New York, NY
June 1932. Camera Club of San Jose: San Jose, CA
July 1932. Chicago Cinema Club: Chicago, IL
Oct. 1932. Berkeley Amateur Movie Club: Berkeley, CA
Nov. 1932. Bergen County Cine Club: Englewood, NJ
Dec. 1932. Sunkist Movie Makers: Covina, CA
Feb. 1933. Toronto Camera Club: Toronto, ON
March 1933. "An Avant-Garde Film Show in Vienna": Vienna, Austria
April 1933. Canton Amateur Cinema Club: Canton, OH
Oct. 1933. Wimbledon (England): Wimbledon, UK
March 31, 1934. New School for Social Research: New York, NY
April 26, 1934. "Cinema Art Soiree" sponsored by Association of Arts and Industries: New York, NY
May 1934. Teachers College, Columbia University: New York, NY
June 1934. New York University (lecture): New York, NY
July 1934. The Sixteen Club, Roselle (N.J.): Roselle, NJ
June 1935. Klub der Kino-Amateure Oesterreichs (Vienna): Vienna, Austria
Nov. 16, 1935. Shown as short before "M" at New School. Screening by Film & Photo League. New York (NY): New York, NY
Jan. 10, 1936. New York Society for the Experimental Study of Education, New York (NY): New York, NY
Video Link:
---