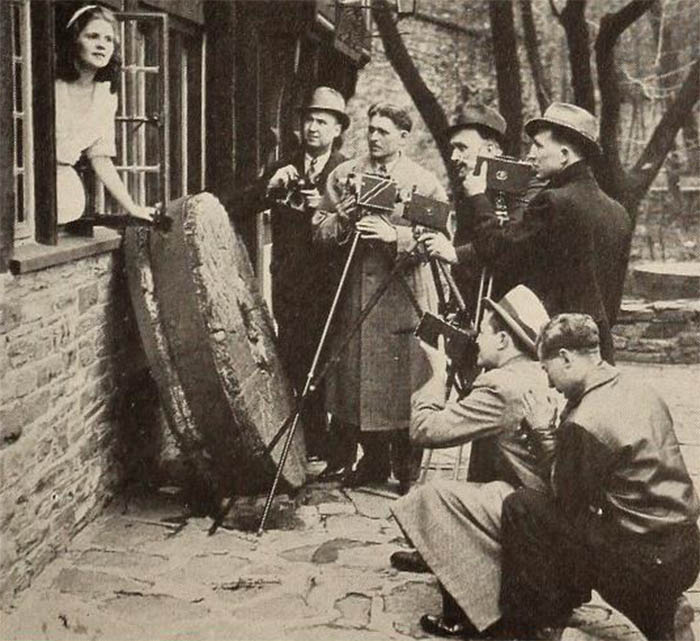 Identifier:
86829 (Source: http://www.bac-lac.gc.ca/eng/discover/films-videos-sound-recordings/film-video-sound-database/Pages/item.aspx?IdNumber=86829)
Date produced: 1938
Production credits:
Country of Production:
Canada
Languages:
English
Format:
16mm
Colour:
B&W
Sound Notes:
Silent
Sound:
No intertitles, originally presented with a recorded recitation of the poem accompanied by music.
Description:
An amateur club adaptation of Alfred Noyes poem The Highwayman. A "ballad of love and murder" that "emphasizes atmosphere and explores the sympathetic relationship between natural and dramatic elements". The poem "narrates the highwayman's secret meeting with his love Bess, a landlord's daughter, their discovery by a group of soldiers who hold Bess as bait for the highwayman, and her grisly death by musket...Throughout the poem the natural settings play an important role in amplifying its supernatural and dramatic content...Like its use of natural settings, a natural acting style was employed to set this film adaptation apart from its source materials and its rival media. Finally, the film's use of double exposure in order to create the impression of ghostliness in the tragic couple's final reunion marks a particularly cinematic solution to the problem of visual representation" Tepperman, 244-245.
Resources:
See a lengthy article written by the Toronto Amateur Movie Club member Alan Moorhouse on the making of the film in Movie Makers, May 1938, 243, 253-255.
For a discussion of The Highwayman in the context of amateur film adaptations see pages 244-246 of Charles Tepperman's Amateur Cinema: The Rise of North American Moviemaking, 1923-1960. University of California Press, 2014.
Locations:
The Old Mill, Toronto, Ontario (Filming)
Club Affiliation:
Subjects:
Genre:
Repository:
Narcisse Pelletier Collection, Library and Archives Canada
---