---
---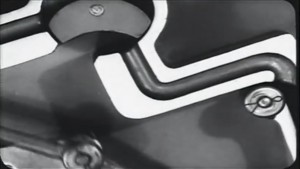 Date produced: 1930
Filmmaker(s):
Description:
"The third in Steiner's trilogy of abstract films, Mechanical Principles (1930), is fascinating and more striking than Surf and Seaweed. It is composed of close-up shots of mechanical gears of different kinds in motion; rather than an examination of a single machine, it is an examination of the different kinds of motion produced by machines. Mechanical Principles emphasizes the tension in such machinery between the constancy of force and repetition on the one hand and the irregularity of shapes, sizes, and motions on the other, " Tepperman, 203.
---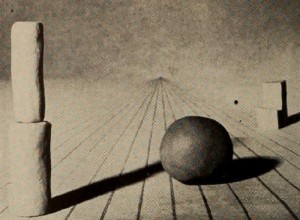 Date produced: 1948
Filmmaker(s):
Description:
"Relegated to Honorable Mention only because it has been used commercially, No Credit, a brief and amusing abstract film, would under normal conditions have attained a much higher rating. The picture, produced by Leonard W. Tregillus, is a study in forms and movement accompanied by music. Much of it is single frame work that must have required infinite pains. This sounds alarmingly modern and incomprehensible; but since the film does not have to use words and depends for its effect solely on the cameraman's sense of timing, mood and music, the end result is altogether entertaining. Most abstract films seem to illustrate a theory or argue a point. No Credit stands on its own merits of creative form and movement, integrated with a stimulating musical score." Movie Makers, Dec. 1948, 494.
---
Date produced: 1970
Filmmaker(s):
Description:
"Hacía un alegato sobre lo que sucede al otro lado de la tranquilidad de la vida burguesa. Se alternaban imágenes de placidez doméstica de la clase media con escenas de la guerra de Vietnam y las rebeliones estudiantiles de la época. Al final de la cinta, sobre la fotografía de un mitin en Tlatelolco, una pregunta: "saber, darse cuenta, ¿cuándo?" "(Vázquez Mantecón, 2012).

"It was an allegation about what happens at the other side of the bourgeois life tranquility. Images of middle class house placidity were alternated with scenes from the Vietnam war and the students' rebellions of the time. At the end of the film, over the photography of a political rally in Tlatelolco, a question: "to know, to notice, when?" " (Vázquez Mantecón, 2012).
---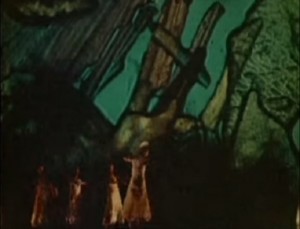 Date produced: 1935
Filmmaker(s):
Description:
"Dancers move in front of a background made up of crystal formations filmed through a microscope. One of Norman McLaren's first experimental films." Library and Archives Canada.
---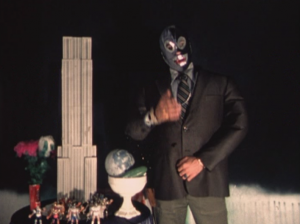 Date produced: 1978
Filmmaker(s):
Description:
"Siete cortometrajes de Maris Bustamante y Rubén Valencia, integrantes del No Grupo, que indican el acercamiento de artistas plásticos al formato súper 8. Los trabajos del No-Grupo tendieron a hacer una reflexión a la vez lúdica y crítica sobre la naturaleza del arte" Superocheros.

"Seven short films made by Maris Bustamante and Rubén Valencia, members of the No Group, that indicate the interest of artists in the plastic arts to use the super 8 format. The works of the No Group were usually a playful and critical reflexion on the nature of art" Superocheros.
---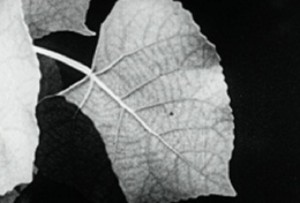 Date produced: 1932
Filmmaker(s):
Description:
"Portrait of a Young Man, by Henwar Rodakiewicz, ACL, is a triumph of fine photography and sensitive imagination. Abstract in treatment, and speaking through delicately rhythmed scenes of smoke, leaves, grasses, the sea, machinery and the heavens, this film is an attempt to portray in graphic terms a young man's reactions to the beauty, force and mystery of the natural world. In producing the final three reel version, Mr. Rodakiewicz has filmed deliberately toward the one end for more than three years and in many different locales. Although using largely material to be found in nature, he has so transmuted it, by the creative artistry of his selection and control, as to get from each selected scene, not a mere reproduced likeness, but a trenchant and symbolic image. Portrait of a Young Man is beautiful, exciting, workmanlike and distinguished." Movie Makers, Dec. 1932, 538.
---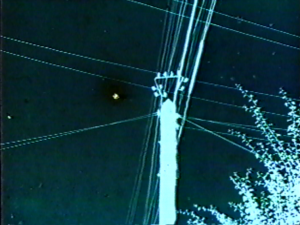 Date produced:
Filmmaker(s):
Description:
"Experimental film. A collage film combining found footage (on mixed film stock) with hand-painted stock and hand-scratched stock leader. No readily identifiable locations are shown." (BC Archives)

"The authorship and origins of this unusual film are not clear. Since it was found in the collection of cineaste Oscar C. Burritt [following his death], it is assumed to have been made by him as a precursor (or a response) to the [experimental] film and-, made by his future wife Dorothy Fowler [Burritt]. The Kodachrome stock in the original film has the edge code for 1938; the hidden phrase "Help the people of Denmark" may refer to the Nazi occupation of that country in 1940." (BC Archives)

Available evidence suggests that residue 2 was probably made between 1938 and 1946 in Vancouver. (D.J. Duffy)
---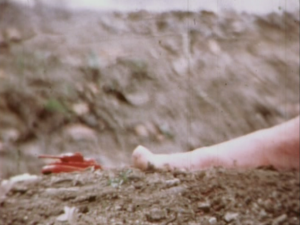 Date produced: 1972
Filmmaker(s):
Description:
" La segunda primera matriz narraba visual y poéticamente una historia de la humanidad, desde el origen hasta la carrera espacial, como una nueva frontera. En una primera sección, entre tomas de nubes, remolinos y oscuridad, hacía referencia al origen de la vida. (...) Después del lanzamiento del cohete y de las imágenes sobre la exploración del espacio, se ve a una mujer desnuda en el campo. La cámara hace un lento tilt down recorriendo su cuerpo. Al pasar por el pubis sigue a una gota de sangre que comienza a deslizarse por la pierna. Cuando llega al suelo aparece un desfile de tanques de guerra en miniatura, rojos, como los que se habían mostrado anteriormente en la película. La película termina con un cartel que dice 'Pero también se puede parir la nada' " (Vázquez Mantecón, 2012).

La segunda primera matriz [The second first womb] told visually and poetically a story about humanity, from its origin to the Space Race, as a new frontier. In a first section, amongst shots of clouds, swirls and darkness, it referred to the origin of life. (...) After the launch of a rocket and images about exploring space, the film shows a woman naked in the country. The camera makes a slow tilt down of her body. When passing by the pubis, the camera follows a drop of blood that slides by the leg. When it reaches the floor, a parade of miniature war tanks appear, red, like the ones previously shown. The film ends with a sign that says 'But you can also give birth to nothing' " (Vázquez Mantecón, 2012).
---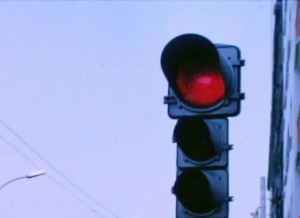 Date produced: 1970
Filmmaker(s):
Description:
Filme experimental en el que sobre una imagen fija de un semáforo, el sonido es el principal protagonista.

Experimental film in which sound is the main protagonist over a fix image of a traffic light.
---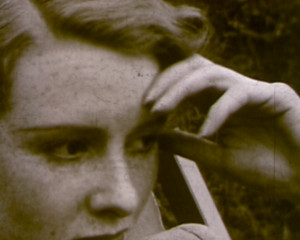 Date produced: 1932
Filmmaker(s):
Description:
"Amateur filmmaker, cinema historian and railway engineer H.A.V. Bulleid employs an array of camera effects and trick photography techniques in this experimental short. Bulleid uses a mirror to distort a woman's reflection and a lens mask to conjure multiple images of her within the same frame, followed by a brief sequence showing how it was created. A ghosting effect uses double exposure to show the woman getting up from the chair but leaving her body behind. Bulleid also uses coloured filters and gauze diffusion to alter the look of his shots, and slow motion to change their visual impact. To display the versatility of interior shooting under normal lighting conditions, Bulleid uses orthochromatic film stock, before returning to exterior effects, using greased disc diffusion to create a dreamlike wash over the image. The film concludes with two sequences created using trick photography techniques including film reversal and split-screen shooting, and an example of step-zooming which gradually zeros in on the Big Ben clock tower at the Houses of Parliament in London." (EAFA Database)
---
Total Pages: 4